I often come across cautionary warnings to not over-exfoliate the skin, especially when you use something like a facial wash cloth or flannel to help cleanse your skin, or an exfoliating toner. I too often spout such wisdom, but you know what? It's hard to warn people about something that you've never experienced before. I mean, what happens if you over-exfoliate your skin? Why is it bad?
Well, I didn't go all out with the intention to find out, but I inadvertently experienced it, and I'm now in a position to tell you what happens when you over-exfoliate your skin and more importantly, how you can help repair the damage!
Some of you on my social media channels might remember my recent laments about the condition of my skin and how it was going bonkers. I had not used any new skincare products (quite rare). I had not changed any part of my routine. I was plodding on as normal, and yet, my skin was going absolutely crackers!
Skin Over-exfoliation Effects
What did I experience?
Very dry patches of skin
Rough, bumpy skin
Uneven skin tone
Random breakouts on various parts of my face
Skin that felt like sandpaper
Tough, hardened skin
Before this, when I went through something similar with irritated skin, I pared down my skincare routine and it became better. However, that was due to a product that didn't agree with my skin. This time, I was stumped! There was absolutely no reason for my skin to go mad!
Ah, but there was. One day, after a month of trying my darnest to figure out what was wrong, I was in the shower (when all inspiration strikes!) and out of the blue, I thought "Wait a minute, what if it was all my careful ministrations with my facial wash cloth that was causing my skin to go mad? Was I over-exfoliating my skin?!"
It turned out I was right. What had happened was that I was using my wash cloth to cleanse off cleansing balm in my first cleanse. However, because the product I was using for my second cleanse was a cream cleanser that felt cleaner being wiped off than rinsed off, I was using it as well for the second cleanse. Although I did not exert pressure while using the cloth, the fact remains that it was performing an exfoliating function. If you use a very soft cloth, perhaps the effects would be mitigated. Mine were terry cloth and I suppose, were just too harsh to use twice at a go.
When I had that thunderbolt of inspiration, I decided to try cutting back, so I only used the wash cloth for my first cleanse, and my hands for the second. I also realised that because I don't use a lot of makeup anymore these days, nor go out very much, my skin doesn't get as dirty as it used to before this, and I didn't need as much cleansing.
The upshot of all this is that within a week, I saw results. My skin started to regain its soft, smooth texture that I had before. The sandpaper effect smoothened out, and my skin stopped feeling dry and tough. The random breakouts started to heal, and I now have my skin back to normal.
How to repair skin that has been over-exfoliated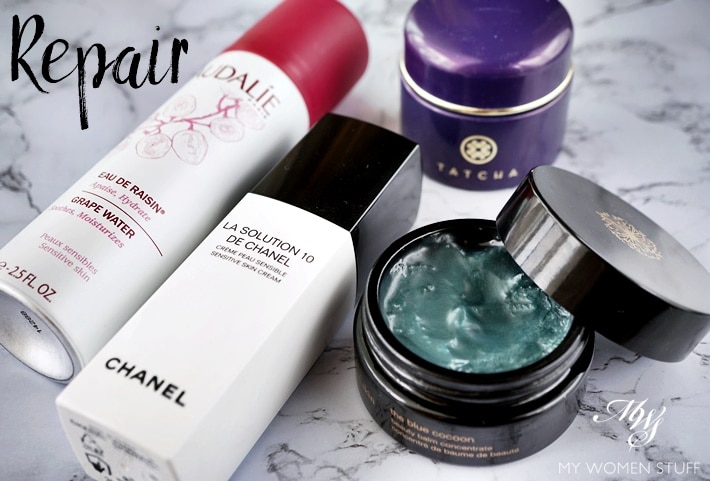 Over-exfoliated skin feels raw and often, very dry and sensitive. If you think you might be experiencing something similar – it could be due to physical or chemical reasons that you are over-exfoliating your skin – here's how I repaired my skin and got it back to normal.
First off, stop exfoliating. When I realised that it might be to do with my over-zealous exfoliation, I stopped using the wash cloth as much, and I cut out all my chemical exfoliators and toners. My skin was irritated and injured and it needed to repair itself and heal.
Second, be gentle. For the first 2 weeks, I picked out my most gentle and soothing products for my skin. This was when I fully appreciated the Tatcha Indigo cream, Chanel Solution 10 cream and the REN V-Cense day cream. They were all I used, alongside the May Lindstrom Blue Cocoon balm and occasionally, the Pai Skincare Rosehip oil.
Third, go back to basics. During this time of healing, I only used a face mist (I'm currently loving the Caudalie Grape Water face mist!) and the creams I mentioned above. No serums, no lotions, no actives, nothing. Just mist and sensitive skin creams and the May Lindstrom Blue Cocoon balm or the Pai Skincare Rosehip Oil at night.
With the tender loving care I gave it, my skin quickly healed, and after about 3 weeks, I'm now slowly starting to reintroduce my serums back into my routine. I am also now more careful about how I treat my skin.
I always thought I was being super careful and not being too rough with my skin, and yet, something like this could happen to me, simply because I wasn't paying enough attention to what I was using and how I was using it. What this teaches us is that we are all different, and that we should pay attention to our skin. We can't blindly follow another person's skincare routine, just because it works for them. We need to tailor it to suit OUR skin and only WE can do it.
Have you experienced effects like this on your skin? What did you do to address the problems?
Honestly, this is the first time I'm experiencing this. I think it was over-zealousness and carelessness on my part, as well as forgetting to observe and listen to my skin. Because I was using less makeup, my skin didn't need that much cleansing at the end of the day. I can do with something far more gentle than before. I am glad I worked it out eventually. I'm now a lot more careful, but you know what? YOU can learn from my mistakes! 😀
Paris B