I did say I had a bag lust that would not die, didn't I? So, what is a girl to do? Give in, of course. Well, this one did, when browing Net-a-Porter one day, and seeing one of the elusive Mansur Gavriel bucket bags pop up online.
Truth is, these bags aren't very elusive anymore. Not the way it was about a year or so back, when it was nigh impossible to snag any online. I have spoken to friends who put themselves on waitlists, and who would wake up in the middle of the night (here in Malaysia) to snag themselves one. I refused to give in to that frenzy, keeping a "If it's meant to be, I'll get it eventually" approach. And I did! I think it's because we're reaching saturation point, where the demand has primarily been met, and perhaps supply has been increased so it's much easier to get one these days.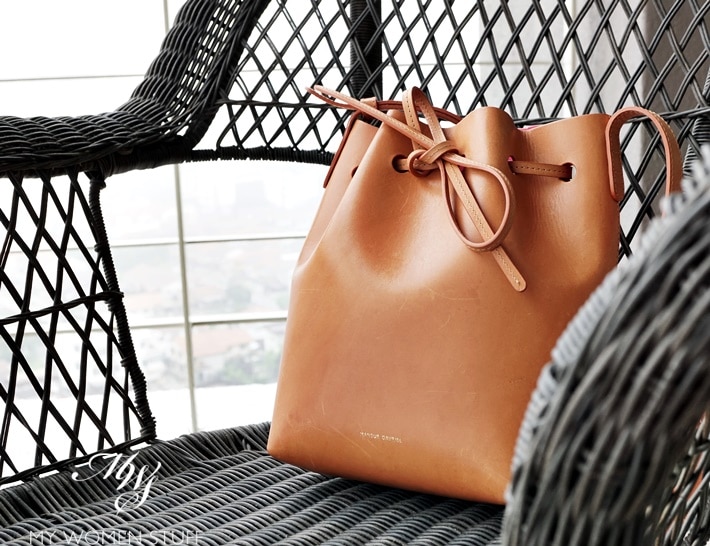 I've been asked by a few people what I think of the Mansur Gaviel Bucket Bag and if it's worth the money, hence this post. The first thing I'll say is this:-
If you're paranoid about the fact the bag has no proper closure except for the drawstring that barely keeps the bag closed, or
If you're paranoid about keeping your bags in a pristine, just came in from the factory look, or
If you have a more formal fashion sense, or
If you don't like bags hitting against your hip, or
If you don't like too large or too small bags,
then you should just let your bag lust die, and skip this altogether. You will likely hate this and consider it a waste of money. As for me, I have a bit of a love-hate relationship.
While the most common, and most lusted after colour combination is the black-flamma (red) combination, I opted out of it. I ended up with the Camello (camel) – Dolly (hot pink) combination a little by default – it was available, and it was priced lower than the other options! I think it's because the Camello leather option is vegetable tanned and isn't coated, so it will age quite rapidly as you use it, and take on a patina. You will either love or hate this – I love it, it's just like the Louis Vuitton vachetta leather, and I love how that looks after it has acquired a honey-brown patina.
When this first arrived, the leather was a very light tan. I've been using it since, for a couple of months, quite regularly so it's softened up a little and aged quite a bit. I didn't baby this one, as you will see below.
I hope you can see the multitude of scratches I've acquired over the 2 months of use. As I said, I don't baby this one, so it bangs into things, and the leather is so soft that my nails leave scratches on the surface. I've got caught in the rain so there's some water marks in there as well. I don't mind it, because in this colour, I feel the scratches and wear adds character to the uneven colour tone of the bag. But in another colour like black or red or navy, I'm not sure how I'd feel. So, if you plan to get one in smooth calf leather, do be warned. If you can get it in Saffiano leather or treated leather, it might hold up better, but I can't say for certain it will.
The interior of mine is a bright pink treated leather which isn't a shade I'd pick off hand, but which sets off the deeper tan colour quite attractively. The leather on the inside is treated and more stiff. I also find it more hardy, as I don't seem to notice as many scratches. The light interior is actually a good idea because it helps you find your things more easily.
And that's where the pitfalls of a bucket bag lies.
It's a black hole.
The pink shiny leather interior reflects light so its a lot easier to see what's in there, as opposed to a darker interior lining. Mine is the Mansur Gavriel Mini Bucket Bag, which I picked because I wasn't into the regular sized one. It's far too large for me, as I wanted something for more casual days. This just doesn't cut it for a more formal working environment, unlike it's more luxury brand cousin, the Louis Vuitton Petite Noe, which transitions from formal to casual more easily. I'd take the Petite Noe to work, I won't take this one.
The Mini is small, but in my view, not too small as to be impractical. It's actually quite a good size, for me and fits quite a lot. Because it's more shallow, it's less of a black hole too. Here's what I'd typically carry in my Mansur Gavriel Mini Bucket Bag.
As you can see, there's quite a lot in there, including a long wallet. Sometimes, I carry my planner in there as well. If you use a smaller, shorter wallet, it will fit better, naturally. Mine has to stand on its end to fit. A smaller wallet can just be tossed inside. But you can also see that it's a very casual affair. This is one I tote about on weekends or for casual appointments because I can't put very much in there.
The other reason I picked the mini size as opposed to the regular size is because of how it looks. The long strap on the bag can only be adjusted by a very limited length, and remains very long. I am about 5'3″ and I wear the mini on the last hole, on the shortest setting, and it still hits at my hip when I wear it on my shoulder.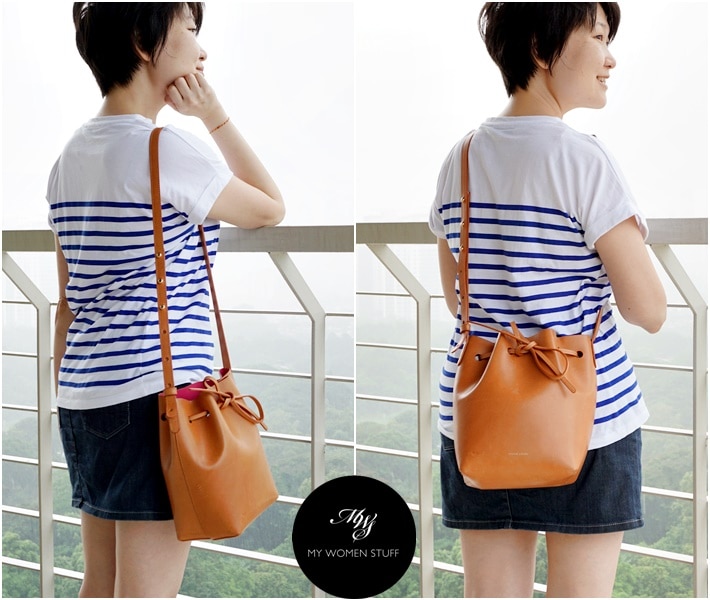 The regular size is larger and longer so I didn't like the idea of the additional bulk. I can wear it cross-body as well, which I do when I'm out most of the time, so I can keep it closer to my body (not worn on the back of course – I'm not inviting pickpockets!). I have a very casual lifestyle and fashion sense, so it goes with my weekend jaunts.
I like the Mansur Gavriel bucket bag. I like the casual vibe, I like the way mine has softened and aged and I like that it forces me to carry only the essentials. It is also incredibly light, for a full leather bag. Every single person who picks it up marvels at how crazy light it is. It barely weighs anything!
But there are also some things I don't like.
Scratches galore! Be warned, this will likely happen to you too
I don't like how stiff the leather is. I'm quite literally bashing mine about to soften the leather, so I can pull the drawstring shut. The leather drawstring is very stiff and even after 2 months, I can barely tie it closed properly. It's also very difficult to keep it closed, and it tends to gape. If you throw a scarf over it, it will help, but I wouldn't travel anywhere with this one. I'd be too paranoid.
I don't like the length of the strap that I feel is a touch too long. On someone taller, it would look better. On shorter frames, if you have the regular version, it will pull you down and make you look shorter and more bulky. Yet, the mini version isn't everyone's cup of tea because it's small. Therein lies the conundrum.
I don't like how it's made out to be so exclusive, driving forced and false demand. This was what put me off the bag initially. I didn't want to be one of the masses, scrambling after it. Now that it's easier to get hold of, I think it's more practical. The black/flamma combination is still highly sought after though!
I also don't like how it's actually quite expensive for a very simple bag. Mine cost about US$578 at Net-a-Porter including the taxes and shipping, which is actually less than other colour combinations. I'm not sure why. There are various sites you can buy from and the prices differ depending on the size, site and you naturally have to factor in shipping and taxes. I bought from NAP because it takes the guesswork out of things for me, and takes care of the taxes and crap. But if I didn't have the spare cash, I wouldn't have bought it. It is a lot of money to pay, and I'd actually get something else unless you already have most of the styles you like. I won't say it's not worth it, because worth is something only you can measure, but it is helpful to know of its pitfalls, before you spring for it. Not many people tell you how easily it scratches or that it's too long or too large or too stiff or can't stay closed. Someone has to 😛
So, bucket bags – love them or hate them? Do you own an MG?
If you want some alternatives to the Mansur Gavriel or perhaps want a more budget choice, just to see if a bucket bag is your thing, there's good news for you. When MG revived the bucket bag phenomenon, there are now so many options from all the high street brands, up to the luxury brands. So, pop into Mango, Zara or H&M locally, if you want something more affordable. It's likely not made of leather, but not everyone minds that. [Edited to add: If you want a similar design and want to customize how it looks, check out Monpurse – thanks LeGeeque! I knew I'd seen something similar but couldn't for the life of me remember which site it was!] Or if you have the funds, spring for an LV Petite Noe or the Gucci Bucket Bag – super cute and pretty colours to boot! 😉 Are bucket bags your thing?
Paris B
Price: US$445 on US sites or approx US$578 on Net-a-Porter – price differs according to location and leather Availability: Mansur Gavriel website, Net-a-Porter, Barneys, Bergdorf Goodman, MyTheresa