About 2 years back, I showed you what was then one of my favourite liquid foundations for a flawless finish. Last year, this foundation was reformulated. Do you realise how frustrating that is? Knowing that something you love might not be the same again?!
The foundation in question is the Make Up For Ever Ultra HD Invisible Cover Foundation, which I was told is now formulated to be so camera perfect, it is perfect for 4K TVs, which are even more high definition than HD. What this does then is supposed to be invisible on super high definition screens, so it doesn't look like you're wearing makeup, it looks like you just have flawless skin. We are only just getting to grips with HD and we now have to contend with 4K? Needless to say, I can't keep up with technology, and I don't even watch HD TV! LOL So much for looking flawless eh? 😛
My primary concern wasn't to do with how flawless this foundation would make me look, but was more of whether the Make Up For Ever Ultra HD foundation would remain a favourite of mine.
Happily, I still like this foundation very much! 😀
Personally speaking, I can't quite tell the difference between the old MUFE HD Foundation and this new Ultra HD Foundation 😛
Left: Make Up For Ever Ultra HD R230, Right: Make Up For Ever HD N115
Well, except for the packaging that is.
The new version, aside from sporting the new Ultra HD name, bears a silver band around the pump. In the old version, it is a standard black. Everything else remains the same.
Well, except again for the shade numbers, which Make Up For Ever has changed. Previously, MUFE employed a series a numbers, which I never quite came to terms with. There are over 40 shades in their foundation collection, to suit almost any skin tone possible, that I suppose numbers was the easiest way to go. I was previously N115.
The new numbering system uses a letter prefix – R (Rose – pink base and Y- Yellow base) and numbers behind it to determine the depth of colour. Some old shades have been retained but renamed, while others have been changed totally, so you might have to head down to a counter to be shade-matched again. For me however, I got lucky. My old shade N115 exists in the new formula as R230 (Ivory).
A side-by-side swatch shows that the shades are essentially the same. In fact, I find they have the same texture – a little dry, with medium to full coverage, depending on how much you use. Because it has an R prefix, it has a slightly pink base, which for some reason, suits me better.
From a personal perspective, not taking a lot of high definition photos, or appearing before the camera very much, and on a day to day basis, I found very little difference between this new MUFE Ultra HD Foundation and the old HD Foundation. For that purpose therefore, my previous review remains relevant.
It is lightweight, slightly dry to the feel but blends easily and quickly with a brush. I find it has medium coverage which you can layer on for a fuller coverage, and you can apply some powder over for a more flawless effect. It photographs well, and does give you a lovely effect for your skin.
For how it looks on me, here's the before-after photos. As always, these sort of pictures are unretouched.
I only used a thin layer, which is about 1 pump of foundation, spread and blended with a brush. I think it's pretty obvious how it covers any redness on skin, and how it evens out the skintone quite nicely. Also, there is an almost velvety look to the skin isn't there? If I like, I can add on a little more product to cover up pigmentation, but I usually do that with concealer and a little powder.
Because it's long-lasting, and has a rather noticeable "makeup" effect, I prefer using this only on days when I have a fuller face of makeup on.You may notice how it rather flattens the facial contours, so you need to have some blush to add colour and definition. I can't deny however, that this foundation photographs beautifully, just as its predecessor did, so if you find yourself before the camera a lot, this is one you might want to check out.
IN A NUTSHELL

The Make Up For Ever Ultra HD Foundation is an improvement on the previously available HD Foundation. I find that in everything but the name, it wears similarly on skin and has a similar texture. The texture is a little thick and dry when pumped out, but it spreads easily on skin and blends well with a brush. The coverage is medium to full depending on how much product you use, but it is very comfortable to wear, and gives a beautiful effect when photographed.

PROS: Lightweight texture, Easy to apply on skin, Medium to full coverage covers redness and flaws well, Not drying, Photographs beautifully, Makes skin look flawless even in person

CONS: Pricey but a little goes a long way, It maybe hard to find a colour match initially or to find your shade in the new numbering system

WHO WILL LIKE IT: Anyone who wants a foundation that will photograph well and medium-full coverage

PRICE: RM195 | US$43 for 30ml

AVAILABILITY: Make Up For Ever boutique at Sephora Starhill, Sephora stores and online
If you're interested, here's the ingredient list for this Ultra HD Foundation.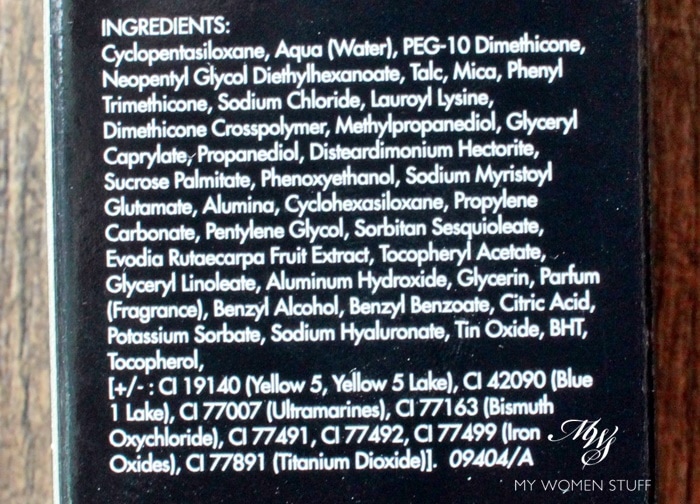 In fact, MUFE makes very good makeup products, so I find them very underrated as a brand. People tend to overlook them, but they've got good stuff!
Did you try the previous MUFE HD Foundation? Does a foundation like this tickle your fancy?
I'm very happy that they're essentially the same, because this is a very good foundation if you prefer medium-full coverage bases that don't look fake on skin. The only thing I'm not crazy about is the price, which is rather steep for this bottle of foundation. It's good, but it really caters best to those who want to look flawless all the time… or who are papped! That rules me out then! 😀 Now tell me, do you have a 4K TV, whatever it is? 😛
Paris B