To be perfectly honest with you, I'd never for once in my life put "Chanel" and "sensitive skin" in the same sentence, when it comes to skincare. I wouldn't categorize my skin as being sensitive, but even skin like mine, used to being bombarded with various products, can't tolerate Chanel skincare. That's the primary reason you don't read about Chanel skincare on my blog – I just can't use them!
I tried a long while ago, when I was venturing into more premium brands, and promptly found myself breaking out. I'm not sure what I attribute it to – alcohol or fragrance could well be the culprits. So, I've stayed away, with a yard long stick before me… until now.
The only reason I agreed to trial the new La Solution 10 de Chanel Sensitive Skin Cream is because of its claims. The name is derived from the fact that this product, the first of what I believe will be a new range of skincare within Chanel's stables, contains just 10 ingredients, took 4 years and 117 trials to get right, and is formulated with New York dematologist, Dr Amy Wechsler, with the express intention to soothe skin with the fewest possible ingredients.
The reason behind having few ingredients is manifold. You know exactly what's in there, it's not very complex, and there is less potential for it to irritate the skin. But Chanel went one step further. They removed many known skin irritants – fragrance, mineral oil, parabens – and made this not only soothing, but also protective of skin.
I had to see if this was something of a breakthrough product! 😀
And you know what? I never realised how much my skin appreciated a calming, soothing cream like this one until I tried this! 😀
Ok, let's backtrack a little. As I don't categorize my skin as being highly sensitive (I don't have the usual redness, flakiness, dry spots etc associated with sensitive skin) I sometimes do encounter a little sensitivity or reaction to things like acids or exfoliators.
I wasn't sure what to expect when I first embarked on using the La Solution 10 de Chanel cream. After all, wasn't it just a moisturiser?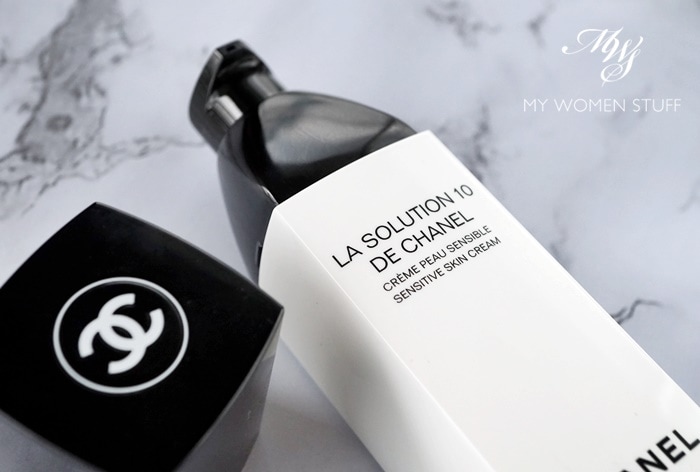 But much to my surprise, it was a little more than that. I realised that when I don't have makeup on, and while I'm using this cream, my skin would stay fairly even toned throughout the day. Sometimes, I get red patches around my cheeks in the afternoons, when it's hot, but for some reason, every time I used this my skin remained calm and did not look blotchy.
After a few weeks, I stopped, used another moisturiser, and noticed how my skin would turn towards the warmest times of the day. But with this, it didn't. That's when I realised what a difference a cream that soothes and calms the skin does.
Another thing I noticed with prolonged use, was that my skin took on a more even texture. One of the key ingredients in the La Solution 10 de Chanel cream is Silver Needle Tea, which is a rare ingredient. From these delicate leaves, Chanel has extracted a concentrate that contains high antioxidants to protect skin from free radicals. This makes skin less reactive, and calmer.
I hate to say this, but this has been quite an amazing experience for me using this cream. Not only does my skin love it, it actually seems to respond better, and FEELS better. It reminds me of the REN V-Cense Day Cream, which I love, but without the scent. The REN one targets a slightly different function, but it feels similar.
The packaging is kept very simple, with Chanel's iconic black and white packaging, with a nice heft and a good pump. The pump dispenses about the right amount of cream each time, which isn't very much. For most people, I think 1 pump should be about right. I use 1.5 pumps, because I don't find it moisturising enough for drier skin, and that irks me a little.
What I do instead is use it in the day time, and use something heavier in the evenings because this one just doesn't quite cut the mustard for me. At night, at the moment, I'm using the Tatcha Indigo Soothing Triple Recovery Cream and I swear that the combination has been WONDERFUL for my skin! I might have to start looking into using more skincare like these, because my skin seems to really enjoy it! 😀
I love that no fragrance has been added, so it has no scent, and the texture of the cream is soft and velvety, sinking into skin without any greasy after-feel. This is an oil-free formula, so if you have oily skin, you can use it too but you might feel more comfortable using a little less.
In many ways, this is a very simple moisturiser, that doesn't purport to hydrate or treat or do anything miraculous. It is a cream that I think most people with sensitive skin might enjoy using, simply because it's so soothing on the skin, and the soothing effect is actually noticeable for me.
The fly in the ointment is of course the price. This carries the Chanel name after all so it costs a pretty penny. But I'd suggest that you try to wrangle a sample from your local Chanel counter or boutique, just to see how you like it. If your budget permits, and your skin could do with a bit of soothing, then take a look at this one. My skin loves it, and I think yours might too! 😉
IN A NUTSHELL

The La Solution 10 de Chanel Sensitive Skin Cream is a moisturiser targeted at people who have sensitive or reactive skin concerns. This would include redness, flakiness, easily irritated skin and tight, dry patches of skin. The cream feels a little creamy but absorbs quickly and very comfortably into the skin without leaving any greasy residue. With prolonged use, I find that my skin seems to calm down and not react through the day by not turning red or blotchy. I don't have particularly sensitive skin myself, but I have noticed the soothing feel and when my skin feels tired or burdened, this calms it down. However, I feel that it isn't moisturising enough for those with drier skin, so I use this in the day. It sits very well under makeup and does not turn my skin oily at all. Barring the price, I think this to be an excellent product and not something I expected from Chanel, but one I'm very happy they made!

PROS: Lightweight cream texture absorbs easily and quickly into skin, No greasy after-feel, No mineral oil, parabens and fragrance, Short ingredient list, Calms and soothes skin and keeps it from getting irritated even by heat, Keeps skin feeling comfortable all day

CONS: Pricey, May feel a little thick for those with oily skin, Not moisturising enough if you have dry or very dry skin

WHO WILL LIKE THIS: Anyone with reactive and sensitive skin

PRICE: RM308 | US$80 | £58 for 30ml

AVAILABILITY: Chanel counters and boutiques, Nordstrom, Chanel online
If you're interested, here's the ingredient list for the La Solution 10 de Chanel cream.
The 10 ingredients are helpfully also listed at the back of the bottle, although in descriptive form which makes it easier to understand. I don't think that they are particularly earth-shattering or unique in any way, but it is impressive to see that a brand like Chanel who can live off their name by selling us anything, can actually cater for an emerging segment of the market yet untapped by many premium brands. I take my hat off to them for their far sightedness and I'd love if this sparks a bit of a revolution within the premium beauty industry to make better skincare, because once you can make something for sensitive skin types, you've practically nailed it! 🙂
Is the La Solution 10 de Chanel cream something you've been interested to try?
I was very excited when I first read about it, simply because it's just not something I expected to come from Chanel. I was very fortunate to be able to try it, and I have to say that this is one of those products that I'll be keeping on my ever-changing curated list of products to repurchase if budget permits. Do I know of an alternative? To be honest, no I don't. I'm not very familiar with this segment of skincare products, but if you are and you think there's an alternative out there that might be more budget friendly, do give a shout out. Personally, I like this one, and damn, it pains me (and my wallet) to say so! 😀
Paris B