Hello peeps! Had an enforced break the past couple of days, but I was made to do a bit of thinking. The first thing was that I found out that Hourglass Cosmetics is now available at our local Sephora. What do I like from there? Well just the Ambient Lighting Powder (provided you find the right colour match – you only ever need one powder, don't listen to the pundits) and the Arch Brow Pencil, both of which I feel are noteworthy. No comment on anything else.
But what I really wanted to discuss today, isn't Hourglass and its availability. It is about pricing of makeup, options and comparative pricing.
What made me think about this was when I found out that the Hourglass Ambient Lighting Powder Palette (the one with 3 shades in it, where each powder is a smaller size than the original single pans) is retailing locally at RM420. What this translates to at today's exchange rate is US$107.80, £76.10, and AU$140.88.
By contrast, what this same item retails at in the respective countries are: USA: US$62 (RM241.70), UK: £59 (RM325.60), Australia: AU$92 (RM274.33). First off, I had sticker shock. Secondly, I started thinking – why are we paying so much more when we earn so much less, and is all this perceived luxury makeup necessary?
I know what you're thinking – "You buy Hourglass and expensive brands/products anyway, PB, who are you to talk?!"
Yes I do, I'm not denying it. I'm not telling you that you shouldn't, nor that you have to. Before I splurge, I check prices, and I check my prices worldwide, on as many sites as possible that will ship internationally, and I have multiple income streams thanks to investments and various commitments over the years. I weigh taxes and shipping and I almost always never pay more than what the item might be available locally for. There are exceptions of course, but they are exceptions, not the rule. Most importantly, I don't buy expensive things very often, and I don't run out and blow large sums of money each time I leave the house. The reason is simple – luxury products are expensive and I have other priorities in life, plus a bit of a kiasi (lit: scared of dying) attitude when it comes to savings 😛
So yes, I pay luxury prices for luxury items, but I make sure I don't get scalped – which is what I think consumers here in Malaysia are, with those sort of prices Sephora thinks they can get away with!
By way of experiment, I decided to see how far the cost of 1 Hourglass palette will go in different countries.
In Malaysia, RM420 is a lot of money by any reckoning. It could well be a month's worth of groceries for a large family (for a small family, it could stretch a few months),or 3 months worth of utility bills if living averagely, or about 2.5 months of Internet bills, or tuition fees, or room rental, or the monthly installment payment for a car, or a month's worth of personal expenses including the occasional meal out. RM420 is a large percentage of a monthly wage in Malaysia, which isn't very high to start with.
I spoke to my friend in Australia who told me that AU$92 (the price of the same palette there) is a sizeable chunk of change as well. It could mean 1.5 weeks worth of groceries for 3 (no store brands), 5 months of gas bills in summer, or a very nice meal with a nice bottle of wine. But compare that with the salaries in Australia, and $92 isn't that large a proportion of your income.
I decided to check how far £59 would get you in the UK, and thanks to Row of Cosmetic Candy, I found out that £59 could fill your car tank, buy you dinner at pizza express for 4 and perhaps do a week or two of groceries, or pay a month's internet bill.
What about in the USA? My friend Reese helped me out by telling me that $62 gets her 2 weeks of groceries, or a months water and electricity, or a month of Internet. Of course, how far your money stretches depends on your lifestyle but I'm erring on the side of caution and working out an average lifestyle.
As you can see,it's still a lot of money, but £59, US$62 , and AU$92 don't carve out a significant hole in your monthly paycheck. RM420 does, when an average office executive draws a monthly salary of about RM3,000 (last that I checked) or often, less.
What bugs me isn't so much the high price of things, but how disproportionate they are to our earning power, and how those who promote these things as a "must have" fail to mention or highlight just how expensive or disproportionately expensive they are. Hourglass makes decent makeup, but I do find it overpriced in general.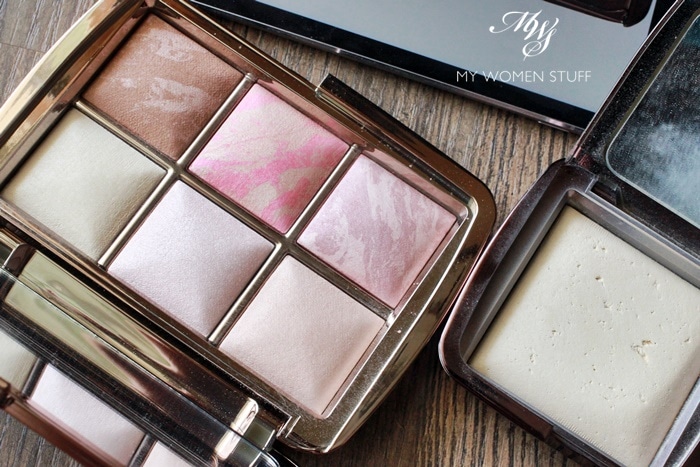 I love my Guerlain Meteorites, but even I could not bring myself to pay RM500 for the Meteorites Voyage Compact back in the day. I probably never will, now that it's almost RM800. I hear the pearls are going up in price and I'm thinking of retiring from collecting. I cannot justify it anymore. The last one was almost RM300 and that was testing my limits.
I've also been told over at Facebook, that prices of Guerlain makeup have gone up in general, where the Baby Glow foundation and the Lingerie de Peau BB Booster is now RM227, up from RM189 just a month or two back. I did notice the price rise in Guerlain recently, and I have it on good authority that every other brand will soon start raising prices, to keep up with global prices, stature, and the exchange rate.
But you know what? Skincare aside (where I might be more willing to splurge a little more) this is all just makeup. Will a RM400 powder make you look better than a RM100 powder? Not necessarily. But if you want it anyway, you know what? Know that you have options to stretch your money.
There are ways and means of buying products from other places, where they quite often work out cheaper than buying locally. I'm not saying we should not support local businesses, but these global companies are global, and the world is now a much smaller place than it used to be, thanks to the advent of the internet. Buy your Korean cosmetics from reputable sites that ship from Korea – the prices are so much lower than they are here! Buy brands like Hourglass from international websites where there are often discount codes and free shipping offered. You have to wait a little before they arrive, but you know what? It's makeup and it's not a life and death matter.
All I'm saying is that we don't have to and should not allow ourselves to be scalped. Sure, the brands won't like me saying all this, but I think that it has to be said. We are the consumer, and ultimately, we take our money where we get the best value. If you want the instant gratification and you don't feel like you're getting scalped, or you don't trust the post, I'm saying to go for it. The economy thanks you! 😀 Prices and luxury are a matter of perception as well – I have a rather old-fashioned approach to money and value, but I know many don't.
But I'm also saying that times aren't going to get better and we should be a little more prudent with our spending. I realise some of you may think me a hypocrite as I feature a lot of luxury or high priced brands, but I do try to factor all that in when I tell you about a product – and as I have said, there are always options where you can buy the product, where it may not hurt your wallet as much, and I try to offer those options. Often, I'll just tell you that it's a want, not a need – nothing is a need except fresh food, fresh air, a roof over your head and clean running water. Everything else is pretty much a luxury 🙂
Are you feeling the pinch with the rising prices in recent times? Do you feel that prices of makeup locally tend to be just a little disproportionate?
I've actually been observing this phenomenon of prices, and I have to say that it's made me rethink a lot of things about this little "hobby" of mine. A year ago, I discussed a similar topic about how rising beauty prices are affecting my beauty purchases. A year on, I've realised that I've actually scaled back beauty buying substantially. I'm still a bit of a sucker when it comes to skincare, but with makeup, I've been hitting the brakes so hard on purchases lately. It's getting harder and harder to justify a purchase! Do you feel the same?
p/s If you're wondering about the local prices of a couple of other popular Hourglass products, the Ambient Lighting Blush is RM220 (vs US$38 and £32) and so is the new Strobe powder, Ambient Lighting Powder is RM242 (vs US$45 and £38). I buy my Hourglass from SpaceNK or Net-a-Porter. The former often has discount codes and free shipping above certain amounts, or affordable shipping otherwise. Just saying 😉 Caveat emptor.
Paris B