Makeup trends, as with most trends, tend to have a cyclical nature and if there's one thing I've noticed recently, is the rise of matte lipstick. Personally, I'm not that much of a fan of matte lips. I like a bit of shine to the lips – I feel it's more flattering. But this is a personal thing of course. I know of people who'd wear nothing but matte lipstick and hey, that's fine too!
But coming on this trend of creamy, semi-matte lipstick is the Laura Mercier Velour Lovers Lip Color lipstick that's been available since the beginning of the year. I haven't seen a lot of press on this, but if you love wearing intense coloured lipsticks with vibrant colours then you might want to take a look at this range.
The packaging is sleek and compact, with a matte exterior to reflect the texture of the lipstick. The quirky side of me happens to enjoy the names of the lipsticks, which are all named with risqué names, as befitting the range – Velour Lovers. Unlike the nameplay of Nars, these have a slightly more nuanced naming convention. The bright pink you see above is French Kiss, for example. The other I'll show you is Coquette, and others I've seen are Boudoir, Sensual, Infatuation and Fore Play, just to name a few.
Unlike most matte lipsticks of yore, the Velour Lovers lipsticks are creamy enough to swipe on lips with intense colour with just 1 swipe. It isn't as creamy as other lipsticks I've shown you before this, but the colour is strong and vibrant, and it doesn't tug on the lips. I hate it when lipsticks tug on the lips, don't you?
The formula feels a little drier than other lipsticks I'm presently using, and I do find that in the heat, the oils tend to surface, as you can see in one of them above. It doesn't change the texture, but it isn't very pleasant to look at. What I like however, is that there is no scent. As I age, I find that I'm less tolerant of strong scents in my makeup, especially lipsticks.
The 2 shades I was gifted with are Coquette and French Kiss.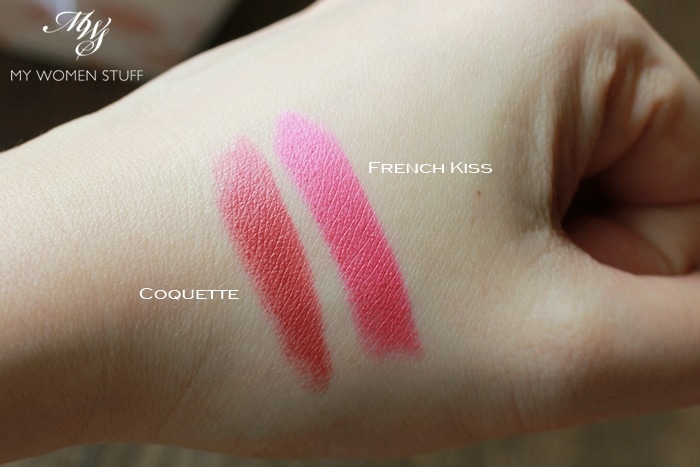 Coquette is a very wearable berry-red, while French Kiss is a bright bubblegum pink – not a share I'd usually wear, I can assure you! The colours are a little more muted than in the swatches above, but they do give you an idea of what the colors will look like.
Not unsurprisingly, I prefer wearing Coquette for daily wear. It's a shade that almost anyone can pull off as it's very safe and very conventional. I wouldn't have named it Coquette at all – that's French for "flirt" and I'd hardly be flirting, with such a safe, berry coloured lipstick! So, I'd have switched the names around – the bubblegum pink might better suit a coquette than that berry LOL! 😀
And here's how it looks when I wear them.
Coquette, while pretty safe, goes on me, a little brighter than I expected. French Kiss, a little more muted than expected, but still a little too pink for my comfort level. But if I were going to wear pink, a bright one like this does the trick better than a pale pink any day! 😀
As for texture, I find that while they are comfortable on my lips, without being drying, the way most matte or vibrant coloured lipsticks are, I do feel them on my lips. It's not as lightweight in texture, and although a little more satin than a true matte, I am not as much a fan of these as I am of a similar texture e.g. Nars Audacious lipsticks. I find these have a similar texture and feel to the Audacious lipsticks, where they are harder and apply more matte, yet with an intense colour that allows you to slick on lip colour in one swipe. I don't find either brand particularly drying, although if you have dry lips or are prone to dry lips, then you might experience a little flakiness as the day wears on. It certainly isn't as creamy as the Bobbi Brown Luxe Lip Colours I featured last week.
The colour are lovely and bold though, so if you want a matte lipstick that isn't too matte and does not settle into lip lines, here's one to add to your collection! 🙂
IN A NUTSHELL

The Laura Mercier Velour Lovers Lip Colour are a range of satin-matte lipsticks that have very intense and vibrant colours, that swipe on opaque in one swipe. I find that it does not tug on my lips the way most matte lipsticks do, and it does not feel dry nor uncomfortable. I do feel them when I wear them, and it can be potentially drying if you have dry lips or are prone to dry lips. The colours are however, very intense and eye popping, and for those who love that sort of texture, this is one to check out.

PROS: Intense and vibrant colours, Does not tug on lips nor dry out my lips, Does not settle in nor enhance lip lines

CONS: A little heavy on lips, Potentially a little drying, Pricey

WHO WILL LIKE THIS: Anyone who likes vibrant, intense coloured matte lipsticks

PRICE: RM129 | US$28
Are you into matte or semi-matte lipsticks? Have you tried the Velour Lovers?
I'm not such a big fan of matte lips, but give me a glossy lipstick and I'm all over it! The closest I get to a matte lip is a satin, creamy textured lipstick… and I still need a touch of shine! 😛 That said, matte lipsticks don't kiss off as quickly, so I think the naming convention in this range is quite apt! 😉
Paris B