You know, despite my grousing about prices of higher-end beauty products, I am a self-confessed snob. My preferences do lie with the finer things in life, and in many ways, I've earned it. I've earned my stripes, as it were and I feel no guilt enjoying my little luxuries.
But it doesn't stop me trawling the budget beauty aisles. There is always something special about coming across a budget beauty gem. Few have in recent times. Especially not eyeshadow. My experiences with eyeshadows at the lower end of the price scale have not been encouraging. I'm already pretty critical about the high end ones, so imagine how I feel when I test an eyeshadow and get poor pigment pay off. Feel like smashing it against the wall!
But not this time. This time, I stumbled across a range of budget eyeshadows that are so cheap, yet so impressive, my mind was blown.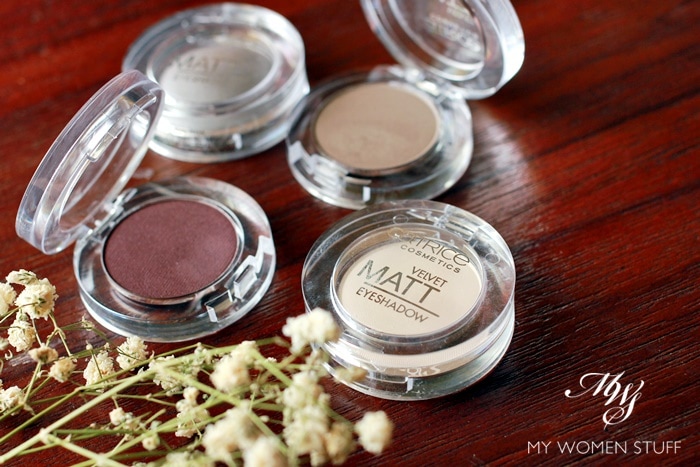 These amazing eyeshadows are the Catrice Velvet Matt Eyeshadow singles and if you have not tried them, please do. They are a-may-zing. I kid you not!
I swiped them just once at the counter, while being at a loose end one day, and I just knew I had to bring them home. Better yet, they were on a Buy 1 Free 1 offer! 😀 If they satisfy this brand snob, they'll satisfy anyone! 😀
Catrice Cosmetics is a very affordable pharmacy (drugstore) brand that locally, is available at Guardian pharmacy (I believe it's only Guardian pharmacy for now – if you know otherwise, please let me know) They are from Germany, I believe, and a sister brand of the other affordable brand, Essence Cosmetics (which I can't seem to locate locally any more). I used to see these all over European blogs, and they came very highly raved despite the very small price tags, which piqued my interest. I was gifted with an eyeshadow palette by a friend, who purchased it from Europe a few years ago. So, I'm not unfamiliar with the brand – just unfamiliar with the products.
So one day when I was browsing at Guardian pharmacy, I spotted that these eyeshadows, already very affordably priced at just RM21.90 each, was on a Buy 1 Free 1 offer! What made me a little hesitant to try, was the name – Velvet Matt eyeshadow.
From experience with low-end makeup, eyeshadow is one of the easiest to get wrong. Often, colour selection is poor, or it feels gritty, or the pigmentation is poor, or it's just meh at best. Make it matte, and I usually just look away. Most high end brands can barely manage producing a decent quality matte eyeshadow, I wasn't expecting a pharmacy brand to do better.
But, I was not prepared for the creamy, velvety smooth texture of these powder eyeshadows, that seemed to almost glide on the skin like a cream! I was smitten almost immediately! 😀
From what I can tell, there are just 6 shades available, which you can see in this sneaky photo I shot in store. They all have amusing names, which naturally sat well with my rather warped sense of humour:-
Vanillaty Fair 010 – A pale, cream shade best used for blending
Pink-Up Girls 020 – A light baby pink
Al Burgundy 040 – A deep burgundy/wine shade (photo above shows more purple, the other photos have a more accurate representation of colour)
Welcome to Greysland! 050 – A medium, cool toned grey
Jump Up and Brown 030 – A cool toned taupe in the pan, that swatches warmer on skin
Moss Wanted Colour 060 – A pale green
I only really wanted 3 shades but since it was Buy 1 Free 1, I decided to take a chance on Al Burgundy, a colour I usually stay away from when it comes to eyeshadow, but which eventually turned out to be one of my favourites of the 4 I picked! I love how I kept getting surprised over and over! 😀
Each single eyeshadow is housed in a solid, clear lucite case. But there were some inconsistencies in the design and texture that, not surprisingly, bugged me a little.
Of the 4 shades, Jump Up and Brown and Vanillaty Fair both had smooth surfaces on the powder. They both felt like the finest of cream textures, and swatch like a dream with just 1 swipe of the fingers. Jump Up and Brown, in particular, surprised me (yet again!) because the colour, which looks a little pale and unassuming in pan, went on my skin a rich taupe that was a beautiful neutral that I loved so much, I've been wearing it almost everyday! Talk about value for money LOL! 😀
On the other hand, Al Burgundy had a patterned surface, and in terms of texture, I could feel that the surface of the powder felt rougher and drier. The colour in pan looks a little flat, but when swatched on my skin, I was (again!) surprised by the depth of colour! This was a rich burgundy/wine shade that was not as red nor as purple as I had initially thought. I pair it often with Jump Up And Brown, as a crease shade, and it adds a lovely depth. I have not yet worn it on its own, but I will eventually.
Welcome to Greysland! puzzled me, because it was the only design with a domed pan. I wasn't quite sure why this was so. The tester pans were also domed, but worn flat by the numerous fingers swatching it. Yet, all the other pans were flat. The grey looks a little mediocre in pan, but once on skin, takes on a lovely cool tone with a slightly neutral base, that I found flattering and very easy to wear.
To give you an idea, here are the swatches I have of the 4 colours I own.
It might interest you to note that all swatches were made with just 1 swipe of my finger on the pan and straight onto my skin. The colour swatched evenly all the way down and as you can see, look so much more vibrant than in the pan! I'm not even sure why this was so.
I did not pick up Pink Me Up and Moss Wanted Colour, as they were a little too pastel for my tastes. But I can attest to their buttery smoothness of texture as well. What surprised me (again! This is a common theme throughout this post, as I'm sure you can tell) is that the colours aren't exactly matte.
So, if you are looking for a true matte eyeshadow, then you may be disappointed with these, because I feel that they have a little shine to them, that makes them appear to be more satin in texture than matte. In fact, the only time they look matte, is in the pan. On skin, they have sufficient shine to not look flat, yet not so much shine as to be shimmery. I love it! I love how subtle it is, yet how flattering it looks when worn.
I love how easy they are to blend, without once being patchy on skin. They are a little powdery, when my brush picks up the colour, but it is SO EASY to pick up colour! Depositing it on skin and then blending it out results in NO FALL OUT at all, and it blends like a dream. WHY AM I TYPING IN CAPS? I HAVE NO IDEA! But it just seemed to deserve it. Yes, these Velvet Matt shadows are A DREAM! If this was a high end shadow, I think they'd actually get a lot more raves and rah-rahing than they currently do, but they are worth every single penny you spend on them. And you won't even spend very many pennies! 😀
I bloody well love them, and I've been using nothing but these shadows for the past few weeks because they're so easy to work with, and so flattering when worn. If ALL pharmacy brand makeup were this impressive, I might actually be a little more forgiving. Unfortunately, this is, I think, an exception rather than the rule. But what an exception it is! 😀
IN A NUTSHELL

The BEST pharmacy/drugstore eyeshadows I've come across in a billion years. Creamy, smooth, pigmented, easy to blend, long-lasting, no fading, rich colour… I'm running out of superlatives. Go get one. Or maybe two. Do not pass Go. Do not collect $200.

PROS: All of the above, and bloody affordable to boot! Even without the Buy 1 Free 1 offer

CONS: Limited colours but nothing else – 5 star product!

WHO WILL LIKE THIS: Anyone who loves a budget bargain, Anyone who loves a high quality eyeshadow

PRICE: RM21.90 | US$4.99 | €4.49 each – Watch out for Buy 1 Free 1 deals

AVAILABILITY: Guardian pharmacy in Malaysia, Ulta (US) and pharmacies in Europe
I thought I'd show you how I've been wearing these shadows, just for an idea.
I often wear Jump Up and Brown all over the lid, with Al Burgundy smudged along the upper and lower lash line, and into the outer corner and with Vanillaty Fair on the brow bone, and to blend away the edges. Very simple look. If you want something smokier, pile on more product.
I don't wear a primer and these last me all day long without fading. Honestly, I have not been so blown away by an eyeshadow product in a very very VERY long time. I think I'll stop now before you get tired of me gushing on and on 😛
Have you tried the Catrice Velvet Matte Eyeshadows? Anything else from Catrice I should be trying?
I was thinking to try a blush but I thought I'd try these shadows first and see how they fared. Now that I love them so much, I'm keen to try even more from the brand, so if you have tried anything rave-worthy, please rave at me, so I can check them out! 😀 The wallet-friendly prices sure have me by the short and curlies 😀
Paris B