I get asked some questions quite often, and among the most prevalent is this: What is the Guerlain Meteorites Powder used for, and if I were to pick one, which do I pick?
A close runner-up is the question : How do I use the Guerlain Meteorites powders? I mean, they're expensive, and I don't want to just buy and stare at them, as pretty as they are!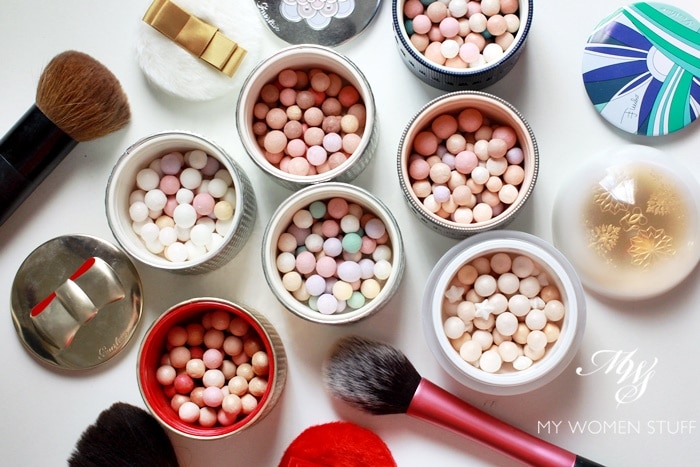 For some reason, people seem to think I'm an authority on Guerlain's bestselling Meteorites Powder Pearls LOL! 😀
Well, I'm no authority, but I do own enough of them, and have used them long enough to know their quirks and how best to get around them by now.
My review on the Meteorites was among the first reviews I wrote on this blog way back in 2007 when I started MWS! That's yonks ago.
So, here's my quick 101 primer on the popular, Instagram-worthy Guerlain Meteorites Pearls (or what I affectionately call the "bebola" – balls in the Malay language, or just "balls" or as some friends will have it, "ballz"!) and which to pick, if you want just one, or want to get your first Meteorites 🙂
What are the Guerlain Meteorites powders used for?
The Guerlain Meteorites are what is known as 'finishing powders'. To the naked eye, they serve little to no purpose, and you may never notice much of a difference. But the coloured powders meld together in a translucent glow, to give your skin a lovely, glow-from-within that is imperceptible; yet, when you catch that glimpse of yourself, you may notice how your skin just looks…. better.
It's pretty magical, if I don't say so myself, and while there are many who are happy to disagree with me, I stand by my experience.
It's not something you can photograph, and it's not even meant to control oil (so everyone complaining about how it does nothing for oil control? That's your answer – it's not supposed to! 😛 )
In fact, you can use loose/pressed powder to set your makeup and then use this powder over, to lift the complexion. Sometimes, if my base/foundation looks a little dull or flat, I use the Meteorites pearls in 02 Clair to boost the glow. No shine, no glitter, but just a natural looking lifting of the colour.
Other times, if my base looks too warm, a touch of 02 Clair does the same. Sometimes, if the base looks too light or shiny, 03 Medium comes to my rescue.
Think of these as a product you put right after you're done with your makeup, just to bring it together. Not necessary at all, but magical when it happens.
If I were to buy my first tub of Guerlain Meteorites Pearls, which should I go for?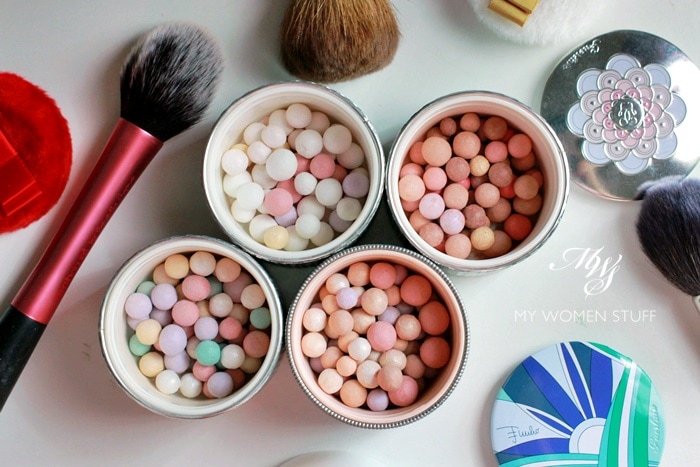 At present, there are 4 permanent shades, and I always suggest that you look at the permanent collection, as you will ever only need 1 tub, and you don't really want to go for the limited edition tubs, which maybe pretty to look at, but from experience, are less functional.
01 Blanc de Perles – these used to be just a tub of pure white powders available only in Asia. The new version is predominantly white, with a smattering of pink, lilac and gold powders in there. I find this one a little "whitening" on skin so it works as either a very subtle highlighter or if used all over, lifts a very dull complexion. I'm not sure if it's still only available in Asia so I'd appreciate confirmation 🙂
02 Clair – Previously known as Mythic and then, Teint Rose, this is the one most people are familiar with, as despite the name change, this combination has been with us for years and years! This is one in the bottom left of the picture above, instantly recognisable. This has a brightening effect to the skin and if not careful, can exude some shine/shimmer. If my skin looks or feels dull, this one lifts and adds a glow. If my base looks too flat (matte or anything too full coverage) then this one lifts it to look more flattering. While this is commonly touted as the "universally flattering" choice of Meteorites, I will not agree.
03 Medium – Previously known as Teint Beige, this is the one in the bottom right of the picture above. This is not the same colour combination as the even older Beige Chic which is more brown. Interestingly enough, this is the one I'd recommend for most people who ask me this question. The reason is thus. Although it says "Medium", it isn't very deep in colour. In fact, it is mostly translucent, with only a tiny hint of depth. The primary reason I suggest 03 Medium to most people, is because it contains the least shimmer. In fact, it has a more satin finish, and that is what most people prefer. Also, this has a nice unifying effect, perhaps due to the combination of shades, and suits most skintones, unless you are very very pale, in which case, it might be a touch warming. I use this one quite often, just to unify my base. If my foundation looks too pale or glowy (it happens) this tones it down. It just makes my makeup look better.
04 Dore – This is the deepest shade, but I hesitate to recommend this even if you have very deep colouring, because I find that it's very brown and that can actually dull the skin. For me, this is my favourite bronzer because it is so translucent and gives such a subtle hint of shade to the skin so as to look natural instead of like cocoa powder. However, it is also very noticeably shimmery, which is why I hesitate to suggest this. For someone with a very deep skintone, even Medium could work, and might even offer some brightening effect.
IN A NUTSHELL

My suggestion for your very first tub of Meteorites, will be either 02 Clair (if you are fair or want something that will brighten the skin) or 03 Medium (for most skintones and if you prefer something not so shimmery).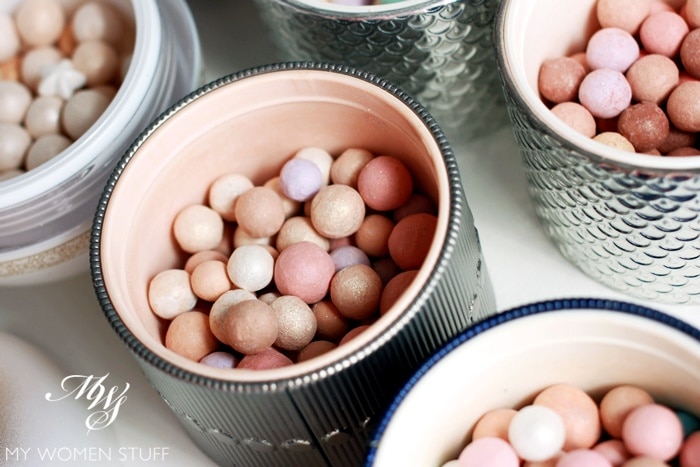 Guerlain Meteorites Perles – 03 Medium aka Teint Beige – my recommended Meteorites
Do I need more than 1 tub of Meteorites?
Nope, absolutely not! In fact, you may even be wondering why you even own this one tub, if you feel you're not seeing the magical effects everyone raves over. But whether you WANT another, that's a whole different story altogether! 😀 Welcome to my world LOL! 😀
Should I buy the permanent or limited edition Guerlain Meteorites for my first tub?
My suggestion is always to go for the permanent ones, if you aren't a collector or swayed by pretty makeup. The reason is simple.
I personally feel that the permanent range is more flattering.
From experience, the limited edition versions can sometimes be too warm (Pucci Meteorites) although that might suit some, too pale (Dragon Meteorites) or too shimmery (Aquarella, Perles de Nuit Meteorites – albeit the last is the one that gives the most beautiful candlelit glow to the skin).
Once in a blue moon, like a unicorn, a very nice one appears that is flattering (Rainbow pearls) but otherwise, I'd stick to the permanent range for your first tub.
Should I buy the limited edition Meteorites at all?
The short answer – only if you're a collector. As I've noted, the limited edition Meteorites tend to be a little hit or miss. They work, but only if you are willing to get them to work.
The ones that are released for Christmas/Holidays tend to be fairly shimmery or pale. The ones released at other times of the year (occasionally Spring or Summer collections) vary in quality. Besides, these aren't cheap and if you don't plan to use them, don't buy them. Well, unless you're a collector, as I've noted.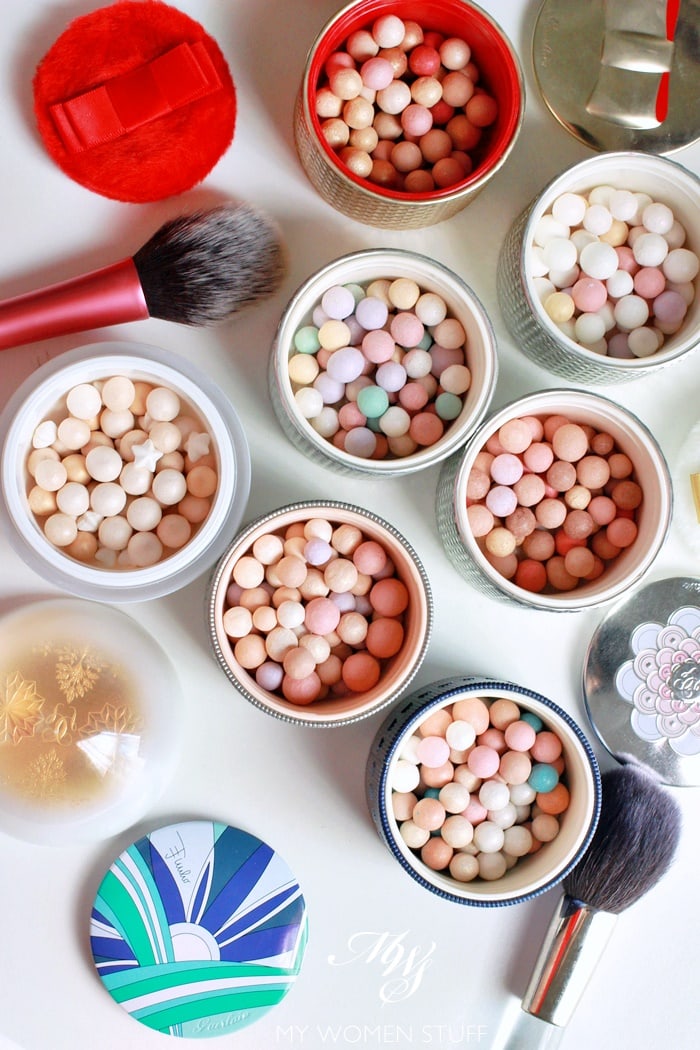 Ok, so I want to buy one, how do I use the Meteorites?
Congratulations on making up your mind!
How to use the Meteorites is very simple.

Take a fluffy brush, swirl it or tap it GENTLY in the tub (be careful, the balls have a tendency to want to escape from their tub) and then, apply it all over your face AFTER you are done with your base (primer, foundation, concealer and/or powder) or after you've put all your makeup on.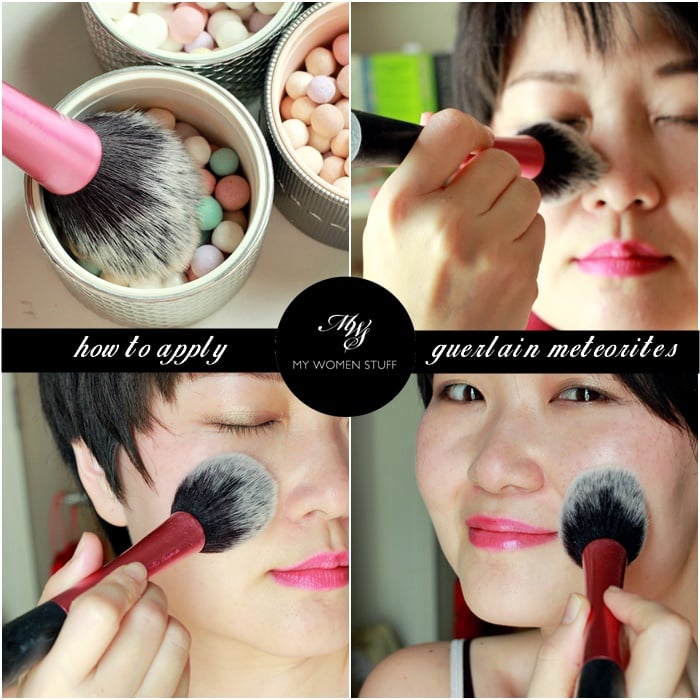 Don't worry if it seems like there's no colour on your brush. Depending on the brush I use, it sometimes looks like it didn't pick any product up, but it does.
Gently brush over your whole face, and you're good to go. The new formula is more powdery than before, so brushes actually pick up more product now. Don't overdo it. You aren't supposed to SEE the powder on your skin. If you do, chances are, you're using too much product.
I've seen people suggest to use Meteorites for highlighting. While you could, I don't see the point, because they aren't shimmery enough, nor can you pick up enough product to use just for highlighting. The powders are fairly light and translucent, despite how colourful they look in the tub, so to me, they don't serve much of a highlighting function at all. You'd be better off using a proper highlighter instead.
What brush do I use with the Guerlain Meteorites pearls?
I can tell you what brush NOT to use with it – the one that Guerlain sells.
Guerlain sells a pink bristled brush under the Meteorites range and you may be persuaded to get it because it's supposedly for use with these Meteorites perles and because it's pink. DO NOT GET THIS PINK BRUSH! 😛
This brush is one of the WORST brushes I've ever come across, and it is so expensive too. It feels like a loo brush. That's how stiff and rough it is, and it has absolutely NOTHING going for it but looks. Avoid like the plague – and this is coming from a huge huge Guerlain fan 😛
For me, I use any fairly dense but flexible powder brush. The reason I pick something more dense, is because I find that it picks up the powder more easily due to the surface area, and being flexible, it applies better on skin as well.
I use a bronzer brush by Trish McEvoy, but the Real Techniques Blush brush works just as well and I use them interchangeably. I'd even suggest using the Nars bronzer brush, which has a lovely dense and flat head, but in recent times, I've found it shedding and that pisses me off. So I'd actually suggest sticking to the Real Techniques brush – affordable and perfect for use with the Meteorites.
Do the Guerlain loose Meteorites travel well?
Short answer – no.
You see, the new metal tubs come with a flat lid that only covers the top of the tub. This can loosen easily and cover the inside of your makeup bag with a fine layer of shimmer. When they came in cardboard tubs, the cover would actually slide down all the way to the bottom of the tub.
Ironically then, it was more portable than now. So no. Unless you tape the cover down, don't travel with these. You can get the pressed version if you prefer, which are more portable. To me however, I find the quality of the pressed Meteorites too inconsistent to recommend.
Should I get the mini travel sized Meteorites from duty free?
Short answer – no.
If you travel often, you may come across some mini Meteorites perles available at duty free counters. If they come with the brush attached or included, you're faced with, and paying for, that terrible pink loo brush.
If they come in the mini tubs, you'll find that they're far too tiny and fiddly, and you'll eventually hate it because it's just too fiddly to use. The balls will disappear the minute you sneeze.
Personally, I feel that this makes a poor introduction to these cult powders, and I'd instead just get 1 full sized tub, and scratch that itch for good.
Are the Guerlain Meteorites worth the money?
This is arbitrary. I'd say yes but only because I totally GET that magic glow they give my skin. It's the reason I'm such a huge fan of them, and extol their virtues to anyone who'd listen.
But I do not deny that these are expensive. At today's prices, they're something like RM195 or maybe more (US$62) and that's a huge chunk of change for one makeup item. If you consider that it'll last you nigh forever, then it makes sense as well, as the prices have been and will keep going up. But if it's something you won't likely use, or don't get the hype about, then don't spend that money just because everyone else is.
2019 update: It's now RM269 | US$63 a tub. While the US prices hasn't gone up by very much, the RM price is now hard for even me, a die-hard Meteorites collector, to swallow. For this reason, I have stopped collecting the newer ones post 2018, unless there is one that really catches my fancy.
Are there dupes for the Meteorites?
I'm sure there are – aren't there dupes for everything out there? You can find similar looking colourful powders made in the form of pearls, or just similar colourful powders in many brands, from very affordable brands like NYX, Physician's Formula and ELF to higher end brands like Shiseido Maquillage, Paul & Joe, even The Body Shop at one point.
From what I have seen, the ones from other brands tend to be heavy on the shimmer and are usually marketed as highlighting powders. The Guerlain Meteorites are more GLOW than SHIMMER and are marketed as illuminating powders, so there's a very subtle difference, that translates differently on skin. Personally, I have not tried any of the 'dupes' so I will reserve comment. But if you find some dupes, and are happy with them, that's great 🙂
What about the Hourglass Ambient Lighting Powders? Are they Meteorites dupes?
I'd say they aren't. I did a little comparison when I reviewed the Hourglass Ambient Lighting powder in Diffused Light. In short, Hourglass powders have more coverage and have more colour to them, so you have to be sure to get it right, or you won't like them, or they might look off. Meteorites are far more translucent and much more forgiving as a result.
I hope I've helped answer some of the most common questions about these Meteorites perles powders. I thought it would be helpful to have them all in one place so I can just direct queries to this post, instead of repeating myself in every email reply I send LOL! 😀
Do you own any Meteorites Illuminating Powder Perles? Do you get the magical hype, or do you think it's just another overhyped makeup product that serves no purpose but to suck your wallet dry?
I naturally love these, and I use them practically everyday. Sometimes, I use these powders over a thin layer of BB or CC Cream, and they do wonders to make me look awake and perky, when I feel like something the cat dragged in. Other times, I use it to finish and perfect my makeup so it looks just so. It's not something I can pin my finger on and say "This makes me look flawless!" but it's that moment when I catch the light, or I catch a glimpse in the mirror and I go "Man, you look amazing for an insomniac!" and that's when I know – Meteorites Magic has done it again 😀 What say you?
Paris B