Ok, just stick a label on my forehead already and call me SUCKER!
I've never been one for consuming beauty drinks. I know loads of people swear by them. Collagen drinks in popular in Japanese and Korean brands and heck, even my MOM used to be quite diligent about her collagen drinks at one time. Then again, Mom will try anything once, in the name of beauty. I think I got that from her LOL!
But when it came to beauty drinks, I wasn't quite swayed. Well, until now that is.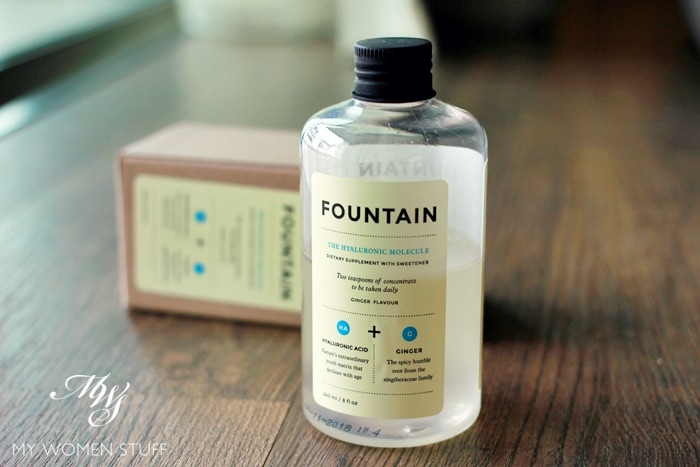 Even though I'm surrounded by billions of Asian brands touting their little bottles of collagen drinks and beauty drinks, I couldn't bring myself to buy them. Felt a bit like snake oil to me. You can't really measure or see the effects, so I used to frown when Mom bought her drinks, but chose not to consume them myself.
During the Black Friday sales last year however, while I was browsing the Deciem website, I came across a deal on some of the products they carry under the Fountain brand, which is a brand that makes – you guessed it – beauty drinks! I'm not sure what possessed me, but I picked up one of their sets which included their popular Fountain Hyaluronic Molecule.
I know what you're thinking. Did it work, PB? How did you like it? Are you a beauty drinks convert now? 😀 I dunno, are you?
Fountain claims that The Hyaluronic Molecule is a concentrated beauty supplement which contains a high concentration of hyaluronic acid (130mg/2 teaspoons) that you take first thing in the morning. Hyaluronic acid as most of us know by now, is an ingredient that holds 1000x its weight in water, which means that it retains moisture in our skin better. It's the reason why so many skincare products out there now boast the inclusion of hyaluronic acid, and any hydrating product worth its weight in gold will contain this ingredient.
Hyaluronic acid is produced naturally in our bodies, but as with everything, it decreases as we age, which explains all the skin dryness and lines and wrinkles and what have yous. Other than for skin, hyaluronic acid lubricates our joints and brain. I tell you, growing old is a pain. I mean it literally too!
But can hyaluronic acid serve any purpose when ingested? I've read differing reports. Most claim that you can consume hyaluronic acid and that it can benefit you. But there is a small minority that claim that it's all snake oil and it does nothing when ingested because you can't drink enough of it to make a difference.
So, with that in mind, did I personally derive any benefits from the Fountain Hyaluronic Molecule drink? Hmm… it's kind of hard to say.
I'll say for sure that I didn't notice a lot of difference to my facial skin. I've read many reviews that say that they noticed firmer skin or better hydrated skin… I noticed none of that. So, I was ready to write this off. But I also told myself that it could be because I was already taking care of my facial skin, so like with trying new skincare, improvements are slight.
But what I did notice an improvement on, was on the skin of my body. I'm a horrible beauty blogger because I dish out all this advice on how to maintain the skin on your face, while neglecting my body. Body lotions? Body Creams? Nah… I'm just too freaking lazy! 😛
Yet, after a month of gulping down this Hyaluronic Molecule drink, I've noticed that I'm less conscious about flashing my scaly legs. This could be due also to the fact that I'm less exposed to air-conditioning these days, but I thought it might also be attributed to this drink.
Nothing too noticeable. But I did notice that the skin on my arms and legs look and feel smoother and more hydrated. I'm still horrendous at applying body care products (except for hand cream at night and the occasional body oil on my arms) so it was a very pleasant surprise.
Since this is a drink after all, I figured that some improvement in my body or skin was better than none right? LOL So, if you aren't hoping for a miracle, then this might be a good supplement to your beauty routine, especially if you're lazy about body care like I am. It helps you take care of that. But if you have never used hydrating products on your face before, then perhaps you might even see improvements there. Who knows. I didn't, but my arms and legs are happy about it!
Now, about the taste. It's interesting. The texture of the drink is a little thick, like syrup. It has a cloudy colour to it, that reminds me of barley water. But what does it taste like? Hmm… that's a hard one.
The drink is ginger flavoured, so there is a hint of spiciness that you get with ginger, with a bit of zing to it, almost like a fizz. It's like that fizz you get with soda/carbonated drinks that have gone flat, but not totally flat. The texture on the tongue feels like a slightly gluey liquid jelly, which is unusual if you've never experienced something like this before.
So, put it all together, and what you get on your teaspoon in the morning, is a gluey liquid jelly that looks like barley water, and tastes like an almost-flat carbonated ginger drink. Definitely an acquired taste. Or just mix it in a fruit juice, if that's what you prefer. I don't mind the taste actually, so I just take my 2 teaspoonfuls in the morning and chase it down with some warm water.
Will I repurchase? I don't think so. I'm not diligent enough to keep to this daily and while I did notice some benefits, I suppose it wasn't lifechanging enough to merit my spending more money on this.
IN A NUTSHELL

The Fountain Hyaluronic Molecule is a beauty drink that has high concentrations of hyaluronic acid. This will help keep your skin looking softer, firmer and more moisturised, which will likely help those who have a problem with chronic skin driness. I experienced little benefit on my facial skin, but I did notice improvements on my arms and legs where the scaly, dry skin improved quite noticeably and felt and looked soft. The taste is interesting, almost like a a gluey liquid jelly that looks like barley water, and tastes like an almost-flat carbonated ginger drink. Doubt I'd repurchase though.

PROS: I noticed improvements in the moisture level of the skin on my arms and legs, which I mostly neglect

CONS: No major improvements otherwise, Taste will be off putting for some although I wasn't fussed

WHO WILL LIKE THIS: Anyone who enjoys taking beauty supplements or drinks

PRICE: US$33 | £28 for 240ml

WHERE TO BUY: Deciem website (ships internationally for free), Cult Beauty, Net-A-Porter
If you're interested, here's the ingredient list
Have you tried the Fountain beauty supplement drinks? Are you into beauty drinks?
The set I bought came with another Phyto-Collagen Molecule drink which I thought I'd try only after I finish this bottle. Didn't think I should mix them. I haven't been as diligent to take this every day as I should, but I average about 4-5 times a week. About half of the way through by now! I actually don't think this any more expensive than the Asian brand beauty drinks. Doesn't taste as sweet either. But nope, I'm still not sold LOL! 😀 How about you?
Paris B