I first experienced the popular Jo Malone fragrances after a flight – weird right? I know! But in-flight duty free was where I first picked up a sampler pack of popular Jo Malone fragrances, and discovered the art of fragrance layering. It was fun, and I enjoyed discovering new ways of wearing their scents. If you can find one of these sampler packs, pick it up – it's worth the discovery.
But the one "problem" I'd always had was that Jo Malone scents tended to be quite "pretty". It is the favourite of beauty bloggers (the bottles photograph well alongside iPhones and Macbooks and peonies) and the scents tended to be light and floral. They are colognes after all, and while some scents last longer than others (Pomegranate Noir, how I love thee!) they are fairly fleeting.
Well, until now!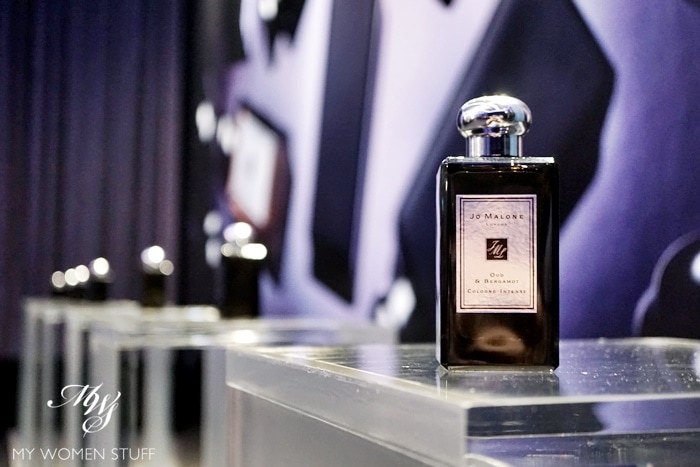 Quite a while ago, 2010 if I'm not mistaken, Jo Malone London launched a new range called Cologne Intense. As the name implies, these are heavier, stronger, more intense fragrances when compared to their regular white label range.
Befitting of the name and the impression it invokes, the new range comes in black bottles, that are at once sleek and heavy in appearance and impression. The range now comprises 7 scents, and are now available here in Malaysia. I had the opportunity to take a sniff at the scents during their media launch quite recently, so I thought I'd share my overview impressions of the Cologne Intense range. Do bear in mind that I'm no perfume connoisseur! 😉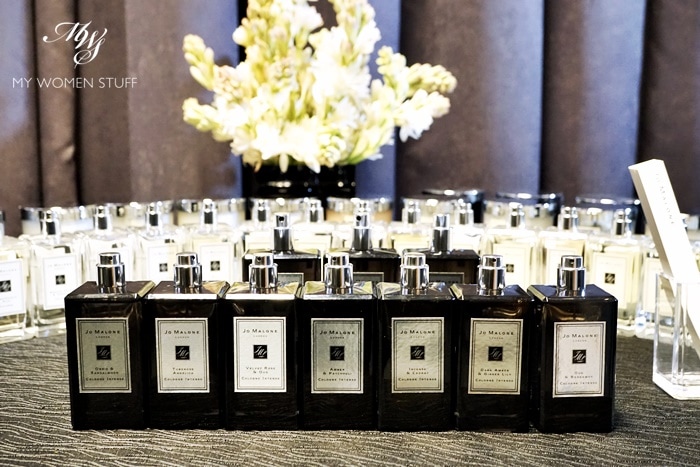 The 7 scents available in the Cologne Intense range are as follows, along with my first impressions of them. Do bear in mind that perfume is a very individual thing so don't take this as gospel but as a guideline:-
Tuberose Angelika – A fairly heavy, heady floral scent that is reminiscent of most fragrances containing Tuberose. While tempered by a slightly fresher note of Angelika, I find that Tuberose is still overwhelmingly prevalent. One to check out if you enjoy floral scents.
Velvet Rose & Oud – As the name implies, the scent is a velvety rose with a smokey note of oud and spice. Another one for fans of heavy floral scents. I won't wear this in a perfume, but I might like a candle for my home.
Amber & Patchouli – Another fairly heavy concoction, as Patchouli is quite a heavy and heady scent. Again, not one I'd wear as a perfume.
Dark Amber & Ginger Lily – Despite the deep, dark name, this spritzes as a fresh, spicy scent, but grounded with the base of amber. A strong scent which I'll elaborate on a little more below.
Incense & Cedrat – As the name implies, this one has the woody, spicy, smoky scent associated with incense. I said it reminds me of a temple, which seemed to amuse people to no end. It does, you know 😛
Oud & Bergamot – While this is an oud based perfume, I was surprised to find that the smoky, woody scent of oud was made much lighter, and when tempered by the crisp bergamot, this turned out to be the scent I liked most from the Cologne Intense range. It did not overwhelm me or my nose, and when layered with Grapefruit, made for a fresh and longlasting combination. If I were to pick one, I'd pick this one.
Orris & Sandalwood – This one is powdery, with the unmistakeable scent of sandalwood. I found this a little bland, without too much character to it. It did not stand out, much to my surprise, but others loved it.
Jo Malone Cologne Intense Dark Amber & Ginger Lily – RM585 for 100ml

Dark Amber & Ginger Lily isn't one I'd pick for myself personally. The scent spritzes out a fresh, zesty scent with a slight spicy note. However, the burst of zest quickly settles to a deeper, spicy, musky scent of amber, and settles to a woody scent at the base. This is a fairly heavy scent that for me, doesn't sit well with me in our hot and humid weather. In a cold room or in a cold climate, I can imagine feeling comforted by this warm scent that wraps around me. I'm transported to the spice markets, with the scent of spices in the air around me. Lovely, if you enjoy these sort of scents that bring to mind spice markets in exotic souks, while beguiling women with kohl-rimmed eyes peer at you from behind their veils. This, of course, in the past, a different world to the Middle East of today.

Do I like it? I'm not sure. While I like spicy, woodsy scents, this feels a little heavy for me. This is definitely one I can imagine both men and women enjoying, because it has that heaviness associated with masculine scents. I'm thinking of trying to layer this with something lighter, but as I don't have many, I'll try it with Lime & Basil or Grapefruit and see if I can't lighten it somewhat, or perhaps a light floral and see if I can make it a little more palatable for my tastes. Suggestions welcome! 😀
The Cologne Intense range also comes in candles (Oud & Bergamot, Dark Amber & Ginger Lily and Velvet Rose & Oud – RM370/200g) and a dry body oil (Oud & Bergamot, Dark Amber & Ginger Lily and Velvet Rose & Oud – RM340/100ml).
In the dry body oil, the scents are a little different and if I might say, more palatable. So, if you aren't too captivated by the scent in a perfume, take a sniff at the dry body oil. It's not very oily, and leaves skin delicately perfumed, which is very alluring, if you want to be subtle, you know 😉
Have you tried the Jo Malone Cologne Intense range? Are you a fan of Jo Malone London fragrances?
This has been available overseas for a few years now, but have only just found their way here to Malaysia. I can imagine that there will be a market for it, because of the way they smell – more intense. Quite different from what we have been used to smelling from Jo Malone London before this, and well, as they say, change is good! 🙂
Paris B
Jo Malone London Cologne Intense is available at Jo Malone boutiques in Malaysia (KLCC, MidValley Megamall, Pavilion KL) and internationally online at amongst others Nordstrom, Selfridges, Saks Fifth Avenue
[show_shopthepost_widget id="1354539″]