'tis that time of year when people are talking about gift guides and gifting and presents. Quite often, it's all about what people what for themselves. Face it, folks. Gift guides are thinly veiled wish lists! LOL! But if you are in the spirit of giving, I'm going to eschew the traditional gift guide or limited edition sets, and suggest that you take a look at this offering from The Body Shop which I can safely say you'd be happy to give as much as you are to receive… especially as the holiday season brings frazzled nerves!
The Spa of the World, is a new range of products from The Body Shop, that boasts products that you can use for an at-home spa. Not all of us have the luxury of time, money and effort to get ourselves to a day spa, where we can relax and rest our our weary heads and bodies while someone else massages and pampers our cares away.
Quite often, most of us only have time to get home, throw our weary bodies on our couch (if that!) and zone out. But if you have a few minutes before bed, you can create a little zen atmosphere to help you relax and regain some calm in the midst of chaos.
The relatively small range comprises a bath milk, creams, body oils and body scrubs. But I rather like that – if there are too many options, it gets too hard to choose! Let me show you just 2 of the items I have here 🙂
The Body Shop Spa of the World Polynesian Monoi Radiance Oil – RM129, £16/170ml
I love body oils, and I'm always on the look out for something new. You'd be surprised at just how few brands there are out there, that are available locally, that carry body oils. Lest you think that a body oil is a recipe for disaster in our hot and humid climate, let me debunk that myth.
Body oils, like facial oils, actually help moisturise skin and helps skin stay moisturised better than mere creams or lotions. Besides, you can mix them with your creams for better efficacy, and a good body oil will absorb well into the skin without leaving you an oily, greasy mess.
The Polynesian Monoi Radiance Oil is a blend of coconut oil and tiare flowers, which has a lovely fragrant, floral scent. No scent of coconut (thankfully!) but definitely floral, in a manner that brings to mind balmy sea breezes, swaying coconut trees and tropical frangipani flowers in your hair. It is a little sweet, but comforting and it is surprisingly lasting, so I sometimes wake up in the middle of the night, with a hint of the scent lingering.
The oil is a little thicker than some body oils I'm used to using, but it absorbs well and quickly into skin without feeling thick, greasy or oily. It leaves my skin feeling smooth and comfortable, and doesn't mark my sheets, which is very important for me.
Because it's a little thicker than most body oils, you can use it as a massage oil as well. I sometimes like bringing my own massage oils when I visit spas. It ensures you get a scent you are comfortable with, and something your skin enjoys. So that's a tip for you right there! 😉
If you have long hair, you can even use this at the tips of your hair to keep it lustrous and shiny. But me? I just use it for my body, and it helps me wind down before bed. Not too pricey, and an lovely indulgent purchase.
Ingredients: Prunus Amygdalus Dulcis Oil/Prunus Amygdalus Dulcis (Sweet Almond) Oil (Skin Conditioning Agent), Helianthus Annuus Seed Oil/Helianthus Annuus (Sunflower) Seed Oil (Emollient), Bertholletia Excelsa Seed Oil (Emollient), Cocos Nucifera Oil/Cocos Nucifera (Coconut) Oil (Emollient), Parfum/Fragrance (Fragrance Ingredient), Sesamum Indicum Seed Oil/Sesamum Indicum (Sesame) Seed Oil (Skin Conditioning Agent), Benzyl Salicylate (Fragrance Ingredient), Tocopherol (Antioxidant), Gardenia Tahitensis Flower Extract/Tiare (Gardenia Tahitensis) Flower Extract (Skin Conditioning Agent), Benzyl Benzoate (Fragrance Ingredient).
The Body Shop Spa of the World Hawaiian Kukui Cream – RM230, £23/350ml
I was curious about this reference to a Kukui because I'd not come across it before. What it is, is a nut which yields an oil that is used by Hawaiian women to keep their skin moisturised, supple, nourished and soft. The Body Shop has blended this oil into a rich body cream.
First off, this is a HUGE bugger of a tub! I must admit I was surprised when I first saw it. So, while it is a little pricey for something from The Body Shop, the size makes up for it.
Secondly, they weren't kidding about the body cream being rich and nurturing. If you look at the first picture up top, the item in the top left corner is the exposed body cream. You may notice just how solid it looks, and it is pretty hefty in person too!
I found that it reminds me of TBS Body Butters in texture. It is almost solid to the touch. Yet, it is much creamier than the body butters, so it doesn't sit on your skin like the body butters can sometimes do. The texture is rich and creamy but absorbs quite well into the skin. What is nice is that this texture allows you give yourself a little massage, as you rub it into your skin. It makes my skin feel and remain soft, without feeling sticky or greasy and let me tell you that I'm terribly terribly fussy about that! It's the reason why I'm so lax about using body creams and lotions. I hate that after-lotion/cream feeling 😛
The scent of the Hawaiian Kukui Cream is a little bit nutty but otherwise smells rather similar to the Polynesian Monoi Radiance oil. The same sort of sweet, floral scent that brings to mind tropical sunsets and walks by the beach, with the balmy sea-winds blowing through your hair.
Ingredients: Aqua/Water (Solvent), Bertholletia Excelsa Seed Oil (Emollient), Theobroma Cacao Seed Butter/Theobroma Cacao (Cocoa) Seed Butter (Emollient), Butyrospermum Parkii Butter/Butyrospermum Parkii (Shea) Butter (Skin Conditioning Agent), Cetearyl Alcohol (Emulsifying Agent), Glyceryl Stearate (Emulsifying Agent), PEG-100 Stearate (Surfactant), Glycerin (Humectant), Cera Alba/Beeswax (Viscosity Controlling Agent), Ethylhexyl Palmitate (Skin Conditioning Agent), C12-15 Alkyl Benzoate (Emollient), Parfum/Fragrance (Fragrance Ingredient), Caprylyl Glycol (Emollient), Dimethicone ( Emollient), Phenoxyethanol (Preservative), Aleurites Moluccana Seed Oil (Emollient), Benzyl Salicylate (Fragrance Ingredient), Xanthan Gum (Viscosity Controlling Agent), Tocopherol (Antioxidant), Disodium EDTA (Chelating Agent), Sodium Hydroxide (pH Adjuster), Benzyl Benzoate (Fragrance Ingredient), Linalool (Fragrance Ingredient), Potassium Hydroxide (pH Adjuster), Ascorbyl Palmitate (Antioxidant), Citric Acid (pH Adjuster), CI 75120/Annatto (Colorant).
IN A NUTSHELL

The Body Shop Spa of the World range of products is a range of home spa products for bath and body care. Having tried the Polynesian Monoi Radiance Oil and the Hawaiian Kukui Cream, I have to say that I am once more drawn to check out TBS products. I had stayed away for a while, because it started getting very fruity and I just wasn't into fruity scents. This range sits well with me in terms of performance (soft skin for days!) and scent (beachside holidays!) so I'm happy to say that they will make nice gifts for someone, or for yourself. There are also massage oils in an invigorating Thai Lemongrass and relaxing French Lavender scent that I'm thinking of checking out. If they're anything like these I've tried, I think I'll be sold! 🙂

PROS: Scents are comforting and not cloying or too sweet, Both the oil and cream absorbs well into skin without feeling oily or greasy or heavy, Skin feels lovely and soft for days after use, A little product goes a long way, Affordably priced

CONS: Some may find these expensive initially, but the products will last a long while, Scents are a little strong so will depend on how well you enjoy scents in body products

WHO WILL LIKE THIS: Anyone who enjoys a good body oil or body cream that isn't too heavy or greasy, Anyone who loves products that are well scented to be relaxing

PRICE: As shown above

AVAILABILITY: The Body Shop stores or online (Malaysia)
Did I mention the tub of body cream was huge?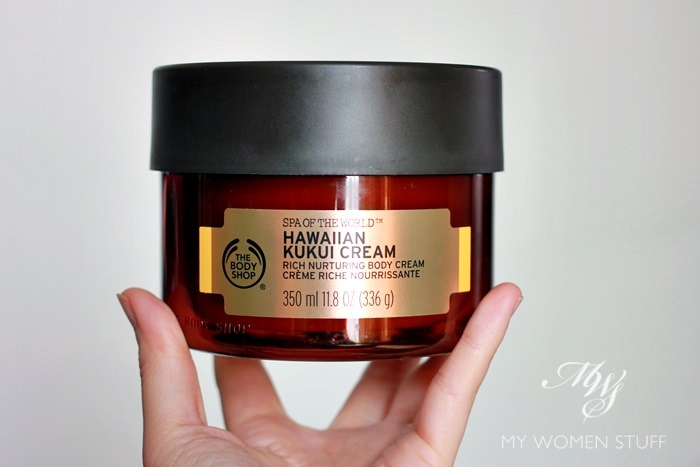 Tell me, huge or what?! LOL 😀 I was quite surprised to find myself liking these. I used to use the Body Butters but stopped when I found them too greasy for our weather. This one is a nice balance. Thick yet not greasy, and smells heavenly – not like I should belong in a fruit cake… although I may be nutty like one! 😀
Have you tried anything from the Spa of the World range? Anything else you'd recommend?
I'm going to try a body scrub next. There's one that says it's a Dead Sea Salt scrub and that intrigues me! 😀 How about you?
Paris B