A little while ago, I professed my love for this rather under-rated brand of eyeshadows, but showed you some colours that were a little hard to wear. Electric blue anyone?
While the individual eyeshadow pans allow you to mix and match to your fancy, if you are anything like me, you'd prefer a pre-made palette. Let someone else do all the thinking eh? I just want a combination of colours that work together!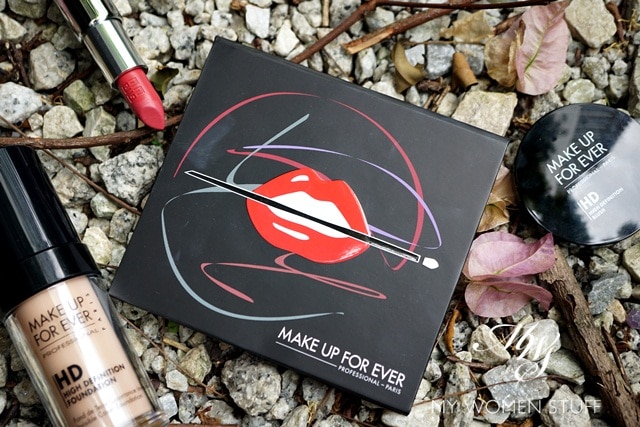 Enter the Make Up For Ever 9 Artist Shadow Palette for Fall 2015, a sturdy compact of 9 eyeshadows that comes in 2 colour combinations – Artist Palette 1 (Nudes you Need) and Artist Palette 2 (Colours you Crave). As the names imply, Artist Palette 1 is a combination of neutral and nude shades and Artist Palette 2 has a combination of fun, bright colours.
So, you're probably wondering which one ended up in my hands? The 'oh so boring, not another' neutral palette or the 'oh what fun, let's see what we can do with it' bright palette? 😀
Ahem….
What can I say, my friends? I'm the oh-so-boring sort! 😛
The pans are smaller than the regular MUFE eyeshadow pans, but you do get 9 shadows for RM180 (US$42). The packaging is cardboard but very sturdy, with a magnetic closure, and a sturdy plastic sheet to protect the surface of the shadows from marking the large mirror in the cover.
However, as you may notice, the insert looks a wee bit messy in mine. I've tried my utmost best to clean it up before I photographed it, but I didn't remove it all, because you have to see what it looks like after it's been used regularly. The fall out will mark the black insert and unless you are fastidious about cleaning it up, it will look a little messy after a while.
If you're the depotting sort, know that the pans can be easily removed and placed in your favourite palette, which might address the mess. But let me show you the swatches of the colours in this palette.
There is a combination of iridescent, satin, metallic and diamond shades in this palette, which make some people feel a little wary. However, be assured that despite the rather intimindating names, the Diamond and Metallic shades aren't very sparkly at all, and in fact, if you buff them out, are very wearable and not over the top at all.
I've swatched the colours from top to bottom (instead of left to right as most people do) because the box contains an insert for recommended ways to wear the colours that involve them being used in a top-bottom sequence. I don't follow that recommendation, but I thought it was an interesting colour grouping and shows off the different shades better. I don't use a primer so these are swatched without a base or primer. Yes, they are really that intense! See my earlier raves.
I-528 – Iridescent pearly white best for highlighting, a little sheer. It isn't as glittery as it looks in the swatch, nor as white.
S-556 – Satin grey-taupe that makes a nice, neutral base/lid colour. It is a satin shadow that appears fairly matte on skin
S-102 – Deep black. This is hands down the deepest, darkest, strongest black eyeshadow I've ever used! Just a tiny dab of the brush is more than sufficient. You can use a thin brush to use this as a liner, or use this to blend with other shades to create a deeper shade, or to use it to deepen the crease colour.
I-514 – Iridescent warm cream that is again, best used as a highlighter. It's a little warmer than I-528.
D-562 – Diamond texture, Sparkly bronze shadow that may look a little intimidating but isn't. Blend it out and the sparkly shadow blends out to a shimmery but not glittery colour.
I-544 – Iridescent and more pigmented purple taupe that doesn't look as purple as it does in the picture above. It has a rather more smokey tone to it, and I usually use it as a subtle shadow in the crease or along the lower lash line for definition.
ME-512 – Metallic light gold that you can use to highlight the inner corner of the eye, or anywhere you want to draw attention to. You could even use this to highlight your cheekbones. The warm gold is quite subtle once buffed.
ME-644 – Metallic golden brown that has a lovely soft texture and is easy to blend without looking over the top when worn everyday. Blend it with one of the satin shades to tone down the shine if you prefer
D-652 – Diamond texture, sparkly warm brown that again, isn't as sparkly as the name implies. I like using this, blended with some black for more definition in the crease, without being too stark with just the black
The Metallic and Diamond shades are very soft and very pigmented, so I find that less is more. I prefer to just tap on the surface of the shadow (instead of swiping your brush over it) and then buff it into your lid, for a more subtle colour. Pat it on for more intensity and bling-factor.
The Satin and Iridescent shades feel a little harder to the touch and you may find that you have to swipe your eyeshadow brush over it to pick up colour. However, less is more so similarly, buff and blend it into the skin.
This is sort of how I might wear the colours from this palette. I didn't want anything too heavy so I ended up with brown, highlighted with cream and blended in the crease with brown-softened black.
This one's fairly subtle, but it suits my purpose, which is to just subtly shadow the eyes with a touch of neutral colour.
When I first saw the palette, I thought that it looked fairly neutral, but I do find that the shades lean a little warmer when swatched. What I'm particularly happy about these Artist Palettes is that all the shades in the palette are permanent!
So, if you don't want all 9 shades, or you aren't the sort who likes palettes, or you just want a couple of the shades and not the rest, you can just pick them up individually and make your own palette. It will be more expensive of course, as one shadow retails for RM70 (US$21) each. So if you ask me, it only makes sense to pick up the palettes instead 😉
IN A NUTSHELL

The Make Up For Ever 9 Artist Palettes come in 2 versions – No. 1 is a neutral palette and No. 2 is a colourful palette. The shadow pans are smaller and come housed in a sturdy cardboard palette with a mirror. The textures of the shadow are in my experience, similar to that in the full size pans. The metallic and diamond shades are softer while the iridescent and satin shades are a little harder. These are the same in the full sized versions. The colour pay off however is comparable, and you don't need very much to get colour to show up. I think this is a value for money palette, because of the quality of the shadows. Every shade is impressive and usable and the quality far exceeds most brands churning out neutral palettes right now. All colours are available in the permanent selection

PROS: High quality shadows that are easy to blend, Easy to pick up colour with a brush and to blend into skin, Good mix of light and dark shades, Wearable colours for most people, Silky, smooth textured eyeshadows

CONS: Inserts can get messy after a while

WHO WILL LIKE THIS: Anyone who wants a versatile and value for money neutral palette with high quality shadows
Here's to show you size, but you can also see what I mean by the messy insert. You can use a piece of wet tissue to clean it up properly, but know that because of the texture of the paper and the "stickiness" of the eyeshadow (for want of a better word) a little speck of colour, if brushed away with your finger, can smear. Excellent when it's on skin, but less so when it messes up your palette.
If you don't mind that and you haven't caved into the neutral (or naked) eyeshadow palette hype, or you are like me and can't resist yet another neutral eyeshadow palette, take a look at this one. I believe it's permanent, and the quality far surpasses all the other contenders out there – yes including the one that popularised getting naked 😉 But if you are rolling your eyes at yet another neutral palette, consider then the colourful sister with it's bright purple, blue and fuchsia hues (shown by Karen of Makeup and Beauty Blog here). Definitely a fun palette, that one!
Have you seen or tried this palette? Are you keen to get another neutral palette?
Me, I need another neutral palette like I need a hole in my head. But dammit, I can never say no! 😛 Well, especially not if it's by MUFE. I'm actually eyeing the Jamie Chung palette (which I've got no info about locally) but I might just make my own if it's not coming in. After all, the shades featured are permanent too!
Paris B
Make Up For Ever 9 Artist Shadow Palette come in 2 versions – No. 1 (neutrals) and No. 2 (colourful) Price: RM180 | US$42 each Availability: Make Up For Ever Pro boutiques (Starhill Gallery, Gurney Plaza) and Sephora stores or Sephora online (USA)
[show_shopthepost_widget id="955393″]