Oh rejoice! Laneige has finally made things easy for us all by renaming their popular sleeping mask, the Water Sleeping Mask! Why I say so is because prior to this, they had always called it a sleeping pack. The last incarnation was called the Water Sleeping Pack EX.
It's not unusual though. Most, if not all Korean brands call their masks a "pack". I often wonder if there's something lost in translation there.
I have noticed that with Laneige expanding rapidly overseas in the Western world (I think you can easily buy their products in the USA now – let me know if I'm mistaken!) perhaps they felt it was time to be a little more precise in the naming of their products.
This here is the new packaging and an upgraded formula of their popular hydrating sleeping mask. The new packaging sports a matte, more angular tub. I noticed that on Target the same product with a similar name sports a different packaging that's rounder and which is the older Asian packaging. I don't know therefore if it's the same product or an older version, or if it's a different incarnation for a different market. What you see here is the newest version.
Does the new formula work for me? Well yeah, it does! 😀 So you could stop here, or if you persevere to the end, you might catch a little surprise 😉
First off, let me mention the scent. Yes, this one is still fragranced (would be better not to be, Laneige!) but Laneige tells us that the scent, or "sleepscent" technology, now helps you sleep better as sleep will make our skin look better too. So they recommend that you take a sniff of it to calm your senses, before applying it to your skin.
Do I do that? No I don't. I still don't quite like the scent in this new incarnation of the Water Sleeping Mask. The only consolation is that it's lighter and not as sharp, and not as provocative to my nose. But as always, when it comes to scent, I'm in the minority here.
I'm not averse to the scent, but I don't particularly enjoy it either. It is therefore a good thing that it is fairly mild and doesn't irritate me after a while. Does it help me sleep better? Hmm, this insomniac says no 😛
As for the texture, I find it fairly similar to the previous versions. If you are familiar with it, there is nothing very new in this tub of pale blue gel goo 😀 The tub comes with a spatula (which naturally I lost the moment I received it – kudos if you are able to store these dinky little things carefully) for you to scoop out the product, but I just use my fingers. I'm the only one using this and I only have myself to blame if I contaminate it 😛
Spread it on your skin (be generous!) like you would spread butter on bread. In my case, I find that the product will "dry" on the skin after a while, so it doesn't remain wet and sticky. I thought it was a little unusual because I don't remember it "drying" when I used the previous versions.
But this is also a good thing, because I find that it then has a lower tendency to mark your sheets. As this is a sleeping mask, what this means is that you leave it on, almost as if this is your night cream. When I use this, I tend to use it alone, after cleansing, toning and a spritz of floral water. That's why I'm happy this works for me, because it means I can have skincare cheat days often 😀
For me, the next morning results in nicely hydrated skin that feels plumped and soft and smooth. Products like these get some flack from those who are familiar with ingredients, attributing it to the glycerin or the silicone, but having used various hydrating sleeping masks, I still find this particular one among the better options available.
It isn't as sticky as other hydrating gel type masks, and it does a good job at keeping my skin feeling comfortable and hydrated. I sometimes think that's important – how you feel when using a product. After all, we all will react differently to products 🙂
If you fly often, this makes a nice in-flight treat. Slap it on and keep your skin protected from drying airplane air (in fact, add on that Lip Sleeping Mask and you'd be set!). It's less scary looking than a sheet mask, it doesn't dry to a sticky goo, and it's easy to rinse off or wipe off thereafter. In fact, when I wash it off in the morning, I just use my regular morning cleanser and wash my face as normal. It doesn't feel like I have anything on my skin – not sticky, not slippery, not yucky. And my skin always feels and looks lovely and hydrated after that, which is most important!
IN A NUTSHELL

The Laneige Water Sleeping Mask is the latest version and is no stranger to many people. This is the bestselling product from the brand and rightfully so, in my view. They have tamed the scent a little so it isn't as sharp, and I find the texture more like a thick cream and less like a gel. It doesn't feel sticky on the skin and it seems to 'dry' a little so there is now less tendency to mark your sheets. I use this on its own as an overnight treatment as recommended and it works well, to give me nicely hydrated skin in the morning. I've used this one for years without too much issue so there isn't much else I can say about it!

PROS: Lightweight packaging, Affordable, Easy to use, Skin looks and feels more plumped and hydrated the next morning after use, Does not mark sheets unlike previous versions

CONS: The scent could be dialed back even further

WHO WILL LIKE THIS: Anyone who wants an affordable hydrating sleeping mask that works without feeling sticky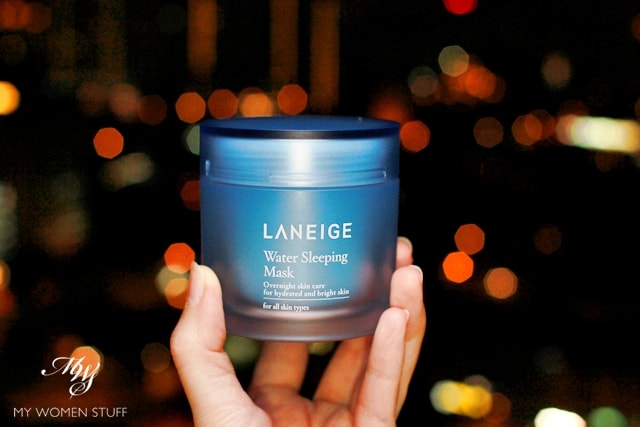 Here is the ingredient list for the Water Sleeping Mask:
Water, Butylene Glycol, Cyclopentasiloxane, Glycerin, Cyclohexasiloxane, Trehalose, Sodium Hyaluronate, Oenothera Biennis (Evening Primrose) Root Extract, Prunus Armeniaca (Apricot) Fruit Extract, Beta-Glucan, Chenopodium Quinoa Seed Extract, Ascorbyl Glucoside, Magnesium Sulfate, Zinc Sulfate, Manganese Sulfate, Calcium Chloride, Potassium Alginate, Ammonium Acryl-Oyldimethyltaurate/VP Copolymer, Polysorbate 20, Dimethicone, Dimethiconol, Dimethicone/Vinyl Dimethicone Crosspolymer, Propanediol, Ethylhexylglycerin, Stearyl Behenate, Polyglyceryl-3 Methylglucose Distearate, Hydroxypropyl Bispalmitamide MEA, Inulin Lauryl Carbamate, Alcohol, 1,2-Hexanediol, Caprylyl Glycol, Carbomer, Tromethamine, Disodium EDTA, Pheoxyethanol, Fragrance, Blue 1 (CI 42090)
Do you like this sleeping mask as well? Have you used the previous versions before?
I remember the first version I tried which came in a white tub and a light blue cover. Hated it 😛 It was nice on skin but I hated the scent. Didn't try it again until 2 versions later when the scent was more palatable. Now I use it once a week or once in 2 weeks depending on how lazy I feel, or what I'm presently using. But sometimes (like now) I seem to be having more cheat days than usual so this has been in rotation a little more often! LOL 😀
And for the little surprise if you made it this far! Good job!
Ok no that wasn't the surprise LOL! 😀 I've just gone and published the 2nd video on MWStv, so you can head over to the MWStv channel to watch it. I featured this mask, hence the relevance. But it's also a wee bit long (I got carried away!) so be sure you have a wee bit of time, grab a coffee/tea/poison of choice and settle in before you click play.
I hope you'll enjoy it and please let me know what you think! 🙂
Paris B
Laneige Water Sleeping Mask Price: RM110/70g Availability: Laneige counters