Earlier this year, we were treated to a slew of new foundations from different brands, and noticeable among the new offerings were these "serum foundations" – liquid foundation infused with skincare benefits like that of a serum, so your makeup doesn't compromise your skin.
I tried the one from Bobbi Brown a while ago, and I liked it, much to my surprise. It might be because of the texture, which is a little creamier and therefore kinder to more *ahem* matured or drier skin types. Then, I was later offered to try the Dior Diorskin Nude Air foundation. Naturally, I said yes. I had to see if one of my favourite brands for foundation got it right.
Well, let's just say that I wasn't as enamoured with the Diorskin Nude Air foundation as I was with the Diorskin Nude which I still use and still love to bits. That one's one of my Top 8 foundations and suffice to say, this one won't make it. It won't even get a sniff at anywhere near the top BUT I don't think it's all bad. I think I am not as in love with this as many people, because I believe it suits someone with combination-oily skin better than someone with drier skin.
Packaging-wise, I think Dior did a good job. The lovely frosted bottle is hefty yet comfortable to hold and I like how it's transparent so you can see how much is left unlike Bobbi Brown's fully opaque black bottle. I also like how the dropper pump at the top, which is rubber, looks like metal to blend in with the general aesthetic. The bottle is aesthetically pleasing to the eye, and the dropper is also well designed.
It is very easy to pick up the product with just 1 squeeze of the rubber bulb which is very handy, as the product itself is very very liquid. Think water type of liquid texture. Yet, the dropper picks up the product without dripping, and the insert in the bottle mouth cleans the glass tube so it slides out fairly clean, without making a royal mess. Little details that mean a lot when you're working with something potentially messy like this one.
This is a foundation that, as the name implies, is light as air and infused with serum. It has a watery texture which means you have to work fairly quickly as it sets quite fast on skin. Because it's so light in texture, it is also fairly sheer. When I first tested this at the boutique a while ago, that was my first thought.
This foundation spreads very easily, but it is very sheer when it comes to coverage. So, if you have blemishes or pigmentation on your skin that you want to cover, this will not be the product you reach for. Yet, after using it for a week or two straight, I did notice one other thing. It has a nice way of evening out the skin.
Let me demonstrate (hopefully) in this before-after photo
On left, naked skin in its glory. On right, I've applied the Diorskin Nude Air foundation which I use in shade 010 Ivory (I'll get to the shade selection in a bit). You may notice how the pigmentation on my cheeks aren't well covered. It offers a little coverage, but not a lot. However, you may also notice how my skin looks a little more even toned, and maybe just a bit better. Redness appear to be neutralized and skin looks smoother in tone.
You can't see it in this picture, but the unfortunate thing I noticed, after a few days with Diorskin Nude Air, is that it emphasizes flaky skin. I had some flaky skin on my nose, and using this foundation just made it more prominent than it should. That part, I didn't like and this is why I say that it might be more suited to someone with combination-oily skin or at least someone who doesn't have flaky skin.
It doesn't make my skin feel tight or uncomfortable and in fact, I rather like having it on. With a little powder and some concealer, this is a nice foundation. But I have to have well moisturised skin to fully appreciate this, and sometimes, that doesn't happen which then pisses me off.
The other complaint I have is the shade selection. There are for now, 6 shades available here. I use 010 which is the lightest. I take 010 in all Dior foundations so was pretty much a no-brainer pick. However, I noticed that the 010 in the Nude Air is darker and more yellow than the other 010 shades in the more prolific ranges. The reason I use 010 is because of it's slight pink tones that suit my skin better. So I'm hazarding a guess that if you are anything from a 010, 011 or 020 to 021, you might have to go with 010 in Nude Air because 020 does go on a little deeper. But because it's so sheer, you pretty much get away with it.
Here is a swatch comparison of a few foundations for you to have an idea of texture and shade selection. This was just 1 drop of Diorskin Nude Air, which over a small area, looks fairly opaque. Once you spread it out all over, it's fairly sheer and 1 drop can go quite far, but isn't sufficient for your whole face, no matter what they say. I use a couple of drops of product each time.
In comparison to the Bobbi Brown Intensive Serum Foundation, you may notice that the BB one is lighter with a slightly more creamy texture. I feel that the BB one sits much better on my skin while the Dior one potentially emphasizes lines, as this swatch may show.
The product itself however, has a very strange foundation-in-oil feeling. I feel like the liquid has an almost oily feel to it, which is rather strange. It doesn't oil up on my skin though and it dries quickly to a powdery finish, but it is a little strange.
I did however, note that the foundation sits well through the day. I often apply a layer of powder over to set and to add some coverage which is a nice way of having light layers of product on skin. This isn't a bad foundation and in fact, I'd go so far as to say that it's a pretty decent foundation for anyone who doesn't need or like heavy coverage products. You don't need very much, and it's very easy to use and I don't mind pulling it out for use from time to time. But I am not crazy about it.
Who is Diorskin Nude Air for then? It's for someone who wants to just even out skintone. You can use concealer on the blemishes or marks if you like, and applying a layer of powder over everything offers better coverage too. Or if you have perfect skin. In which case, I don't think I like you very much 😛
IN A NUTSHELL

The Diorskin Nude Air foundation is a very liquid foundation that comes in a dropper style bottle dispenser. I find that although very sheer in coverage, it offers sufficient coverage to even out skin tone and redness but it doesn't do much for covering blemishes or marks on skin. It is very light and comfortable to wear despite the initial rather strange oily texture. I find that it dries down quite quickly to a powdery finish which on my normal-dry skin, emphasizes some lines and flaky skin. I think those with combination-oily skin might appreciate this better. It's not a bad product, but it doesn't sit high on my ladder of favourite foundations.

PROS: Lightweight texture is comfortable on skin, Easy to blend, Light coverage that evens out skintone and neutralises redness on skin, Packaging is well designed and aesthetically pleasing, Dropper is easy to use and picks up product well without dripping

CONS: Potentially emphasizes flaky skin, Sheer coverage does not work for blemishes and marks, Powdery finish feels a little strange on skin

WHO WILL LIKE THIS: Anyone who likes a very light coverage, sheer and lightweight liquid foundation, Anyone with combination-oily skin as it may emphasize lines and flaky skin otherwise, Anyone who has perfect skin that only needs some evening out
Here is the ingredient list for the Diorskin Nude Air foundation.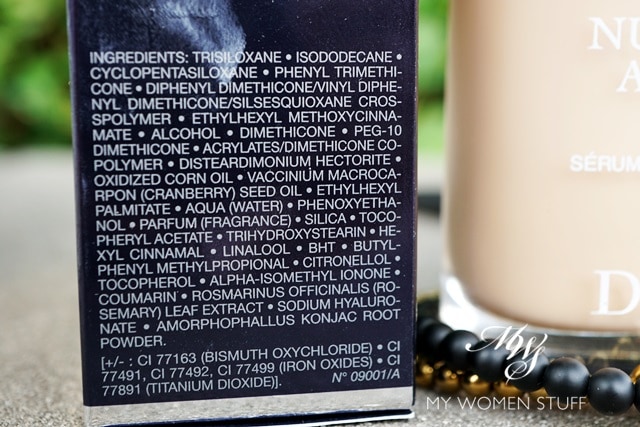 Gosh, there is quite a load of silicones in there! So if you are sensitive, please take note. Otherwise, that might explain the powdery dry down.
If you've tried the Nude Air foundation, do you like it? Do you like these serum foundation type things?
I'm not crazy about this as you can tell. For my skin the Bobbi Brown version sits better but this one has a far better dispensation system so it would be perfect if I could marry the two 😛
Paris B
Dior Diorskin Nude Air Serum Foundation comes in 6 shades 010, 020, 030, 040, 050, 060 Price: RM191 | US$53 for 30ml Availability: Dior counters, Dior beauty boutiques and Sephora