One of my first forays into the Antipodes Skincare brand was through a cleanser – the Juliet Brightening gel Cleanser – which I thoroughly enjoyed using to the very last drop. It was natural therefore that when I finished the last cleanser I was using, and wanted something new, I toddled off and picked up another Antipodes cleanser. This time, it was their cream cleanser, and I picked it because I've realised that I like using cream cleansers. They feel more gentle and more luxurious on older… ok, more matured skin like mine. Ah, what a difference semantics makes!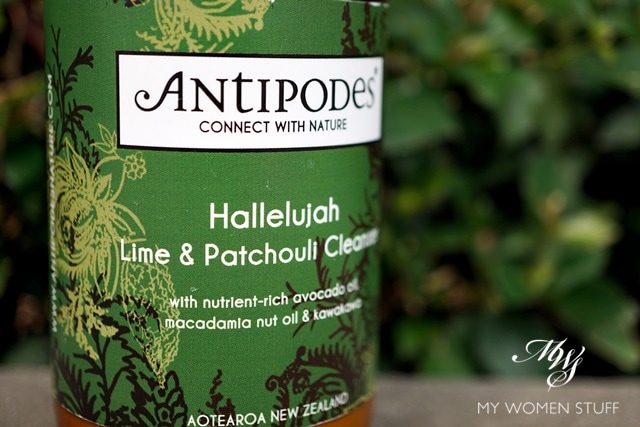 Do I like this as much as I have enjoyed using the other Antipodes products? Would it surprise you to hear that my answer is yes? 😛 Ok, let me spare you the drama. Yes, I thoroughly enjoy using this cleanser, which is my morning cleanser, and I love how gentle and comfortable it feels on my skin.
Now, lets get down to the nitty-gritty 😀
The Hallelujah Lime & Patchouli cleanser is a fairly thick cream cleanser that doesn't feel oily despite its texture and concentration of avocado, macadamia nut and kawakawa oils (aside: I'm not sure what is a kawakawa but it sounds very Middle Earth-ish so I'm guessing it's something local to New Zealand). It is a thickish emulsion that pumps out from a pump that can get congested if you don't clear out the tip from time to time.
The product comes in a lovely glass bottle and a pump that has to remain firmly in your bathroom. It would be quite impossible to travel with this one because of the bulky packaging and potential breakage. I'm not sure why this is in a glass bottle, while Juliet gel cleanser is in a plastic bottle with a flip top cap, but perhaps it's to do with the ingredients. A more portable packaging will not be remiss, to be honest.
Another thing to note is the scent. The scent of patchouli is strong in this one, and if you dislike the scent of patchouli then you may not like this very much. I was quite surprised that it was quite prominent and the first time I used it, I wasn't too comfortable with it. The faint citrus scent of lime tones down and freshens up what is an otherwise musky herbal-type scent but it will be something to bear in mind. I have gotten used to it over time though so there's hope yet!
As a facial cleanser, it's a nice and gentle one. It doesn't lather up so if you are used to facial washes that lather, then this might come as a surprise. I use about 1 pump of product, and it spreads over your skin like a lovely luxurious cream, and I like gently massaging it in. It helps me wake up, somehow.
However, unlike other cream cleansers and despite the oils in this product, I find it relatively easy to wash off without having to follow up with another cleanser, or to use a wash cloth. I don't use it in the evening mainly because I have another facial wash in the shower, and because I'm a little leery about keeping bottles in wet places, which is like a disaster waiting to happen.
I find that it doesn't strip my skin, nor does it make my skin feel tight and dry after use. It washes off fairly clean, but you do have to be patient about it, as you splash water and rub it off. I do feel that it leaves a bit of cream/oil on the skin so you don't get the squeaky clean feeling. Because of this, I'm not sure that someone with more oily skin will like this, and I think it may be better suited to someone with slightly drier skin types. It leaves my skin feeling calm and soft and clean and just all round lovely. It's a nice way to wake up in the morning.
Would I use this as a first cleanse i.e. to remove makeup? No I will not. I don't think it's strong enough for that and it will be just a big waste of product. For the evening, I'd use this as a second cleanse after you've used a proper cleansing oil or cleansing balm to get at the makeup and grime. In the morning however, when your face is fairly grime-free, this is a nice one to use.
There isn't much else I can say about a facial wash. It's nice to use, it smells lovely and it doesn't dry my skin. That's all it needs to do really! 😀 Oh and if you are into natural and organic skincare then this will fit the bill nicely as Antipodes Skincare is certified organic 🙂
IN A NUTSHELL

A favourite organic brand cements another favourite product in their range – the Hallelujah Lime & Patchouli Cleanser. A gentle and effective cream cleanser that glides on skin feeling luxurious, I like how it washes off very easily with just water and hands, which is more than can be said for many cream cleansers. The scent is quite strong so you must like the scent of patchouli or you'd best stay away. The glass and pump packaging, which practical and lovely, isn't portable at all. As a product though, I think it's wonderful albeit a little pricey.

PROS: Gentle and smooth creamy texture, Easy to rinse off with just water, Leaves skin feeling comfortable and moisturised without feeling stripped, Smells lovely in the morning

CONS: A little pricey, Strong scent of patchouli, Glass and pump packaging are not portable

WHO WILL LIKE THIS: Anyone with drier skin who wants a gentle and effective cream cleanser that's easy to rinse off
I tried to take a picture of the ingredient list on the label but curved surfaces don't lend themselves well to photos so here's the ingredient list for the Hallelujah cleanser:-
Aqua (water), Glycerin, Persea gratissima (avocado) oil, Macadamia ternifolia (macadamia oil), Buxus chinensis (jojoba oil), Wheat straw glycosides, Cetearyl alcohol, Daucus carota sativa (carrot oil), Macropiper excelsum (kawakawa) leaf extract, Citrus nobilis (mandarin) oil, Citrus limetta (lime) oil, Pogostemon cablin (patchouli) oil, Tocopherol (vitamin e), Gluconolactone, Sodium Benzoate, Calcium Gluconate, Citrus grandis (grapefruit seed) extract, D-Limonene*, Linalool*, Citral*. * Component of essential oils.
I'm about halfway through this bottle, which rather surprised me, because I didn't think I was using a lot of it each time. But then I also realised that I've been using this almost every morning for about 2-3 months so I guess that length of time is about right 😀
Have you used this Hallelujah cleanser? Do you like using cream cleansers?
Cream cleansers have grown on me now that my skin is drier, although I find that some do double duty as first cleansers to remove makeup (Clarins does a pretty good one for this purpose) and some are better as just general cleansers not makeup removers. This falls into the latter category which is a good thing because I find it a little pricey to use too much of!
Paris B
Antipodes Hallelujah Lime & Patchouli cleanser Price: RM139 | NZ$42.90 | £21.45 for 200ml Availability: TNS Skinlabs stores and online, Naturisimo, Antipodes website