I'd not been paying a lot of attention to many new and seasonal makeup releases for a while, so I actually had no idea that a new tub of Guerlain Meteorites had emerged on the scene. It wasn't until I spotted it on Instagram that I felt a faint stirring of interest.
When I see the words "limited edition" and "Meteorites" together in one sentence, my first instinct is to run out the door for the nearest Guerlain counter and throw wads of money at them. This time, I didn't actually stroll out to view this newest addition until a little while later. Goodness gracious. Am I losing my touch?
I think though, it's mostly because it didn't look too special or different or unique. Unlike the Pucci Meteorites from a couple of years back, I didn't see bright blue balls staring at me, that piqued my interest. (Yes, I know you know what I did there! 😉 ) Unlike the unique packaging of Perles d'Etoiles or Perles de Nuit, I didn't see a unique packaging that made me want to add it to my collection.
So, since I'm not jumping up and down with excitement about these Guerlain Meteorites Rainbow Pearls, should you be?
Good question.
Before I answer that, I've been asked how different the Rainbow Pearls are from the regular permanent range. The truth is that it's not very different.
For me, Guerlain Meteorites powders serve a function as a finishing powder. I dust it on all over my face at the end of my base routine, and it sets everything and gives my skin a glow that has thus far, been quite unrivalled by any other product I've used (well, except maybe for the Hourglass Ambient Lighting powders but I'll deal with those separately) . I love these, for the function they serve. But for the most part for me, with a few exceptions, every tub looks the same on me.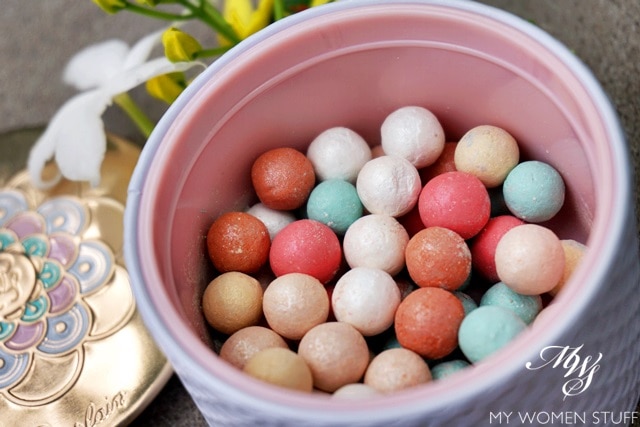 It's all imperceptible. The only one that looks noticeably more pigmented on my skin is Dore, which I use as a very faint bronzer, whenever I feel like it. Sometimes, the shades may make my skin look a touch lighter, sometimes a touch warmer. It's imperceptible to anyone but me, and it helps me adjust my foundations accordingly.
Rainbow Pearls fall into the "touch warmer" category. I won't say they are warm toned because once you blend the powders and apply it to your skin, you can't really tell if there's any colour on your skin. I found Aquarella a little light so Rainbow is a nice balance.
The shades of the balls in Rainbow do look quite deep. There's bronze, champagne, yellow, mint green, red and white powder balls in there but don't worry too much about the colours coming off too strong on your skin. Unless you are Snow White, it'll just come off transparent. But the champage and bronze powders do serve to add a touch of warmth to the skin which makes it look more natural. In that sense, I find this a little similar to Pucci Meteorites, which I found to be a little warm.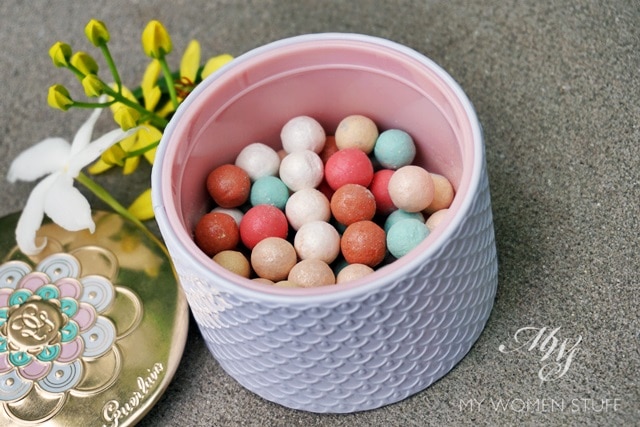 So, should you be excited about the Rainbow Pearls?
Well, yes if you're a collector. It helps to round off your collection (which is the category I fall into. I might have to stop soon, seeing as to how the prices are on the up and up).
Yes, if you use 03 Medium which is a tad matte, and want something with a little more glow, but the same warmth.
Yes, if you missed out on the Pucci Meteorites and have been wishing for a warmer toned Meteorites powder ever since. Most Meteorites offer a slightly cool tone.
No, if you already have a tub of Meteorites and are happy with it.
The fact is, as pretty as the Meteorites may look, they all serve the same function. Once you have one, you don't really need more than one. Well, unless you're a collector, as I said. On skin, any difference in tone is very very slight and I find, often not noticeable.
As for myself, I like this. But then, I'm a collector of Meteorites and a user. I notice the difference when I use the different tubs of balls, and I use them according to how I want to look on a certain day. But that's me.
If you've never owned a tub, I think the Rainbow Pearls make a good start. I usually tell people who ask which they should go for, for their first tub, to go for the permanent range in either 02 Clair or 03 Medium, depending on their skintone. But in this case, I'd make an exception and say that the Rainbow Pearls make a good "My First Meteorites". It's warm without being too warm, glowy without being shimmery, and doesn't give a whitish cast to the skin.
IN A NUTSHELL

The Guerlain Meteorites Rainbow Pearls are a limited edition Meteorites for Summer 2015. The powder offers a fairly neutral, translucent glow to the skin with just a touch of warmth. It isn't too shimmery either and if you've never owned a tub of Meteorites, I think this makes a good one to start with as I feel it's universally appealing on all skin tones.

PROS: Adds a warmish translucent glow to the skin

CONS: Limited Edition, Pricey

WHO WILL LIKE THIS: Collectors of Guerlain Meteorites powders, Anyone who has never owned Meteorites and want to start
I'd seen some mention somewhere (I forget where) that the Rainbow Pearls are a repackaged Aquarella, which didn't find its way to many counters across the globe. So, to dispel that notion, here is a small comparison of the Rainbow Pearls to Aquarella, Pucci and Clair.
While Rainbow looks deeper than Pucci, it isn't much deeper on the skin and offers the same sort of warmth. Compared to Aquarella, Rainbow is significantly warm in tone, with Aquarella coming off whitish on skin even for me. Clair is translucent for me, so it's the one I use most often, and Rainbow is actually very very similar, with only minor differences. The pink balls in Clair were swapped out for red (which you will find in Dore) and the purple balls were swapped out for bronze (also found in Dore).
Technically therefore, if you have both 02 Clair and 04 Dore, you could make your own Rainbow Pearls! 😛
Did you get yourself some Rainbow Pearls? Do you own any Meteorites?
I think part of the reason I almost missed this one was because Guerlain's Summer collection this year looks a little confusing. Here in Malaysia, we aren't getting the Terracotta range, so no bronzers nor funny gold and blue lipsticks. But I noticed that the Rainbow Pearls don't form a part of the Terracotta collection nor what is passing for the Summer collection. So suffice to say, it's a little confusing, but if you want to get yourself a Rainbow in a tub, the Guerlain counter is where you'll have to be! 😀
Paris B
Guerlain Meteorites Rainbow Pearls Price: RM217 Availability: Guerlain counters Limited Edition: Yes, Summer 2015