If you were to look up safe colours for eye makeup that you can wear to work or the office, blue doesn't usually feature. The safest shades recommended would always be a neutral shade, or safe, light shades of colour. Naturally, this depends on the type of work you do and the office environment you are in.
Those of you in the creative line will naturally have more leeway in your makeup, while those who work in a conservative environment will likely have less scope for experimentation. This post is for those of you in the latter category, who might want to sneak in a bit of colour now and then.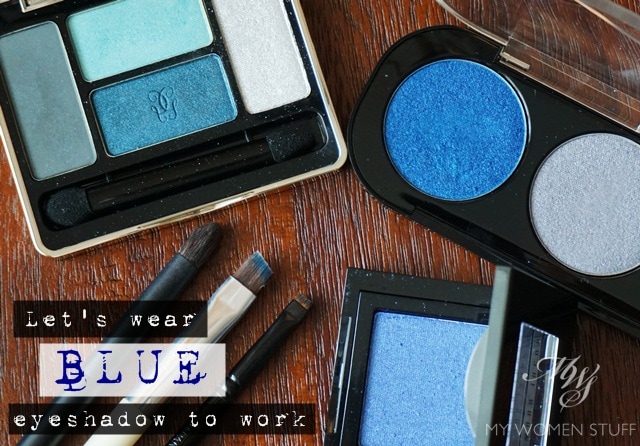 Blue eyeshadow is hard to work with, and I find that this is more so on Asian skin because for the most part, blue is a very cool toned colour, while most Asian skintone are warm or have warmer tones. The coolness of blue does clash somewhat, which can make it look very stark on warm toned skin.
The trick therefore is to choose your shade of blue carefully. Navy blue is always fairly safe as it can be used like a black shadow. Pastel blues are tricky, as are bright light blues. For me at least. However, I often find myself drawn to bright, punchy blues, because they can actually look very nice, when used as an accent of colour on your lid.
While I could get away with pulling off an electric blue eye for work (I'm not overly fussy about makeup in the office, so long as everyone looks decent) it's not a look people feel comfortable facing during a serious meeting, so I try to tone it down. When I broached the subject of blue eyeshadow on Instagram, I received a few suggestions on how to wear it. So, I took them on board, tweaked them a little to make them fairly office-friendly and here are my suggestions for 3 office-friendly ways to wear blue eyeshadow to work 🙂
The colour I used in all the 3 looks below is the Make Up For Ever single eyeshadow in ME216 Electric Blue (that's the one in the round pan in the picture above). It's a beautiful shade, but as the name implies, it is electric and bright. But as you will see below, the colour can be tamed 🙂
Line the lower lid with blue eyeshadow
Lining the lower lid with your bright or navy blue eyeshadow is one way to add a pop of colour to an otherwise fairly neutral eye. I applied a fairly neutral eyeshadow shade on the top lid, as you can see, without too much shading. Just 1 swipe of colour.
Then, I took a thin flat brush, saturated it with colour and drew a thin line on my lower lid, on the outer half. I blended it out a little as well with the colour I use on the top lid so it wasn't so harsh. I then tightlined with black liner to define the eyes.
I was quite pleased with this because the blue offered an interesting bit of colour without being too obtrusive, and added some punch to an otherwise safe, neutral look. However, as the day wore on, the lower liner soon disappeared so if I intend for this to last, I'd have to apply some primer, or I'd have to mix the eyeshadow with some sealant to make it stay put. Otherwise, it was a fun look 😀
Use blue eyeshadow as a soft, diffused lid colour
No, don't colour your whole lid blue from lash to brow! Instead, for this attempt, I applied the same bright blue shadow using a soft brush for a more diffused shade.
Again, I blended the blue with a neutral or light taupe or brown colour. I applied the neutral colour as the base colour and then, using a smaller soft eyeshadow brush, applied the blue colour to the lid, starting from the lashline and extending the colour upwards on the lower half of the lid. Then, blend further with the neutral shade so the blue colour is diffused.
If you notice, I deliberately did not extend the blue out to the sides into the "crease", which might be the regular way to do things. Instead, I just kept the colour on the lower half of the lid, just enough so that when I blink, there is a hint of colour, but when my eyes are open, you just see a faint hint of colour that defines the eye.
I liked this one for what I'd call the hidden surprise. If your eyelids have a deep fold then you may have to apply more colour in order to even get a hint of it when you open your eyes. But the trick is to keep the colour soft and diffused, not bold.
Line the upper lid with blue eyeshadow
This one is a variation on the second method I used. The difference is that the colour used here is bolder.
I started out with drawing a thick black eyeliner using an ink eyeliner pen. Flick it or not, it's up to you. I'm not very good with details so I just do a small flick. Then, I loaded up an eyeliner brush with colour and dab it on, above the black liner (not overlaying it, but just above the line) so I get a thick, bright line of blue. Above that, I use a fluffy brush and just brush on a neutral, soft colour, to soften the edge of the blue. You can keep it solid if you like. I just preferred it to look softer at the edges. I also tightlined, to define the shape of my eyes.
This one naturally shows off more colour so it might be better for a more relaxed office environment or a casual Friday, perhaps. If your lids have a deep fold then you will find yourself having to apply more colour to get it to show so adjust accordingly.
This one was fun and I liked the bright pop of colour I get whenever I blink, because you get this rapid flash of blue that is quite a surprise. Otherwise, when your eyes open, all you see is a nicely defined eye, with a hint of colour at the edges.
I'm no makeup artist, and I adopt a very laissez-faire attitude to using makeup. Use it how you will. I don't believe in following rules, so if you don't have this colour but have a blue shadow in your stash you've been wondering what you can do with, give one of these looks a shot. It's all very easy and straight-forward. The key here is to pick up an idea and interpret it as you like, not merely follow slavishly 🙂
Dare you wear blue eyeshadow to the office? Will these suggestions make you braver with your eye makeup?
I've been quite set in my makeup ways in recent times, preferring to keep to safe, neutral looks (also because they're easy and I'm lazy 😛 ) but once in a while, it's fun to get a little creative with colour. Those of you who have noticed my FOTD from time to time may notice that I keep to a very simple "office lady" style of makeup. I like it that way because it's simple and achievable for everyone, and I'm not an aspiring makeup artist with creativity flowing out of my fingers 😀 Incidentally, this need not be merely for office ladies. If you have been wondering how to incorporate colour into your eye makeup, this is one place to start too! 😀
Paris B
Shop this post
[show_shopthepost_widget id="664248″]