I was feeling a bit blah last week, and I've sort of worked out what it is (No, it's not that damned construction). It's beauty fatigue. So, as much as I hate making announcements (because I always find myself going back on my word not long after) I'm just going to say that I've put myself on a beauty spending diet.
Not a no-buy nor a low-buy (I won't commit that much) but just a diet of sorts, so slim-and-selective-buying maybe? So what this means for me is more money to save (yay! Or maybe to spend on other things heh) and what this means for you is that I'll be working off the pile of material I own from yonks ago. This may also mean you may not get the latest and newest (unless I'm given access to them, which I'm not begging for – if it happens, it happens c'est la vie) but you still get beauty talk and I hope that means you don't all run away 🙂
Which brings me to my favourite day cream du jour – REN V-Cense™ Youth Vitality Day Cream. I'd used a version of night cream from REN powered by Frankincense many years ago, which I really liked and this is the new iteration in day cream form.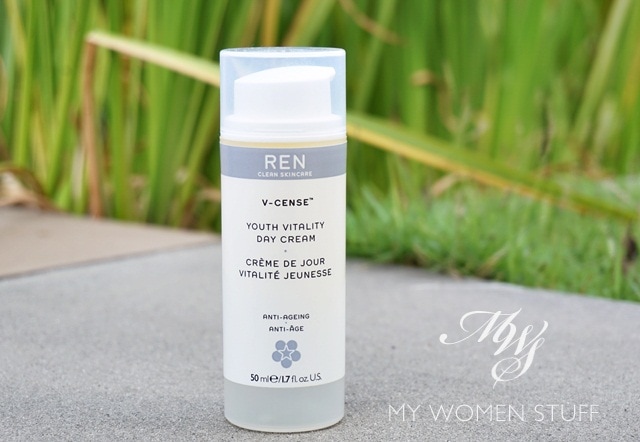 I like REN products in general. They've got a lovely clean, simple aesthetic and the concept is a good one. I have noticed though that they have changed their outlook over the years. Previously, they used to have these crazy long names of products and list their bio-active ingredients in the name and on the label. These days, they've abandoned that for a shorter, snappier naming process.
Which is probably a good thing because I'd have liked to ask them was sort of ingredient V-cense™ is. I've actually already used up half the bottle before I remembered that I hadn't told you about this!
This is an anti-aging cream, which is great for me because I'll take all the anti-aging I can lay my hands on! Can't stop the inevitable but heck, I can go out with a bang! 😀
What REN says is that this day cream will help protect your skin from premature aging, while hydrating, protecting it from free radical damage, boosting skin energy and elasticity and reducing fine lines and imperfections. It also gets rid of "urban grey" which is to do with the dullness of skin for those of us in cities and exposed to pollution and free radicals but it does make me think of zombies for some reason 😛 No, "urban grey" does not refer to your grey hair caused by urban stress LOL! 😀
So, because it's a sort of preventive product, I'd target these at the late 20-somethings, early 30-somethings. I'm not that much of a believer of using anti-aging skincare from a very early age. For me, I'd say to go with your skin and your concerns. I didn't really actively use an anti-aging skincare regimen until my late 30's but I believe a lot of it has to do with genetics as well.
I like that the product comes in an air-less pump bottle and I don't always say this, but I really like this pump that REN put their product in, because it's easy to control and it dispenses the product properly without caking the cream all over the nozzle. Nothing more horrible than having a month-old product with awful caked cream around the nozzle right?
Also, if you depress the pump fully, it delivers far too much product than you need. I do find that I can control how much I need quite easily, without pressing too hard on the pump.
I actually use a bit more than this dollop, but I just wanted to show you the consistency of the cream. It's fairly thick, which I will admit, put me off at the beginning. In my head, I was thinking about how badly that would fare in our hot, humid weather, and how I wasn't too crazy about the Neal's Yard Remedies Frankincense Cream which I found a bit too thick.
This is more so when you spread it out and apply it to your skin and see a thin white layer of cream. But don't pan it, and don't panic.
I found that by spreading it out in my palms and applying it to my skin and spending just a few seconds massaging it in, the cream absorbs fully without feeling heavy, sticky, tacky or greasy. It actually feels light although it's rich, which is bloody confusing! 😛 It keeps my normal-dry skin hydrated all day and doesn't mess up my makeup. In fact, once it absorbs into the skin, it just feels comfortable.
The other thing I have to note is that it has the scent of frankincense (which is where, I believe, they got the name V-cense from) so if you don't like the scent, then you won't like this. I like it – I find it soothing and comforting – so it gives me pleasure to use this. But it's something I have to mention because not everyone likes that sort of earthy, musky scents.
Nearly 2 months and half a bottle later, what have I noticed? Well, to be honest, nothing very much. I cannot attest to a marked reduction in fine lines (I don't have many to start with, yes I'm very lucky I know) nor significant radiance (I use other serums and potions so I can never attribute it to just one miracle product) but I can say that my skin is holding up well and staying fairly firm and clear.
Sure, skin elasticity has also to do with genetics but taking care of it counts as well and since I have to use a day cream anyway, why not this one? 🙂 I'm planning to use it up and this is definitely a cream I'd repurchase provided I'm not distracted by something else 😛
I do note also a piece of news that says that REN Skincare has been bought over by Unilever (source) and you and I know what happens when big cosmetics giants get involved. Things will almost certainly change but I'm hoping REN doesn't change too much, coz it was one of those brands where I actually liked most of their products.
IN A NUTSHELL

The REN V-Cense Youth Vitality Day Cream addresses signs of aging and would therefore be best targeted at those who have a problem with fine lines and skin elasticity. The texture is fairly thick and rich, but it absorbs well into the skin without leaving it feeling heavy, tacky or greasy. There is also a scent of frankincense that will dissipate but it will depend on whether you like the scent or not. I've gone through half the bottle without problems and I do think it's helped with keeping my skin hydrated in the day (I'm in air-conditioning a lot) and maintaining skin elasticity. It takes a lot to get me to commit to finishing up a product, but I'll be sad when I finish this one.

PROS: Lightweight once absorbed into skin although it feels heavy initially, Nice scent of frankincense if you like that, Does not turn greasy, heavy or tacky, Keeps my skin hydrated all day and maintains skin elasticity, Hygienic packaging

CONS: Pricey, Not everyone may like the immediate thick texture or scent

WHO WILL LIKE THIS: Anyone who is into an anti-aging skincare regimen
Here's the ingredient list which I've extracted from REN's website:-
Rosa Damascena Flower Water, Camelia Oleifera Seed Oil, Cetearyl Ethylhexanoate, Cetearyl Alcohol, Glycerin, Myristyl Myristate, Oleyl Alcohol, Cetearyl Glucoside, Rosa Canina Fruit Oil, Butyrospermum Parkii (Shea Butter), Caprylic/Capric Triglyceride, Triheptanoin, Oryzanol, Citrus Aurantium Dulcis (Orange) Callus Culture Extract, Ascorbyl Tetraisopalmitate, Vaccinium Macrocarpon (Cranberry) Seed Oil, Boswellia Carterii Oil, Helianthus Annuus (Sunflower) Seed Oil, Sodium Hydroxymethylglycinate, Carbomer, Tocopherol, Lactic Acid, Boswellia Serrata Extract, Citrus Aurantium Dulcis (Orange) Flower Oil, Gluconolactone, Xanthan Gum, Phenoxyethanol, Sodium Benzoate, Beta-Carotene, Daucus Carota Sativa (Carrot) Root Extract, Daucus Carota Sativa (Carrot) Seed Oil, Calcium Gluconate, Ascorbyl Palmitate, Limonene.
Have you used this day cream? Anything from REN that you particularly like?
REN has their misses with me too – one highly raved product that was quite a miss for me is one I'll share with you soon. See, this is the plus point of my stepping back from the lust of newness – I get to refocus on things that matter to me 😀
Paris B
REN V-Cense Youth Vitality Day Cream Price: RM175 | £28 for 50ml Availability: KENS Apothecary stores in Malaysia or online (international shipping) at SpaceNK and Escentual