Daiso is like an Aladdin's cave of wondrous things that you never thought you needed till Daiso told us so. Stepping in there, it's so easy to get carried away – I dare you to tell me otherwise! Before I know it, I'm staggering up to the cashier with a basket piled high with all sorts of random items. The worst part is that RM5 adds up very quickly!
Yet, like Aladdin's cave, it's full of treasures, especially in the organization/storage department. Today, I'll show you one that I posted on Instagram a couple of days ago and which generated quite a lot of interest. I figured, I might as well blog about it right? 🙂
The item is this innocuous looking plastic box, which is known as a Stackable Storage Box and you can find it at the section where they sell all the different types of storage boxes available.
I picked up a few a couple of months ago, because I wanted something that would help me keep my dresser and drawers organised, but didn't want to pay for something from Ikea (functional but expensive) nor Muji (ditto). In fact, it was while I was in Muji buying my PP Storage box that I first saw similar looking storage boxes but I wasn't up to paying for them either.
So, finding what is commonly termed a 'dupe' at Daiso had me dancing in the aisles. Ok, erm… no I don't dance 😀
These boxes come in different sizes so you can use them for different purposes. I got a more or less medium sized one for the top of my dresser and for the inside of my drawers, to keep things separate and organized.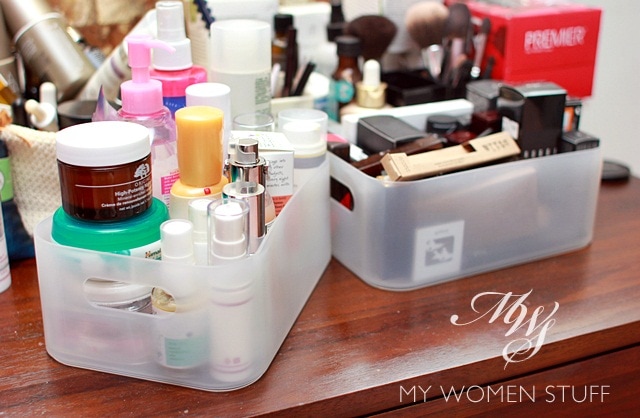 The boxes are fairly large as you can see, and they help keep the top of my dresser tidy, because I have a lot of overspill. That said, I'm not your normal person with a normal skincare/makeup collection, so I'm the exception to the rule.
I keep one box for makeup I'm currently testing/using and I rotate them every few weeks. It helps me focus on a few items at a time and helps me also use items I might have otherwise forgotten about. Again, I'm the exception to the rule so you could have many other uses for these boxes, like using them to store your makeup or skincare or knick-knacks or lotions. I have one on my bedside table to hold my body oils and creams as well.
You could quite easily use this to hold all your skincare on your dresser top so they are neat and tidy. There is a taller and larger box if you'd prefer not to have the items sticking out like mine. They don't have a lid, but there is a shallow tray sold separately that you can stack on top which serves both as a lid and as a tray.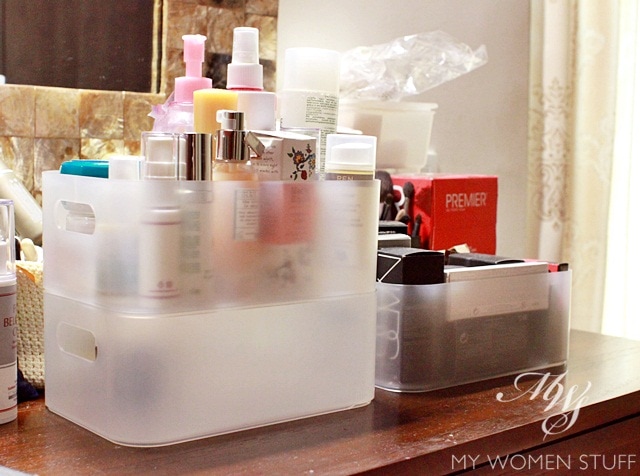 The boxes do stack up as described, so you can build your own skincare/makeup tower. However, if you plan to stack them up, I recommend buying them at the same time and testing them in store first. Mine don't stack up properly as they are from different batches and to be honest, the quality, while good, can be rather touch and go in terms of lining them up for stacking.
I however, don't plan to stack them so I'm not fussed about that.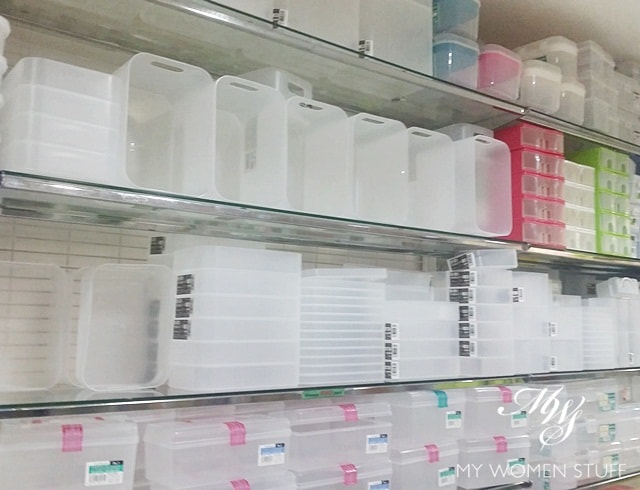 This is a selection of items in the same product category that I took in one of the Daiso stores. The one I got is on the left and you can see the larger and taller box on the shelf above. There are also lower trays/boxes which you can see on the right, and also, a box that comes with dividers that you can use to hold makeup brushes or eyeliners or mascara.
I thought about getting a few to see how I could use them but decided against it in the end. RM5 or not, it's still money that I've got to save for uncertain times ahead 🙂 But I'm sure you get the idea on how you can mix and match these to suit your purposes.
Do you use these stackable boxes from Daiso too? Or do you use the similar ones from Muji?
I'm sure you're brimming with ideas on how you can use them already! Or if you already do use them, share where you use yours! It'll help give everyone ideas 😀
Paris B