You know, before I got into this makeup thing, I didn't know something called a "primer" existed. Ok, I did. But it was in the context of painting walls. Ideally, you apply a layer of primer before your paint colour to make it last longer and look smoother (but how many of us know or do that? Very few, I'd warrant!) So, when I was introduced to the concept of face primer, I was quite intrigued. When I came to know about eyeshadow primer, I was even more intrigued! Something to help eyeshadow stay in place!
At the time, the Urban Decay Primer Potion, or affectionately known as UDPP was all the rage. I tried a tube and hastily discarded it. It felt like polyfilla or spackle or whatever you call those things you use to patch up holes in walls. It was dry and drying and thick and yuck. Hated it and didn't get the hype. I also realised it was also because I didn't need it. I don't have oily lids so eye colours don't usually smudge or fade a lot on me. Sure, it fades after a whole day at work, but then I'm faded by then too, aren't you? 😛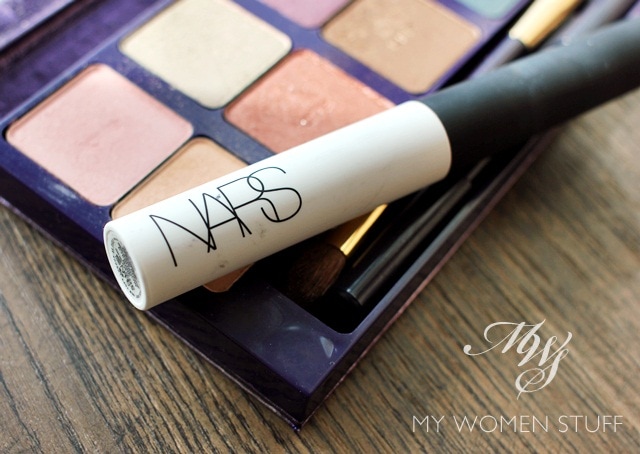 So, when I was introduced to the NARS Pro-Prime Smudge Proof Eyeshadow Base, I raised a brow. Another thing I didn't need. But I tried it for the sake of experimentation, and it surprised me. While I still don't need to use an eyeshadow primer on a regular basis, if I do have to use one, this would be the one I'd pick. And why would that be?
Simply because of the texture.
The NARS Smudge Proof Eyeshadow Base comes in a tube, rather like that of a lipgloss, with a doe-foot sponge applicator in a white, light creamy texture. It reminds me of the texture of a light concealer.
While it is white, once you spread it out and blend, it becomes transparent, so it doesn't alter the colour of your eye colours that you apply over it. You don't have to use a lot, just a tiny dab, and then quickly blend all over your lid with your finger. I do find that it dries fairly quickly so you do have to work quickly. But remember to only use a little bit because you don't want to slap this on with a trowel. Using more won't help your eyeshadow stay on better, but it might even make it feel more uncomfortable 😛
What it does do, is help eyeshadow colours look more vibrant, and also to stay on longer. As I've mentioned, I don't really need an eyelid primer. Most eyeshadow stay on most of the day for me. But when I know I have something on in the evenings that require me to have a full face on, I use this and it does help keep my eye makeup looking fresher even though I feel like a wilted flower.
But you know what? Don't take my word for it LOL! I am unexperienced in the field of eyeshadow bases and eyelid primers and the one popular item I did try left me wanting. So if you think about it, I was open to being easily impressed by a product that felt comfortable and worked as described.
IN A NUTSHELL

The NARS Pro-Prime Smudge Proof Eyeshadow Base is a base product for helping eyeshadow stay on longer, not crease, and make the colours look more vibrant. It ticks all the boxes for me and above all, feels comfortable and very lightweight. The transparent colour doesn't alter the colour of my eye makeup and the only drawback is that it dries fairly quickly so you have to work quickly on one eye at a time. Use only a little because a little goes a long way, and it should last a long time despite its diminutive size. That said, I don't use this very often but when I do, it impresses.

PROS: Slim packaging is portable, Easy to use, Only very little is needed each time, Transparent and does not alter the colour of eyeshadow applied over it, Helps eyeshadow colours look more vibrant and stay on longer

CONS: Dries quite quickly so you have to work fast

WHO WILL LIKE THIS: Anyone who has oily lids, Anyone who has problems with having eyeshadow colour lasting or not creasing
Do you use an eyeshadow primer?
Like a face primer, this is one product I can get by in life without. Lucky me, I guess 🙂 If an eyeshadow doesn't last on me, I kick it out the door. Not fussed enough to use multiple products to make it work better when for me, it should work properly out of the box. But that's me. It's nice that I know I can count on this one when I do need a base but it's not a daily thing for me. I know lots of girls do use an eyelid primer, so are you one of them and have you tried this one by NARS?
Paris B
NARS Pro Prime Smudge Proof Eyeshadow Base Price: RM100 Availability: NARS stores