Hold your horses! The Collection Plumes Précieuses de Chanel won't be at counters till 1 November at latest (end Oct at earliest) so this post serves as a preview and teaser so you can save your pennies if you have to, for Chanel's offering for the Christmas and festive season 😀 And I know many of you have already turned your hawk eye onto the highlighting powder, haven't you?
I have a few key items from the collection that I thought I'd share with you along with some swatches (oh yes, I swatched that powder! I did!) and I'll also quickly share my thoughts on them.
Chanel this year, has drawn their inspiration for their Christmas offering from feathers and this is reflected in the delicate and intricate print on the Camélia de Plumes powder and in the names of the products on offer. I found it interesting that Chanel went with an untraditional icy silver theme for their Christmas collection. We are used to seeing gold and red on offer but silver? Rarely and that was something interesting. It'll be a picture heavy post, so sit back and enjoy 🙂
Chanel Camélia de Plumes Illuminating Powder – RM215
The star product of the collection would be this Camélia de Plumes Illuminating Powder that comes with an intricate design of feathers. To be honest, the first time I saw the images, I thought it was palm leaves. I think it could pass for either to be honest.
Instead of a gold highlighter as is wont to appear at the festive season, the Camélia de Plumes powder is an icy platinum silver. It isn't overspray. That's the colour you will get all the way though. I know, because I swatched the surface and the colours didn't change.
However, what I found very interesting was that the powder, when swatched, has a blend of silver and gold shimmer that turns it into a light gold so it is quite a neutral shade for most skintones. You don't see the gold in the product, but once you swatch it, it's there. You'll see it in the swatches below.
You have to admit that the intricacy of design is breathtaking and I expect this is one for the collectors so I can expect it to fly off the shelves as these often do. If you plan on using it however, be sure to use a light hand and buff it out because it isn't just illuminating, it highlights and there is a subtle difference there.
And for this, a brush is included in the velvet pouch that houses the Camélia de Plumes powder. But you know, this is just another reason to put up a picture of the product right? LOL! 😀
Chanel Les 5 Ombres de Chanel Oiseaux de Nuit Eyeshadow Palette – RM206
Before Chanel reformulated their baked eyeshadow quads, the only time I'd even look at their eyeshadows was when they came out with their Les 5 Ombres palettes. The quality was always significantly better, and if you aren't all that into shimmer as you will find in the Les 4 Ombres then the satin and matte textures in these palettes will serve you better.
The Les 5 Ombres de Chanel Oiseaux de Nuit eyeshadow palette is a bit of a strange one, I feel. We get in there, 4 fairly cool toned colours, which is then suddenly joined by a warm toned gold. The use of cool tones in the eye palette also surprised me because again, for the festive season we tend to see a lot of golds and bronzes. This was a pleasant surprise!
I'll put the swatches here so we have a better idea of how they look on skin.
Left-Right: Camelia de Plumes, Les 5 Ombres Oiseaux de Nuit, Rouge Allure Velvet La Flamboyante, Stylo Yeux Waterproof Or Blanc eyeliner
Camélia de Plumes – You may notice the shimmer which is very fine, but very intense. Definitely one to use with a very light hand and to buff out unless you want the bling. You may also notice how it has a light golden hint of colour which looks quite different and unexpected when compared to the icy platinum powder in the pan.
Oiseaux de Nuit Eyeshadow palette – The 5 shades are a Shimmer White, Shimmer light gray with lavender tones, Matte deep cool toned purple, Matte black, Satin warm toned gold. I swatched with fingers and I found that all the shades were easy to pick up colour except the black which felt a little dry so I needed 2 layers. It may fare better using a brush.
Rouge Allure Velvet La Flamboyante – A straight neutral toned red in a matte-satin texture.
Or Blanc Eyeliner – A light cool toned gold eyeliner I haven't quite figured out how to handle
I feel this eyeshadow palette to be a little tricky because of the daring use of cool toned colours and because of the colours themselves. They aren't your traditional festive colours, which is great because it means you can wear them outside of the festive season. However, the light shimmer shades are a little icy, and I might say, may not suit everyone.
Chanel Rouge Allure Velvet La Flamboyante – RM98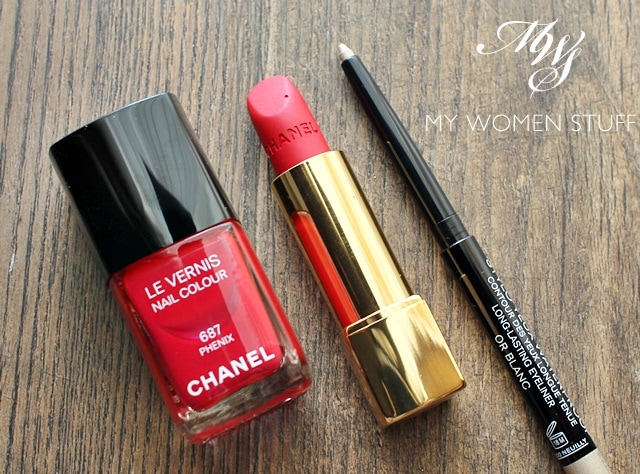 I really like the Rouge Allure Velvet formula and I thought it was brilliant that Chanel matched a matte lip with their shimmery eyes and cheeks. La Flamboyante is your typical straight red which, I might venture to propose, is quite easy to find an alternative for. However, if you like the formula which is one of the best satin-matte formulas I've ever used in a lipstick, and are in the market for a red lip, this will be your pick. It's a lovely red that you can blot down to wear as a stain or be like me and just slap it on for a lovely red lip! 😀
Chanel Le Vernis Phénix – RM75
The nail colour in Phénix is a festive firey red that is quite befitting of its name and for the season. As I don't wear nail polishes myself, I don't know how this performs, but as a colour, I think it's fabulous!
Chanel Stylo Yeux Waterproof Or Blanc – RM78
The one item I'm a little unsure of is the long lasting eyeliner in Or Blanc, a light shimmery gold. I'm quite unimaginative in the use of eyeliner so if you have ideas on how this might be used, feel free to let me know! Otherwise, I'd probably use this to line my lower lid to brighten the eye area.
So there you have it. A preview and overview of the Collection Plumes Précieuses de Chanel and some of my quick thoughts on the products I have in hand. They will be available at counters very soon (end Oct/1 Nov) but if you have your eye on the Camelia de Plumes powder, I suggest making a reservation. I predict it to disappear quickly.
Are you getting anything from the Collection Plumes Précieuses de Chanel collection? Did anything catch your eye?
My picks would be the La Flamboyante Rouge Allure Velvet and the Camelia de Plumes Illuminating powder, the latter of which would be more for novelty and collector's sake unless you use a lot of highlighters. If you buff it out, it does give skin a lovely glow but it is after all a shimmer powder so use it carefully! 😀 What would you pick?
Paris B
The Chanel Christmas 2014 Collection Plumes Précieuses de Chanel will be available at Chanel counters from 1 November 2014 (or even from end October 2014) Prices are as set out above.