If there's one thing I don't do with my makeup, I don't depot them. I know it's quite popular to do so especially for eyeshadow singles so you don't have to contend with a drawer full of single shadows that you can never find which to use; or palettes, especially those that come in cardboard cases that can get grubby over time or large palettes so it's easier to store and use.
The one and only time I did was out of necessity (NARS has HORRIBLE rubber packaging that melts and while I'm assured that the new ones won't, I'll say that it remains to be seen) and I shattered a NARS blush I liked (for the record, it was Desire) and at the time, I rehomed them into an Unii palette. I have toyed with the idea of getting another Unii palette from time to time but I never did because I don't like it anymore. I find it bulky and I grew to dislike how it looked because it felt very kiddy to me. Here's how it looks and no offence if it appeals to you, it just didn't to me. Oh and it's expensive. I toyed with the idea of a Z-Palette too but it was cardboard so nah, not for me no matter how sturdy it claims to be 😛
Anyway, I stopped by the Make Up For Ever Pro Boutique on the long weekend to pick up an eyeshadow and my eye fell on their empty palettes. A lightbulb came on and I picked up one to fill up with the only 2 Urban Decay palettes I own. Yes my friends, I was going to depot my palettes! 😀
Now before you sneer at me and go "Meh, Make Up For Ever's tin magnetized palettes must cost a heck lot more than a plastic Unii palette or Z-Palette or any plain DIY palette!" let me disabuse you of that notion. I got this one, which is fairly large (I believe it's the Metal Palette known as L for Large) which cost me RM65 and fits 10 MUFE eyeshadow pans with the insert or maybe more without, but what's important is that it is an empty palette so you can put anything in there!
I did not intend to get this, I wanted the smaller one which would have cost just RM30 but they were out of stock so I put my name down to be notified when it came back in stock.
The metal case has a full magnetized base which does make it a little heavier than a plastic palette. But I liked that it was made of metal which is sturdier albeit a little heavier. The magnet base is also very strong. I loved it! It means the depotted makeup pans will stay put and not run around.
Part of the reason I didn't really want such a large empty palette is because what I wanted was only to depot my 2 Urban Decay palettes –15th Anniversary Palette and Naked 2 – into something smaller and handier to store and tote around or just something easier to use. I liked both these palettes but I wasn't using them enough, especially the 15th Anniversary one, due to the bulk. I think the MUFE Medium Empty palette would have suited my needs better in terms of size.
And here was my result of a productive afternoon 🙂
For the record, the UD Naked 2 palette is incredibly easy to depot. I literally just popped out the shadows with very little effort, and they came out intact. There was very little glue to clean off, and the metal pans stick straight onto the magnet base very strongly.
The UD 15th Anniversary on the other hand was much harder to depot. The pans were a closer fit inside the plastic holes and the glue holding them in there was much stronger. The best way I found, was with heat (I used a candle) to heat the bottom of the plastic pan and then work each pan out of the hole very carefully. It wasn't without casualties as you can see. I left the black shade (Blackout) for last and as luck would have it, it was the only one that shattered. It was very hard to get out. But black is an easy shade to replace and it's also available in the Naked 2 palette so I wasn't fussed. Ace too suffered cracking and some breakage as you can see.
Unlike many people, I didn't bother labelling each shadow. I can't usually be bothered remembering names of colours because I rarely, if ever, talk about them in everyday conversation. So, I didn't mind mixing both palettes around and forgetting the names of the colours.
If you move the shadows around, you can fit a brush or two in there as well, which makes it very handy to take when you travel or if you just want a handy palette to keep on your dresser. I could easily fit more shadows in there, or maybe a blush or two to complete a full face look. I haven't quite decided.
If I do get the smaller palette, I might just move all the shadows in there so I have a nice compact palette for all my Urban Decay shadows but we'll see how that goes 🙂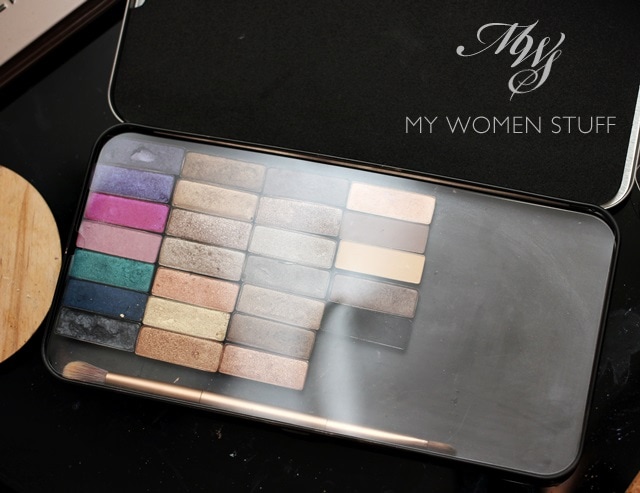 The empty palettes do not come with dividers (yay!) and come with a stiff clear plastic sheet which helps protect your shadows while still allowing you to see them. Or if you're travelling with them, then use the included foam sheet to protect them so they don't break.
So, if you're thinking of depotting your eyeshadow or makeup and are wondering what to home them in, I'd strongly suggest taking a look at these empty palettes from Make Up For Ever.
IN A NUTSHELL

The Make Up For Ever empty metal palette is a good palette to consider for housing loose pans or depotted makeup. The palettes are very sturdy and made of metal so there is a little heft to it, but it also makes it more solid. There is a very good and strong magnet base and the palette comes with a clear plastic protective sheet and a foam protector to protect your shadows. The metal palettes come in various sizes. Pictured is the Large one, which fits a lot. There are 2 more smaller sizes and one more that's even larger if that suits your needs. I don't find them pricey, considering what they're made of and how they perform.

PROS: Well made and sturdy, Sleek design, Strong magnet base holds pans in place, Comes in different sizes, Affordable

CONS: Only available at the MUFE Pro Boutique, No mirror (but it doesn't bug me), A little weighty due to the magnet

WHO WILL LIKE THIS: Anyone who likes depotting their makeup and needs an affordable, sturdy palette to house them
Yes, I say they're affordably priced considering it is a proper makeup artist brand and a proper metal palette with a good quality magnet to hold your pans in place. Just for reference, this MUFE Large Empty Metal Palette cost me RM65. A similar sized Z-Palette (cardboard) would cost US$20 or RM77 depending on where you buy it. A Unii palette is much smaller and costs US$29 or RM100, depending again on where you buy it.
Granted, the Z-Palette gives you a clear top despite the cardboard case, and the Unii palette comes in pretty candy colours. But if neither of these sway you then I'd nudge you in the direction of Make Up For Ever because as you can see, it's just more affordable in the big scheme of things! 😀
Incidentally also, I just remembered that back in the day, I used to buy the Make Up For Ever 4 pan palettes to house my Stila eyeshadows. They were the same size and cost almost half what Stila palettes cost. So yeah, I've been using these for a while 😀
If you regularly depot your makeup what do you house them in?
I don't regularly do it so this is the exception rather than the norm. But part of the reason I was reluctant before is because I couldn't find an empty palette I was happy with. Yes, I know you can DIY your own but I'm just not into that. Now that I have found a fairly reasonably priced, well made option, I might move onto depotting my Tarte shadows. Now those will be a challenge! 😀
Paris B
Make Up For Ever Empty Metal Palette comes in various sizes and is available at the Make Up For Ever Pro Boutique at Sephora Starhill