Ok, who doesn't enjoy eating fried chicken? You don't? Oh dear, I don't think we can be friends anymore 🙁
I enjoy a good, old school fried chicken that is basically no-frills and easy to marinade and when tossed into hot oil, emerges as golden brown, fragrant comfort food goodness. Ah! 😀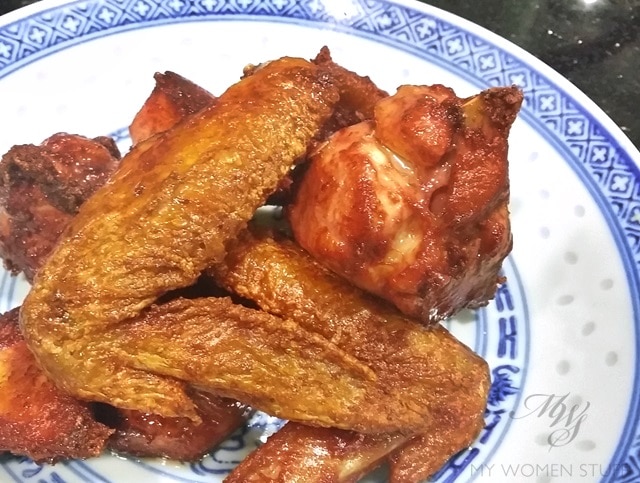 I made this just a few days ago and posted it on Instagram (where I talk as much about food as I do about beauty) and someone asked for the recipe so I thought I'd do a quick Scrumptious Weekend post. I haven't done one of these in a while apparently. The last was in February! Gosh… yes I have been eating and cooking in that time haha! 😀
So here is my super easy, super quick recipe for Fermented Bean Curd (Tau Ju) Fried Chicken and if you have a good recipe for fried chicken, please share! 😀
What you need (Serves 1-2 persons):

2-3 large chicken wings chopped into large pieces
1-2 pieces of fermented bean curd (I use the red ones) to taste
Water from fermented bean curd
Ginger juice (grate fresh ginger and squeeze the water)
Corn flour
Oil for frying

How to:

Marinade the chicken pieces with the fermented bean curd, some water from the bottle, a dash of pepper and some ginger juice, mix thoroughly and set aside. Leave overnight in the fridge if you prefer but give it about an hour at minimum.
Heat sufficient oil in a wok or pan to fry the chicken pieces.
Before frying the chicken, add some corn flour into the mixture and mix to coat the chicken pieces evenly.
Fry the chicken pieces until golden brown and cooked through.
et voila! Done! 😀
It will be a little salty because of the fermented bean curd, but that adds a lovely fragrant flavour to the chicken. Serve it with hot steamed rice and a side of stir-fried vegetables and you have a nice homecooked Chinese meal on hand 😀
Told ya it was easy. I was planning to do a roast chicken dish for an upcoming potluck, but it seems I might just have to do this one instead. Easier to make and will, I think be a crowd favourite 😀
Do you have an easy fried chicken recipe to share?
If you like, you can use this same recipe to make fried belly pork which tastes just as delicious. I think the secret is in the fermented bean curd. It's magic! 😀
Paris B
Scrumptious Weekend: One day of the week where I indulge in my other love – Food! It will feature my cooking experiments or eating and travel adventures. Yes, I will travel for good food and I'm always experimenting in the kitchen.