Dishwashing liquid. Not a conventional item to see on a beauty blog, I'd warrant but it's not entirely irrelevant either 🙂 You see, I do my own dishes (I don't believe in dishwashers) and not long ago, I discovered that I have sensitive hands. Yes, princess hands even, because at the mere touch of a strong detergent, the skin on my hands will dry out and peel.
It's part of the reason why I started wearing kitchen gloves. It protects my hands from a lot of harshness, but it primarily protects my hands from looking like a scaly reptile's. Well, until now 😀
I'm not a very green person so when I saw this natural Tough Love dishwashing liquid from Human Nature that claimed to be gentle on hands, I was more interested in that than the fact that it was natural. Most that claim to be gentle aren't. That's a fact. I'm a living testimony of that.
But you know what? It's a very good dishwashing liquid. Not only because it is as gentle as it claims to be, it does clean impressively well with very little, and makes my glasses shine. So I just had to wax lyrical about it! 🙂
To test if its claims of being gentle on skin was true, I forsook kitchen gloves when doing my dishes for over 2 weeks. It was not without some trepidation because when I get my dry scaly skin, it takes me weeks to recover. I was taking a huge risk here. But happily, I didn't experience the dryness I associate with using detergent and I knew then I was in love. Yes, in love with a dishwashing liquid LOL 😀
The one I have has a Lemon-Calamansi scent, which is a sweetish, citrus scent that isn't the sharp artificial lemon scents that you usually get from most cleaning materials. It is pleasant but it does take a little getting used to, for those of us who have been using commercial cleaners before this.
You don't have to use a lot as I find it fairly concentrated. I squeeze a little onto a sponge, lather it up with water and then wash my dishes. It seems to cut oil and grease quite well, although very soiled or oily dishes may need more product. What impressed me was that it actually cleaned oily plastic containers well, and that is a feat for any dishwashing liquid!
As for my wine glasses, it left them with a lovely shine that I found impressive. Ok, I haven't used a lot of natural kitchen cleaners so in my mind, I get this impression that they don't work as effectively and maybe I'm just easily impressed 😛 But I loved using this one and I loved that I didn't have to don my gloves just to wash out a glass or two. I let my friend try this and even they were impressed. I was afraid I wouldn't get it back 😛
That said, I still do wear gloves. It used to protect my hands against harsh chemical detergents but now it mainly protects my hands against dirty crockery. Sometimes, it can get icky clearing up after eating 😀
Here's the ingredient list and some blurb on the back of the bottle about the product.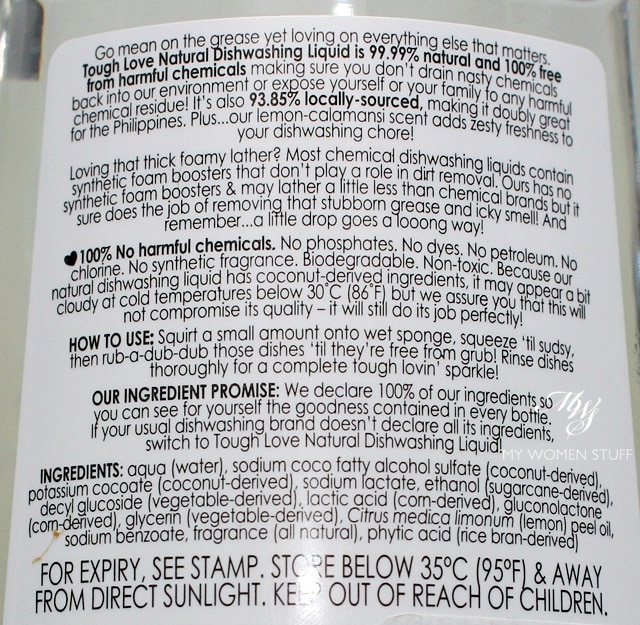 I love this dishwashing liquid but I will tell you one downside. The price. It comes in 2 sizes, but it doesn't come cheap. I paid about RM5 for my Sunlight dishwashing liquid and I thought it was expensive. So, finding out that Tough Love Dishwashing Liquid costs RM19.90 for 250ml does come as quite a shock to the system. If you do a lot of washing or have someone do it for you, then you will find it a bit too expensive to upkeep. If you use a dishwasher, you shouldn't even have read this far! 😀
But if you do your own washing and like me, have sensitive skin on your hands then do consider trying this out. I'm planning to continue using this for the sake of my hands, and I guess, helping the environment a wee bit doesn't hurt either 🙂
Do you do your own dishes? Are there brands of natural kitchen/household cleaners that you like?
I do because I don't really see the point of a dishwasher and I'm paranoid it never really gets very clean 😛 I'm new to using natural household cleaners but for now, I'm very happy with this dishwashing liquid. I'll probably suck it up and get the big bottle once I'm done, unless you have another natural and gentle brand to recommend me! 😀
Paris B
Human Nature Tough Love Dishwashing Liquid Price: RM19.90/250ml | RM35.90/500ml Availability: Downtoearth.com.my (They sometimes have promo prices or deals)