Last year, Coach introduced a new bag – the Borough Bag – as part of their line up and that was quite a success, it seems. The sleek clean lines of the bag was reflective of Coach's heritage and it was well received. This year, Coach welcomes a new designer, Stuart Vevers, who has taken a bold, and some might say, refreshing step away from the clean lines Coach is known for, and giving it an edge.
A new star bag is also introduced, the Rhyder bag, which is edgy, young and yet, will appeal to those who want a fairly affordable, embellished satchel type bag. While the Rhyder bag does get my attention somewhat, I can't honestly say that the rest of the Fall/Winter 2014 collection was my style.
Stuart Vevers, had drawn his inspiration for his inaugural collection for Coach, from Americana it seems. I'm seeing a lot of Wild West influence, as well as some native American touches which are noticeable in the clothing and the accessories. I'd safely say that Americana isn't my style, but since I'm not much into fashionable clothes and because I know my bags better than any other fashion accessory, let me show you some of the new bags from Coach, along with how they'd look when worn 😀
Here's the Rhyder 32 in Fuchsia. They come in 2 sizes, Rhyder 32 and Rhyder 24 and a variety of colours including, yes you guessed it, black. I personally would do one of the fun colours like Fuchsia (pink) or Coral (orange) or better still, Turquoise because I think it adds to the fun factor of the bag. Black is a nice, serviceable colour, but it makes the bag look a bit heavy and dull.
Let me show you how the Rhyder 24 and 32 differ in terms of size when I carry them. The difference is quite significant.
Left: Coach Rhyder 24 in Turquoise (RM1,650) Right: Coach Rhyder 32 in Black (RM2,175)
The Rhyder 24 is adorable if you like small bags but yet want to carry a few things around, because it's fairly roomy despite the diminutive size. The leather is soft and smooth and quite typical of Coach leather and I must say this, feels nicer and of better quality than previous bags. The lining inside, although cloth, doesn't feel as cheap as what I'd been used to from Coach before this. Definitely a step up in terms of quality here which is good to know!
The Rhyder 32 is a work-horse. It will fit a ton of stuff but be warned that it does feel a little heavy without anything in there, so if you fill it up, it will weigh you down. Both have a top handle but come with a detachable strap and I love that. I've come to appreciate bags that come with a detachable strap because there are times when you want to leave your hands free and they come in handy.
My personal thought is that if you like the Balenciaga Motorcycle bag style then you may like the Rhyder, as a more affordable (and lighter) alternative. I've always lusted after a Balenciaga so don't mind me LOL 😛 But if you're a Coach traditionalist, and more in favour if its simple, sleek lines and style then you may wrinkle your nose at this one.
And speaking of wrinkling noses, well, suffice to say that this Dakotah Fringe Flap Crossbody (RM3,400) doesn't get my stamp of approval.
I saw someone carry it, and it looked cute, in a trendy sort of way. But the problem with trends is that they go out of fashion and what then?! If I'm not mistaken, Gucci too did something with fringes recently, but I'd just say that this isn't me and I'll leave it at that. I'd be interested to know what you think! 😀
Happily, Coach also did a Dakotah Crossbody without the fringe.
The Dakotah Crossbody (RM3,150) is much more restrained but the leather strip embellishments are still there along the side and there is a weave around the edge, but less obvious. The logo is embossed which I like. I like it when logos are unobtrusive. I was rather taken by the light blue version as you can tell. When you lift the flap, there is another strip of leather that holds everything in because there's no zip but I found the whole thing quite fiddly. I like the shape as a whole, but it's not a bag I'd use.
If you're into huge bags however, then the Studded Tall Tatum Tote (RM4,700) might be what you're looking for. This one is HUGE so it's strictly for taller women who like big bags, or men. I could probably fit my nephew in this one LOL! Again, the laser cut leather and the feather charm brings to mind Native American designs which either appeal to you, or won't.
A more simple design of the Tall Tatum (RM3,700) is seen here in a lovely red with the classic Coach turnlock on front. The model makes it look almost wearable doesn't it? But bear in mind that the model is tall so it looks more proportionate on her than it will on 5′ 3″ me.
There are actually a few other designs available in the Coach Fall/Winter 2014 collection, that are less exciting, as it were. The Edie and Crosby are more true to Coach's heritage and are simple and sleek. I didn't manage to get pictures because the store was teeming with people but you can view them all on Coach's website and I'm told you can even shop online now! So, that's good new for those of you without an access to a Coach store nearby 😉
I did however find myself hovering over one sling bag that I loved for the colour and design.
Coach calls this simply the Swingpack with Pop up pouch (RM1000) and what it is, is a small sling pouch that you can wear cross body and fits just the essentials, but comes with a contrast colour, detachable pouch! You can see it here in teal and purple and there's another pink-orange colour combination. I thought it was very cute and very practical and fun. One of those things I'd tote about on weekends when I have nothing in there except a wallet or change, my phone and keys. It also comes in smaller wristlets if that's your thing and of course, prices go down proportionately.
And what does one wear to a Coach event? Why, Coach of course! LOL 😀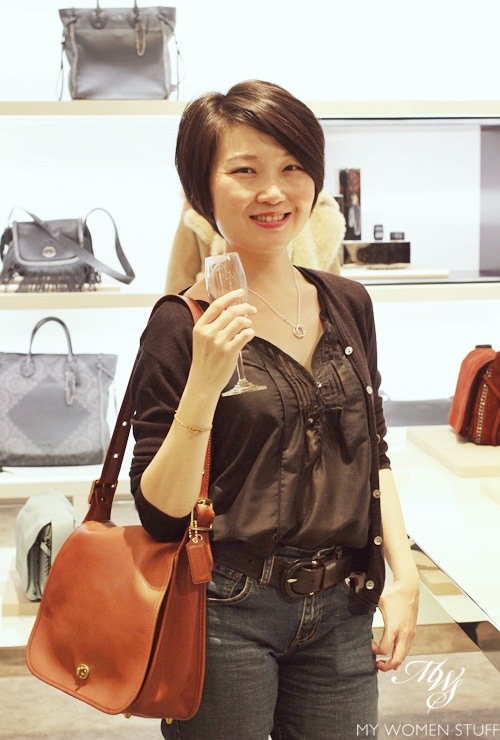 No I don't do this often, hence the awkward pose & the super boring outfit – no fashion blogger that's for sure!
I'm a fan of Coach's Legacy collection and this is the Coach Classic Stewardess Bag which was gifted to me by a dear dear friend. It fits a lot, the leather is beautifully soft and it's actually very well made. I enjoy my high end bags, but at the end of the day, what I really enjoy is a well made bag and Coach was my very first higher end leather bag (I had the Legacy bucket) so I have a soft spot for the brand. I think they lost their direction for a bit during the Age of the Monogram bags when they were churning out collection after collection like MAC, but I'm glad to see them returning to leather.
So, that's just a little glimpse into what Coach has to offer. I'm curious to know what you think.
Is the Rhyder bag something that catches your eye? Do you own anything from Coach?
I actually like the smaller Rhyder. I think it's adorable, especially in one of the bright colours. The newer Coach bags seem better made for some reason. I think that's a great improvement. I have a couple of Coach bags and a wallet. Hardy stuff, if you get the leather 🙂
Paris B