We're seeing a slew of new eyeshadow palettes this Fall 2014, which isn't always a bad thing if brands are upping their game and reformulating products for the better. One of them was Chanel, which I showed you last week. This week, it's Dior with their newly reformulated 5 Couleurs eyeshadow palette.
There are 10 new permanent palettes and one limited edition piece, which I'm showing you today in 876 Trafalgar.
Trafalgar taken in direct sunlight
Trafalgar is a limited edition palette and quite possibly, one of the more interesting colour combinations in the new Dior eyeshadow palette line up, thanks to that red shade smack in the middle. I must say it threw me for a loop. I'm not a terribly adventurous person when it comes to using colours like these on my eyes and I was quite concerned about looking like a rabid bunny. Or like I'd been shedding one too many buckets of tears.
Interestingly however, it turned out to be a pretty decent palette, once you get over the fear of colour, and I personally think this palette will look especially good on those of medium to dark skin tones just simply due to the depth of colour.
A quick note about this new formula.
The newly reformulated Dior 5 Couleurs Eyeshadow Palettes are supposed to boast better, more vibrant colours and stronger pigment. I know of people who have complained about the sheer colours and hard texture of Dior eye palettes, but over the years, I can't say I have a lot of complaints. I will admit that some of their quints don't work (especially those from the Diorsnow collections) and some are better than others (notably from some of the limited edition Summer and Fall collections in the past) but I've always been able to work with them.
So to cut a long story short, I did not notice a marked improvement in colour, texture nor pigment. It seemed easier to swatch and blend and it seemed smoother (less gritty) and more pigmented, but I think it depends on the colours that you pick.
Left: New Case Right: Previous case
With new improvements on the inside come improvements on the outside as well. The new cases, while maintaining the signature deep blue case and silver name, now sports a sleeker, more compact silhouette. The silver trim now runs around the middle of the case, and it feels a little slimmer. Small cosmetic changes 🙂
But I know what you're thinking – Show us how Trafalgar looks already!
Dior 5 Couleurs Eyeshadow Palette – 876 Trafalgar swatched dry on skin with fingers
I swatched Trafalgar clockwise from top right and here are my descriptions of the colours and textures based on my observations:-
Shimmer Light Pink – Very sheer texture and very shimmery with little colour pay off. Best used as a highlighter shade for the inner corner and under the brow bone
Shimmer White – Similar texture to the light pink. Both are quite typical highlighter shades that are not terribly impressive.
Deep shimmer plum – A browned plum that is pigmented and swatches very easily and smoothly on skin. I like using this as the base shade on which to build the other colours as it provides depth and is easily blended.
Shimmer warm gold – A warmed golden shade that makes for a lovely lid colour when paired with the plum. It is smooth and pigmented although not a very strong colour. Beautiful worn alone as well.
Satin Burgundy – A warm burgundy red shade with satin texture that I find a little dry and not as smooth as the plum or the gold. Used with a brush, it blends well and applies easily.
I had a little trouble working with the burgundy shade at first. It is easy to pick up too much product because it is very pigmented and blends out quite easily. So unless you want to use it as a bold shade, I'd advise caution.
I've tried blending it in the crease, for an interesting pop of colour and it does work quite nicely. But I like it best used as a base in the outer corner of the lid and then blending the rest of the colours in. This way, it mutes the burgundy, while allowing for an interesting colour on lids. Here are 2 variations of how I've attempted this, both of which I wore to work.
Plum on outer corner, Gold lid colour and lower lash line, Burgundy in the crease – could do wiht a little more blending.
Burgundy on outer corner, Plum to shade and on lower lash line, Gold as lid colour, Pink to blend and on brow bone.
And here's one I did earlier 😛 The finished product using the lower look in an overall face.
Trafalgar is very much a Fall palette, thanks to the rich shades in it and it does bring to mind the changing leaves when autumn arrives. Rich golds, reds and browns dominate and I can imagine that many people would be able to create some very pretty looks with it.
I on the other hand, prefer keeping it muted. I skip the burgundy shade a lot of the time, preferring to just blend the Plum with the Gold for a very simple, work friendly look. I think it's a nice palette, and not one I'd voluntarily pick but if you are a little adventurous, yet want something wearable, then Trafalgar is an interesting choice. I can't say the textures are anything to shout about (they feel a little hard to the touch) but with a brush, it applies quite easily and blends flawlessly.
In a nutshell

Dior released a new formula for their eyeshadow quints for Fall 2014 and the limited edition colour is 876 Trafalgar. The central colour is a burgundy that can be rather daunting but blends well with the other colours in the palette for a rich finish and look. I find the 3 deeper colours have a better texture and are easier to blend and also more pigmented. The 2 lighter shades are sheer and wear best as a highlighter. Formula-wise, it's hard for me to say, as I didn't have a lot of problems with earlier Dior eyeshadow palettes. This one is nice, and definitely one of the better textures, with no glitter and no fall out. But I couldn't tout it as a must have. It's nice to have, but not a necessity.

Pros: Deeper shades have a rich colour and are easy to apply and blend on skin, No fall out, Long lasting on lids, Not overly shimmery nor glittery

Cons: The middle Burgundy shade can be hard to wear for anyone not used to it, The 2 light colours are very sheer, Pricey

Who will like this: Anyone who loves rich colours and is brave to play with the burgundy shade for eyes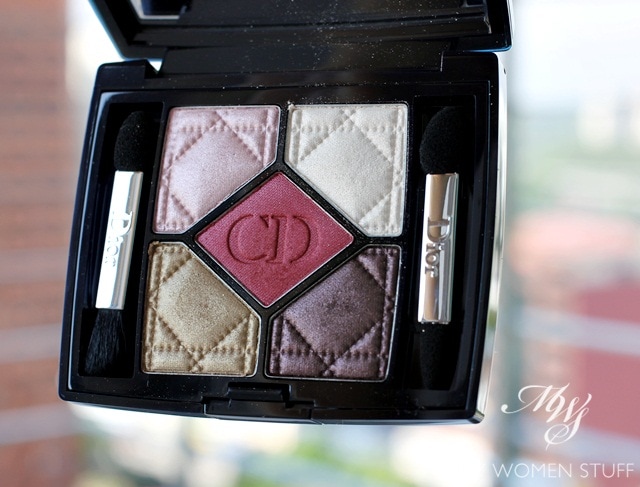 Trafalgar taken in natural light in the shade
I think Trafalgar is an interesting palette, but I think also that it'll appeal most to those who are already familiar with using eyeshadow. I'm not sure it is a true representation of the reformulation because the texture still feels hard to the touch, and the 2 light shades are still very sheer, which has been the case all this while. The 3 deeper colours do have a better, smoother texture, I'd agree but I've already noticed this improvement in the most recent palettes coming out since a year or two ago. Perhaps this is just standardizing it.
Were you drawn to Trafalgar as an eyeshadow palette? Did you test the new Dior palettes yet?
I haven't tested the other palettes, but I feel that this is pretty much just Dior coming out with a fresh revamp of colours for their iconic quints. If you're after something interesting, Trafalgar is it. Otherwise I'd do Cuir Cannage for something neutral or Jardin for some colour. The other shades did nothing for my imagination 🙂
Paris B
Dior 5 Couleurs Eyeshadow palette in 876 Trafalgar Price: RM225 Availability: Dior counters Limited Edition: Yes, Fall 2014