Regulars amongst you will know that I've found my Holy Grail sunscreen and I preach about it from the rafters to whoever will listen. When that runs out, I've got my back up in place. But I recently put to test a lesser known sunscreen from Taiwanese brand Naruko AM+PM and I'd be blown if it didn't wriggle its way into the cockles of my heart, nestling itself comfortably between the Shiseido and the Hada Labo.
This is the am+pm 10 Peptide Total-Defense Sunscreen with SPF50 and it's by Naruko, a Taiwan brand created by popular Taiwanese beauty guru Niuer. I understand he is terribly popular in Taiwan and products he recommends always fly off the shelves whenever featured on his beauty show. But because I don't read and speak Mandarin, this is a world of beauty that is unfortunately closed to me. Pity 😛
But coming back to this sunscreen. If I'm to be honest, I doubt I'd have given it a second look had I seen it on the shelves. I'm just a little wary about trying new things these days, which I know backfires on me as a blogger but what the hey 😛 However, this bottle ended up in a bag of items I was given to try for the Cite Cosme Beauty Awards 2014 and I thought I'd give it a go. Turned out, I really liked it!
Being unfamiliar with the brand, I did a little research on it and found out that am+pm or AMPM is one of the brands under the umbrella brand of Naruko. am+pm as the brand says, is a skincare range that is designed to take you from AM to PM and is tailored for those living a busy office life and needs something to keep your skin in top condition while you undergo work stress. Interesting!
The sunscreen comes in a very compact bottle and has the usual shake up formula popular here in Asia. However, unlike many other similar type of sunscreens, the texture is what really got to me.
The product dispenses out as a slightly runny creamy lotion. It isn't watery nor, if I'm to be particular about it, is it particularly lightweight. It isn't a bad thing 🙂
If you are familiar with the texture of Shiseido Perfect UV sunscreens then I'd say that this am+pm one is a wee bit creamier. I like it. It isn't oily or heavy on the skin, and it does absorb nicely into the skin and doesn't feel a bit drying at all through the day. The only thing is that if you wear this over a creamy moisturiser, then it might feel a bit heavy. Or if you wear a creamy foundation over this, then the foundation may slip a little as the day wears on.
In addition to its primary function as a sunscreen product, this am+pm sunscreen contains 10 peptides to protect and boost the skin's functions and anti-aging capacity. Here's the 10 peptides and their functions that I got off the Naruko website.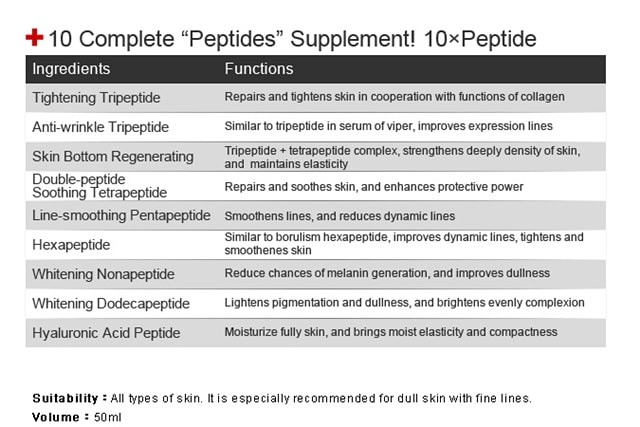 If I'm to be perfectly honest, I cannot tell if they work as advertised. I can vouch for my skin feeling well moisturised all day, which is probably due to the Hyaluronic Acid. I can't say if the rest are showing much of an obvious result but I'm not using this product for the peptides. I'm using it because I really like it and it seems to work well enough for me.
I've been using this since I ran out of my Shiseido sunscreen a while back, and it's been a good substitute. It isn't as good a makeup base as the Shiseido one because of the creamier texture, that much I'd admit. However, it seems to keep my skin more moisturised, and although I was out in the sun, I haven't noticed my pigmentation getting worse.
That's my gauge of a sunscreen's efficacy. If I discover my pigmentation getting worse after an unavoidable bout in the sun, I drop it like a hot potato.
Ultimately, for the very affordable retail price of RM59 (or RM45 on the official website or at various sale prices in Watson's pharmacies) I'm a happy camper. I think I'll put this before the Hada Labo Whitening sunscreen for now 🙂
In a nutshell
The am+pm 10 Peptide Total-Defense Sunscreen is a very affordable sunscren from Taiwanese brand, Naruko. It has a slightly creamy texture but is otherwise lightweight and absorbs and sets well on skin. I find that creamier foundations will not sit as well on this so it doesn't make as good a makeup base as the Shiseido Perfect UV sunscreen. However, I otherwise like it very much. It keeps my skin feeling moisturised and not dry, it protects from the uv rays and it feels comfortable without clogging my pores or breaking me out. It is also very affordable and there isn't much else you can ask for!

Pros: Lightweight lotion texture, Slightly creamy texture feels more comfortable on drier skin types, Does not feel drying on skin, High SPF protects skin from UV rays, Affordable

Cons: Can feel a bit heavy on skin if worn over a heavier moisturiser, Does not work as a very good makeup base for creamier liquid foundations, Nozzle tends to over dispense product

Who will like this: Anyone who is looking for an affordable sunscreen, Anyone who has slightly drier skin, Anyone who light lightweight sunscreen textures that are a little creamier and not drying
Here is the ingredient list for those interested.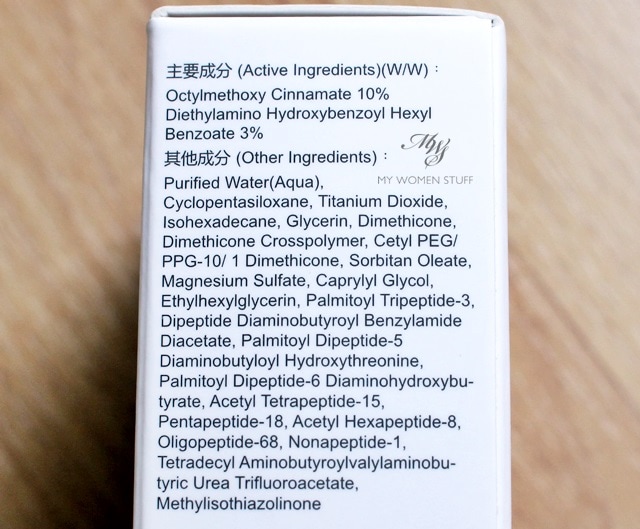 I'm not that great at reading ingredient lists, but from what I can tell from the active ingredients, this sunscreen has both UV-B and UV-A blockers so that's all good then 😛 Naturally, if you are sensitive to silicone, it is present in here so do take note; but I'm not and it does not have the horrible slippery feel of most products that have a lot of silicone, so I'm not terribly fussed about it.
All in all, I'm happy with this and although I'm not now the most adventurous person out there when it comes to trying new skincare, I'm happy I gave this a chance 🙂
Have you tried this am+pm 10 peptide sunscreen before? Are there any other Naruko or am+pm products you like that I should try?
I tried one or two Naruko products a few years ago but wasn't wowed. This one however has me intrigued by the brand again so if you use or have tried any product that you think is absolutely worth a go, please share! I'd definitely be interested, especially since they carry affordable price tags! 😀
Paris B
p/s On this note, please expect a stretch of silence on the blog for a week or so till I get back on even keel. I should be able to get back to my regular schedule soon, but you will find me on my usual social media channels, Instagram being the primary one if you want a quick reply and like irrelevant and irreverent pictures about beauty, food and various titbits 😉
Naruko am+pm 10 Peptide Total-Defense Sunscreen SPF50 Price: RRP RM59 (look for sales or discount offers) Availability: Naruko Malaysia website or Watson's stores