I've always been into makeup brushes although my "obsession" if it can be called that, hasn't come to the fore till quite recently. All of a sudden, we're inundated with new and wonderful brands of makeup brushes and better still, some brands have revamped their brush line! Earlier this year, I told you about NARS overhauling their makeup brushes. I may have mentioned that there was another brand that was also doing the same.
The brand in question is Japanese brand RMK, and I confess to being a little over-excited when I was introduced to the new brushes a while ago together with their Summer collection. In fact, all thoughts and opinions of the Summer collection flew out the window the moment I laid eyes on their delectable new eyeshadow brushes! 😀
This Summer 2014, RMK introduces their new range of eyeshadow and eye liner brushes which will replace the previous ones. I didn't own the previous versions as I didn't quite like how they felt, which was a little rough, much to my surprise. These new ones feel deliciously soft and comfortable, and are made from natural hair, bar 3 brushes, my personal choice for makeup brushes.
I had the opportunity to speak to one of the RMK Makeup Artists from Japan who was visiting during the launch and asked where these brushes were made and I was told that they're made by Chikuhodo – a reknowned brush maker in Japan, like the more visible Hakuhodo. I'll quickly break down the brushes for you 🙂
First off, a note about the packaging. The brushes are all very slim with a light plastic body that gives it a rather insubstantial feeling.
They are also shorter than normal, which can be a boon or a bane. A boon if you like to get close up to the mirror to work on your eye makeup (and which I think is what the intention was) as the handles will not get in the way. A bane if you like the feeling of longer, more substantial feeling brushes. That said, they do feel balanced. Just takes some getting used to if you're used to using brushes with a wood handle.
The other thing I would have liked was for RMK to print the name of the brush on the handle. It makes it easier to identify. Perhaps not so if you are a user and have no reason to need to refer to a brush. Few of us work in "Oh which brush did I use? I used the RMK Eye Shadow Brush A this morning" into our everyday conversation. But it is useful for record keeping.
And speaking of naming conventions, RMK has "imaginatively" given their brushes names that are very easy to remember. The Eye Shadow Brushes are from A-F and the Eye Liner Brushes from A-B. The alphabets however, in no way denote the sequence in which to use them, which could lead to some confusion! Still, I suppose it is a little easier to remember 6 letters than it is to remember a bunch of numbers, eh? 😛
So here are some close ups of the brushes and what they can be used for.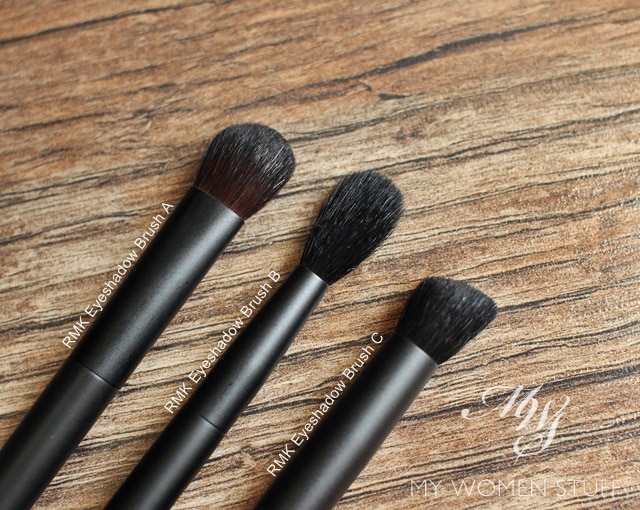 RMK Eye Shadow Brush A (RM95)
Brush A is made of horse hair which makes it a little stiffer and allows it to pick up colour better. It is still very soft by comparison to other brushes, and it is fairly dense and yet pliable. It is also quite large so will cover your lid quite easily. This would be a brush you use for applying colours to the lid. Pat on the colour for more intensity and then swipe to blend.
RMK Eye Shadow Brush B (RM95)
Brush B is made of goat hair and is very lovely and soft. However, it doesn't feel too floppy which is a good thing. This would be your blending brush, to blend colours together or to apply pigmented eye colours for a soft effect. I use brushes like this to apply highlighting colours and to highlight the brow bone area, as well as to blend edges. Think of this as similar to this brush and use it accordingly.
RMK Eye Shadow Brush C (RM95)
This one I found very interesting because it's not a common shape for an eyeshadow brush. This one's from goat hair and quite firm and dense, yet pliable. NARS has a similar one in their Artistry brushes but I found that very pokey. This one, despite looking pokey, is very lovely against the skin and doesn't hurt it at all! It is angled with a flat top and the RMK Makeup Artist told me I could use this either to blend out eyeshadow colour or if I wanted very vibrant colour, to use this brush to dab on colour to the lid. You can also use this to apply contour powder along the sides of your nose, or to apply highlight colour on precise areas on the face. Think of it like a very mini angled flat top kabuki brush 😀
Mistake! Eye Shadow Brush D and E should switch places!
RMK Eye Shadow Brush D (RM75) (Mistakenly marked E in photo)
Made of horse hair, this is one brush I don't see the point of, sorry RMK! 😛 It is smaller than the other brushes and feels almost like a travel brush. This brush has one fluffy end and another empty refillable end where you can insert a sponge applicator (RM25) or a synthetic brush head for cream shadow application (RM25). Unless you are looking for a portable brush I'd just skip this one for being not worth the money nor the time 😛
RMK Eye Shadow Brush E (RM95) (Mistakenly marked D in photo)
This is fast becoming one of my favourite brush shapes, what is known also as a pencil brush due to the shape. This one's made from squirrel and raccoon hair and feels lovely and soft and not scratchy at all! It is also fairly dense and seems to be fairly firm. Brushes like these work well to place accent colours, or to smoke out the edges of your eyeshadow, or place crease colours precisely. I like using brushes like these to draw a soft line on my lower lid using eyeshadow, an effect I find softer and more flattering than using pencil to line the water line.
RMK Eye Shadow Brush F (RM95)
This is the sole synthetic hair brush in the eyeshadow brush collection, which allows it to be used for powder or cream eyeshadow. It is fairly large and pliable but not very dense. I don't use brushes for cream eyeshadow, prefering to use my fingers, so I wouldn't get a lot of use out of this brush for eyeshadow. However, this will work well for applying concealer around your eye area, or for precise concealer coverage. That would be what I'd use it for personally. It could even double up as a foundation brush if you are on the go and want to carry just one brush, although it might take some work.
In the range too are 2 liner brushes.
RMK Liner Brush A – RM90
Made of synthetic hair, the bristles are short and rounded, which allow for precise application of powder or gel eyeliner, allowing you to smudge it in between the lashes. You could also use this one for tightlining with powder eyeshadow as it is fairly precise.
RMK Liner Brush B – RM90
Also made of synthetic hair, this one has a conventional angled eyeliner brush shape, which allows you to draw precise lines and flicks, if that catches your fancy. The shape also allows you to use it for brows if you use a powder brow product. The soft synthetic hair is fairly pliable so the effect will be very soft.
Remember I said they weren't very big? See, they aren't very big at all. The brush heads are pretty normal sized, but the handles are shorter. Of the brushes available, my picks will be Eye Shadow Brush A, B, C and E. If you use the liner brushes then I'd pick either A or B depending on what makes you more comfortable using. I would personally skip Eye Shadow Brush D and F because I have no use for them.
Have you used RMK makeup brushes before? Do these brushes catch your fancy?
On a per brush basis, I didn't think them too pricey, considering the quality and comfort. I'll try to share some thoughts on them individually in future, but by way of overview, I'd say they are worth checking out if you are in the market for eyeshadow brushes and want some high quality ones. You can rarely go wrong with Japanese brands when it comes to brushes and base makeup and RMK makes some of the best 😀
Paris B