When pressed for a favourite lipstick formula, I tend to gravitate towards the Dior Addict lipsticks. I've been huge fans of them ever since the days back when they came in an opaque dark blue case and a gold holder. If you remember those, congratulations, you too must be a fan! 😀 I have stayed pretty loyal through the years but it wasn't until recently that it struck me that the Dior Addict lipsticks and glosses and now the new Fluid Stick actually reflects the Dior Addict perfume bottle! Erm yes, late to the party 😛
I was recently introduced to 2 more additions to the Dior Addict makeup range – the It-Lash and It-Line.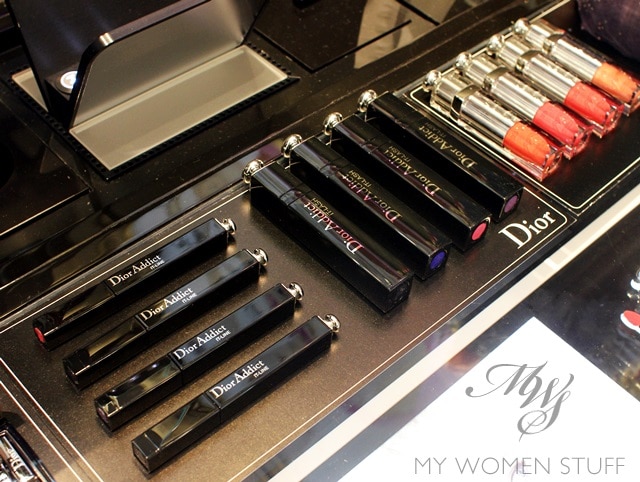 These are a brand new range of mascara and liquid eyeliners respectively and a part of the growing Dior Addict makeup range, which previously only focused on the lips. This time, Dior wants to highlight the eyes – the windows to the soul 😀
Like the Addict lip products, the Dior Addict It-Line and It-Lash come packaged like the perfume, with the knob at the top, which is purely for aesthetic purposes. Well, not quite either because for the liner at least, wedging your finger against it actually helps you control the liner better. The tubes are a sleek and simple square glossy black with silver knobs at the end.
I'll quickly show you some fun things about this new launch from Dior for the Summer 2014. The It-Line liquid lider and It-Lash mascara in black are permanent colours but there are another 3 very fun colours to look out for as well 😀
Dior Addict It-Line – RM115
The It-Line liquid eyeliner comes permanently in black, but for a limited time, you can get it in Purple, Pink and Navy Blue!
Store lighting is being a bitch right here but the colours of the liner are quite true to colour. The Blue is a lovely intense bright blue that looks like the blue of that nail polish Dior brought out for Summer 2014. Pink is a hot pink, Purple is a bright purple and black is erm… black.
The 3 coloured versions are limited edition products and are fun but I found the nib quite hard to control.
If you look at the It-Line at the foreground of this picture, you may notice that the brush nib is quite long and it is also quite flexible. What this means is, as you can see from the blob of blue in the swatches above, is that in inexpert hands (like mine) it can end up a holy mess. It's quite tricky, it is. The colours are fun though, and fairly intense if you layer them on, so if you like a pop of colour (layer a colour over the black liner and you don't need any other eye makeup!) it's one to look out for.
Dior Addict It-Lash Mascara – RM110
The It-Lash mascara is a new one in the Dior arsenal of mascaras. Previously, Dior mascaras came under the Diorshow line but this time, they've launched one under the new Dior Addict range and you know, I'm not much of a fan of Diorshow (although I know many people are) but I do like the Dior Addict It-Lash a lot! And it all has to do with the brush.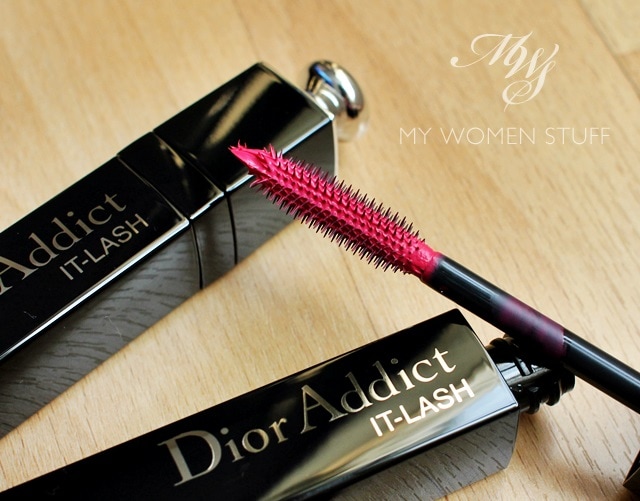 See how the "spikes" on the wand are long and dense? This works really well for short lashes like mine because the bristles actually manage to grab onto your lashes. The whole root to tip used to be a pain to do, but with this new, slimmer, more bristly brush, it's actually doable now! However, don't look to the It-Lash for volume. It is primarily for adding length and the formula is quite nice too – dries quickly and doesn't smudge through the day. I'll try to do you a proper review soon. I haven't been wearing mascara for many months now but I liked this one 🙂
Like the It-Line, the It-Lash too comes in 1 permanent shade of black and 3 fancy coloured shades of Blue, Pink and Purple. Fun colours for a pop of fun. I was told you can layer a colour by applying from below and then layer on black on top so you get a duo toned lash. I'll tell you though, that it only works if you have long, lush lashes. Short lashed girls need not apply. Just stick to one – black 😛
Along with the launch of the Dior Addict It-Line and It-Lash comes a few new shade of the Diorshow Mono eyeshadows. You get the matching pink and purple shades as well as a fancy yellow shade that actually looks very pretty.
Dior Diorshow Mono Backstage Eyeshadow – It-Pink and It-Yellow
Dior Diorshow Mono Backstage Eyeshadow – It-Purple and Kohl (permanent)
Again, do pardon the in-store lighting. If I recall correctly, the sparkly black shadow is permanent while the other 3 shades are limited edition colours. A note if you will, I noticed from some other sites that the Kohl black was listed as a matte black. However, the one I saw in store was super sparkly. So erm, I'm not sure what's going on but this is what I saw.
The pink shade looks almost coral in the warm lighting but it isn't. It's pink with a light hint of coral, as you can see from one of the pictures above. I left the colour off, because the yellow shade is pretty true to colour and it was the more interesting colour out of the 4 new shades available. I can see it used as a lovely wash of colour, or as a nice pop of highlight. Definitely the most wearable. I found the black one a bit gritty so it did not appeal to me.
Here too is a better representation of the purple mono shadow. It's a cool toned purple that actually looks wearable and it reminds me of the walls of my bedroom which I had as a kid LOL! Pigment isn't great though and it applied a little patchily. I can't say I've been terribly impressed by the Diorshow mono shadows but then, maybe I expect more of them and at the asking prices, I do think they should be delivering much much more.
All in all, I think these new colours an interesting, young, fun addition to Dior. How practical they are depends on how adventurous you are. I can see myself sticking to the black shades of the It-Line and It-Lash but then, I'm a staid fuddy duddy! 😀
Have you tried the Dior Addict It-Lash or It-Line? Do the new colourful products grab your attention?
I'll tell you about the It-Lash soon. I was surprised that I liked it but as I said, do not expect volume. It does work nicely as an everyday mascara though – defines and adds some length without too much drama on short stumpy lashes like mine 🙂
Paris B
Dior Addict It-Lash (RM110) and It-Line (RM115) come in 3 limited edition colours and 1 permanent colour (Black) Availability: All Dior counters