It's probably not much of a secret that I'm not a huge fan of the Dior Addict Fluid Sticks. I love the colours and intensity of pigment, but the texture did not sit well with me. It was about this time that I came across many mentions of a similar hybrid lipbalm-lipgloss-lip colour product coming out of Lancome's stables. The raves for this one was astounding and some touted them to be even better than Dior's offering.
Naturally therefore, I had to see what the fuss was all about! :D
The product is the Lancome Lip Lover and I was told they would be available locally in June 2014 but I couldn't wait, so I picked mine up online about a month ago. There is quite a large range of colours to choose from and I know the expectation is for me to go for a red lip so I did, but I also chose a lighter, more neutral lip shade as well.
The 2 colours I ended up with Beige Adage 332 and Belle de Rouge 356. I can tell you off the bat that I'm not fawning over them so these are likely to be my first and last Lip Lovers, but I have also found a lip colour to love so it isn't a total whitewash :)
You may not be able to tell it from the photos, but the Lancome Lip Lovers are deceptively small. Every photo I saw them in gave me the impression they'd be longer or perhaps even larger than what they really are.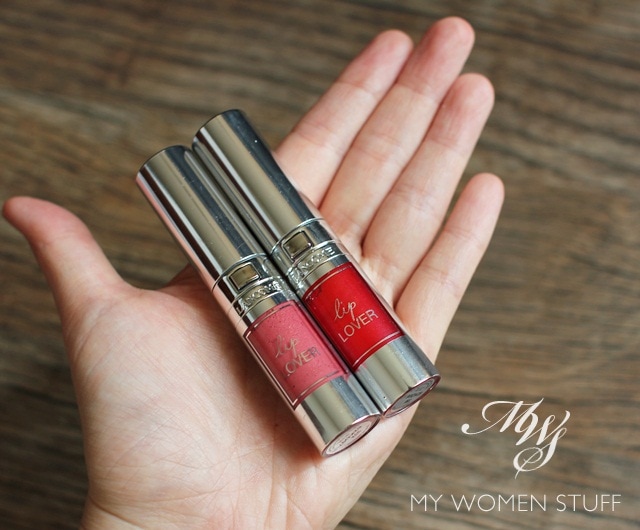 But they're small which came as a bit of a surprise. All these online close ups of products don't help to manage expectations do they? :P
Packaging wise, they are like that of the Gloss in Love, where the cover clicks close instead of screwing close. Like Gloss in Love, my comment on this would be the same. Innovative, but impractical. The release button is easily depressed and more than once, I've found the cover loosened while inside my makeup pouch. The contents didn't spill, but it's a disaster waiting to happen. Suffice to say, there's a reason why some things are designed a certain way.
The window in front shows you the colour of the lip product which brings me to the formula. The Lip Lover is said to be a "Dewy Color Lip Perfector 8H moisture" which basically means that it is moisturising on lips (not drying), has good colour pay off and gives a glossy shine. It is a lip colour, gloss and balm in one.
However, I would not compare them to the Dior Addict Fluid Stick simply because the texture is markedly different. Dior Addict Fluid Stick has a water based texture, which is very light on lips and the pigmentation of the product is astounding. The longevity is good and it is fairly comfortable. It was like wearing a very light but intense lipstick. The reason I did not like it was because it takes a very long time to set (almost never) and in that interim, feels tacky on my lips. I'm fussy about things like that so I am critical.
The Lancome Lip Lover on the other hand is pretty much a lip gloss. It has that thick silicone feel of a lip gloss, and has a goopy texture not unlike a lip gloss. The colour is strong but not consistent in both colours I own and the intensity markedly lower than Dior's. It isn't drying and longevity is a little longer than that of a regular gloss, but when I wear it, it's pretty much just a lip gloss. Nothing terribly special.
What this means therefore, is that if you are a fan of wearing lip gloss, you will probably like this one. It gives you better coverage and colour than a regular lip gloss but not the same intensity as that of a lipstick. If you shy away from lip glosses, reconsider these and go instead for the Dior Addict Fluid Sticks which are less gloss-like.
The wand is also pretty much that of a regular lip gloss, except it looks a bit longer. Nothing terribly noteworthy.
What is noteworthy however, is that I somehow ended up with 2 different textures of Lip Lover in the 2 colours I picked.
Beige Adage 332 – is a light neutral pink that has a thicker, more opaque texture more akin to that of a liquid lipstick. There is shine but when applied, has a more opaque finish and looks less glossy.
Belle de Rouge 356 – is a bright glossy red that has a more translucent finish more akin to that of a lip gloss. There is shine and transparency not found in Beige Adage.
It was incredibly hard to swatch these and while the swatches on my arm do not quite represent my perception of them, they are possibly useful for you to see the texture, which is more glossy like a jelly and less intense in colour. Beige Adage, despite the name isn't a beige at all but a neutral pink I happened to fall in love with.
You might be able to see from the lip swatches what I mean by the different textures of the Lip Lovers. Beige Adage applies more smoothly with a more even, opaque colour. Belle de Rouge is more transparent and looks more glossy. I find that Belle de Rouge does not apply very evenly and it takes a few passes for me to get it right and to ensure the colour is even. With Beige Adage, I get it right from the first swipe.
Because I'm not a fan of lip gloss in general with very few exceptions and because there is a scent (light but sweet which I'm not a fan of) I am not keen on more. I do love Beige Adage and it's a colour I wear often so I'd likely look for a lipstick in this shade :D
In a nutshell

The Lancome Lip Lover is a lip gloss that has more intense pigment and is more moisturising. I would term this a lip gloss because that's how it performs for me. It has a lot of shine and a thick, goopy feeling that sits on my lips. It isn't sticky or tacky, but it has a decidedly "gloss" feeling that you either love or hate. I'm personally not a fan so I'm not mooning over these. Of the 2 shades I own, I found that the textures were different. Beige Adage was more of a liquid lipstick being more opaque and applying more evenly on lips. Belle de Rouge was more like a lipgloss being more transparent and has a more uneven application. They're alright as far as lip glosses go, but I hesitate to say that they're exceptional because I don't think they are.

Pros: Not drying, Not sticky nor tacky, Nice shine and gloss, Compact and portable

Cons: Scented, Thick goopy feeling when applied, Different colours had different textures, Cover can be easily dislodged

Who will like this: Anyone who likes the feel of wearing lip gloss but wants a bit more colour
Here are how they look when I wear them.
Beige Adage 332 turned out to be a wearable day to day lip colour that I found very refreshing after the bold lip colours I'm used to sporting. I didn't expect to like this colour but I do and the formula too sits well with me as it is more liquid lipstick than lipgloss. I need to find a matching lipstick shade now! Help me if you know of a shade that looks similar :D
Belle de Rouge is a more conventional red lipgloss. It does not apply as smoothly as Beige Adage and catches on dry flaky skin on lips if I'm not careful. It's a nice colour, but not special.
Have you tried the Lancome Lip Lover yet? Are you a fan of these lip products?
To be honest, I don't think these comparable nor better than Dior Addict Fluid Sticks. I'd consider them totally different products. I think Lip Lover will appeal more to those who like the feel of wearing lipgloss but who want a little more colour. Fluid Sticks will appeal more to those who want more intense colour. They're different but I can't say I'm a huge fan of either LOL! :D
Paris B
Lancome Lip Lover Dewy Color Lip Perfector comes in 18 shades Price: RM75 | US$23 Availability: Local Lancome counters in June 2014 or I got them at StrawberryNET.com