I guess you could say that I've been quite blessed when it comes to my crowning glory, because it needs very little maintenance. Keeping it short means I don't have to worry about dry ends and keeping it its natural colour means I don't have to worry about my hair being damaged with colouring chemicals. It's not to say I haven't experimented. I've been there, done that and am now just happier au naturel.
So when I first used the Sachajuan Hair Repair the first few months, I wasn't sure what I should be making of it.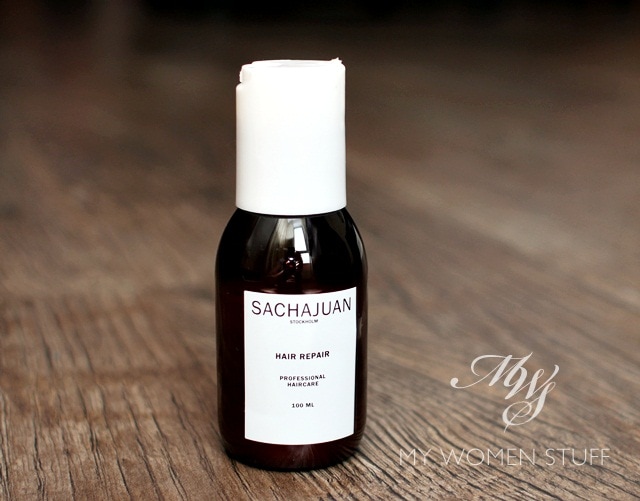 Sachajuan is a brand of Swedish professional hair care that's new to our local market and is distributed by Kens Apothecary so you'll find it at their stores and perhaps some very selected hair dressers. I had this for quite a while without really noticing much benefit to my hair when using it other than softer hair, so I was quite ambivalent about it. It's been months since I was sent this and every time I wanted to write about it, I couldn't get past the initial idea that it was just OK.
However, a recent experience quite sold me on this and I have to say that it does do what it promises – repair hair that needs repair 🙂
I've been using the Kerastase Nutritive range quite recently and while it's supposed to help with sensitive and dry hair, I found that regular and prolonged use left me with hair that felt dry. Added to that, I went away for work recently and forgot to bring my own shampoo and conditioner so I had to make do with the hotel toiletries and the minute I rinsed out the product, I knew I was in for trouble. My hair felt dry and frizzy and just was all round unmanageable.
You wouldn't think it of short hair, but yes, us short haired ladies can have unmanageable hair too. When I got home, I decided to reach for the Sachajuan Hair Repair to see if it might help my hair.
Sachajuan says that Hair Repair is an intensive hair repair product with ocean silk technology for damaged and stressed hair, and what it does is repair your hair so it looks healthier and is more manageable. The product comes in a white paste, rather like conditioner but without the awful slip that I have come to associate with conditioner.
Although its an intensive product, unlike hair masks which I also feel the silicone slip, I don't get that slippery feeling with this product, so I appreciate that. It also doesn't sit on my hair coating it, but seems to almost absorb into my hair, which is strange but nice because when I rinse out the product, it washes out nicely and clean, and it doesn't feel like I've coated my hair in wax.
After the recent episodes with the Kerastase shampoo and the hotel shampoo, I realised that just 1 use of this Hair Repair almost immediately softens and relaxes my hair so it becomes less dry, less frizzy, less stiff and softer. It was almost as if it literally repaired the texture of my hair and I truly appreciated it then. The effects last me about a week so I use it as a weekly or fortnightly treatment depending on how I feel or how badly stressed my hair gets.
The thing I do have to note is the scent. There is a strong musky scent that took me by surprise because it isn't a scent you expect in hair products. A lot of the time, hair products smell sweet or floral or fruity but musky? Nope, and I loved it! I love that warm, musky, spicy scent and it lingers a little so I like that. Can't say it'll appeal to everyone though.
In a nutshell

The Sachajuan Hair Repair is an intensive treatment product that is to be used weekly or as often as you need for hair that feels dry or damaged. For me, if my hair feels fine, it doesn't seem to do much. But if my hair feels unusually dry or unmanageable, one treatment of Hair Repair usually leaves it feeling soft and manageable. I like the spicy, musky scent and the ease of use. I don't use a lot because I have short hair but I can imagine that someone with longer or more damaged hair may end up using more product and feel the effects better than I do.

Pros: When hair is feeling damaged and dry the effects of this intensive treatment are felt almost immediately, Scent is lovely albeit musky, Does not make the floor slippery nor feel slippery on hair

Cons: Pricey, Scent may not suit everyone

Who will like this: Anyone with dry, damaged hair or hair that feels frizzy, damaged and stiff
Sachajuan is a range of professional hair care products that is sold mostly through salons and specialist stores so the prices are higher than brands you'd find at a pharmacy but they are about on par with the price of most professional haircare products like Redken or Kerastase. To be honest, until I experienced hair that felt horrible, I didn't see how this product could help me so if you don't have hair that feels dry or damaged or frizzy or like straw, you too won't appreciate this (in which case, money saved! 😀 )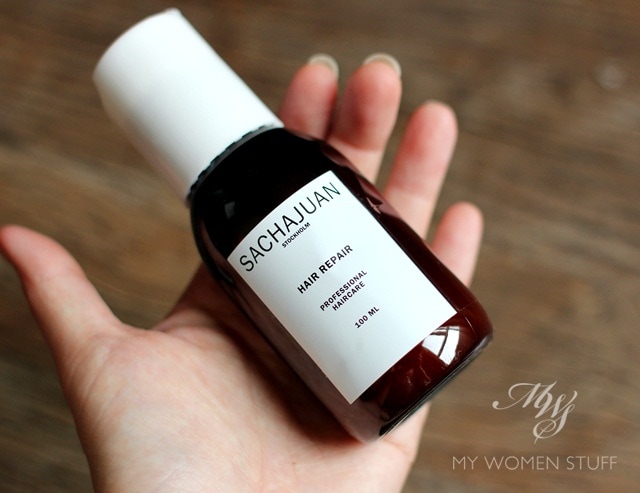 Ingredients: Aqua (Water), Cetyl Alcohol, Stearyl Alcohol, Behentrimonium Chloride, Propylene Glycol, Dimethicone, Hydrolyzed Rhodophycea Extract, Parfum, Cetearyl Ethylhexanoate, Phenoxyethanol, Glycereth-2 Cocoate, Hydrolyzed Wheat Protein, Peg-7 Glyceryl, Cocoate, Laureth-8, Succinoglycan, Sodium Chloride, Isopropylmyristate, Peg-40 Hydrogenated Castor Oil, Citric Acid, Methylparaben, Butylparaben, Propylparaben, Isobutylparaben, Sodium Methylparaben, Alpha Isomethyl Ionone, Benzyl Salicylate, Butylphenyl Methylpropional, Limonene, Hexyl Cinnamal, Linalool.
Have tried this Sachajuan Hair Repair or other Sachajuan hair products? Do you have a recommendation?
I was also given some sample sachets of the Sachajuan Shampoo and Conditioner and I must say that I liked them so much I actually bought a full size bottle! See the power of generous sampling? 😛
Paris B
Sachajuan Hair Repair Price: To be confirmed for 100ml RM99/250ml and RM259/1l Availability: Kens Apothecary stores and selected hair salons