I took a while to warm up to this powder but now that I have, I have to get this out there because I want you to have a chance to check it out or even get it, before it totally disappears. Damn these limited edition business! 😛 The reason I'm so anxious that you not miss this one is because I love it. Yes I do!
Apologies for the rather well-worn photo of the powder but that's just how well used it's been ever since I started using it. The RMK Kaleidoscope Nuance Color Powder was released with the Spring 2014 Play on Pink collection. It comes in 2 shades – 01 Translucent Beige Pink and 02 Translucent Coral Pink.
You can see images of both powders in their pristine glory in my previous post here but the one I'm enamoured with is this one 01 Translucent Beige Pink which RMK says is a finishing powder that highlights. To me however, this is just a great finishing/pressed powder that even serves double duty as a skin-evening powder that I wear on its own, which is why I like it so much! 😀
For comparison purposes, here is a picture of how the powder looks when it's new. There are these golden shimmer lines on the powder and the powder has a subtle shimmer overspray on the surface.
It is for the reason of this shimmer that I wasn't terribly keen on the powder when I first used it. I found the first few uses made my skin look a bit shiny and I thought that was it. I was ready to write it off and I did.
It wasn't until I had brushed off all the top layer that I realised that the powder itself is mostly matte. It is a combination of a light blue, light pink, beige and brown, that in an ideal world operates both as highlighter and contouring powder. According to the RMK makeup artists, you would use the lower halve, brushing your brush over the blue, beige and pink to highlight and then brushing over the brown, pink and beige to contour.
To be perfectly honest, ain't nobody got time for that 😛 This isn't a very large pan of powder and it's just too fussy to operate it this way. What I do is simply take a brush and swirl it around the whole pan, over all the colours. What you then get is a slightly glowy beige powder with a slight warm-neutral tone.
If you squint, like REALLY SQUINT, you might see what I mean in this swatch of the Kaleidoscope Nuance powder below. I even helped you by drawing an arrow to show you where it is 😛
The powder is mostly matte with just a hint of a glow. On my skin what this translates to is simply an evened out complexion that I like for lazy days. I like wearing this almost like a foundation, by using a slightly dense powder brush or kabuki brush to buff it into my skin.
When I use this as a finishing powder, I use a fluffier powder brush to lightly dust it all over liquid/cream foundation to set it. But I realised I much prefer it on its own over a light layer of CC Cream or primer, or BB Cream. Sometimes, the CC Cream and BB Creams don't give much coverage so I then buff this powder in with a kabuki/dense powder brush and it just pulls my whole look together. I end up with a very light, yet polished base and that's great for casual days or weekends when I don't want a lot of product on my skin.
Is this similar to other finishing powders I use like Guerlain Meteorites or the NARS Light Reflecting Powder? Yes and No. Yes, it finishes and sets my liquid foundations when I wear it and no, because I find this imparts a little more colour so I can wear this on its own. It isn't shimmery and doesn't give too much of a glow, but it sets well and I find, has fair oil control too. It is in a way, quite similar to the RMK Pressed Powder N which I love, but I do find it has a more beige tone with a bit more glow to it. If this one's no longer available, the Pressed Powder N might do the trick, but it isn't a dupe – just possibly a substitute.
In a nutshell

The RMK Kaleidoscope Nuance powder is a pressed powder comprising of different shades of powder in a pan. While it can be used separately to contour and highlight, I like it best as an all over powder. When I use liquid foundation, I use this with a fluffy brush to set the powder. It doesn't add colour, but it does set and hold foundation well, so it doesn't slip and slide. I do not have oily skin, I must say. I however like this powder used on its own like a foundation over a very light BB or CC Cream or primer. I buff it in with a dense/kabuki brush and it evens out my skintone and looks very natural and translucent. Perfect for days when you don't want to have much on yet want to look polished. Very high quality powder and absolutely worth it. I'm thinking of a back up 😛

Pros: Fine milled powder, Versatile as it can be used as a finishing powder or as a light foundation, Not shimmery nor shiny, Evens out skintone and leaves skin feeling matte, Not drying

Cons: A little pricey, Limited Edition, Initial shimmer overlay is a bit off putting

Who will like this: Anyone who likes a good finishing powder, Anyone who likes translucent face powders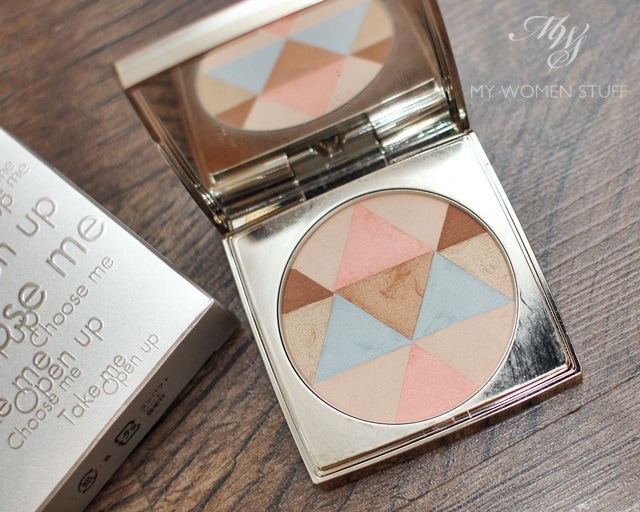 I've been using this a lot recently. I suppose it's mostly because I'm quite happy with the condition of my skin right now (touch wood!) and I only want a light coverage base just to even out the skintone and add a bit of glow to the skin. For areas that need coverage, I just use a dab of my fave concealer and I'm good to go!
Did you take a look at the RMK Play on Pink collection? Did you try this Kaleidoscope Nuance powder?
I think this powder is absolutely lovely and it has most certainly grown on me. I'm contemplating picking up a back up and that almost never happens 😛 The other shade is a coral-pink which would be better used as a blush. I didn't try it but I always have a soft spot for RMK powders which keep to a very high standard, so this is one I would recommend you take a look at if you have the chance 🙂
Paris B
RMK Kaleidoscope Nuance Color Powder comes in 2 shades – 01 Translucent Beige Pink and 02 Translucent Coral Pink Price: RM160 Availability: RMK Counters Limited Edition: Yes, Play on Pink Spring 2014