Famed perfumer and scented candle brand Diptyque has this year added a new feather to it's proverbial cap – skincare. I first came across mention of it online but last month, much to my surprise, I came to know that we'll be getting the Diptyque Skincare L'Art du Soin range right here in Malaysia and it hasn't even been years since its launch! Gosh, we're moving with the times aren't we? 😀
It's even more exciting to note that Malaysia is making the Diptyque L'Art du Soin skincare range available first, and we're the first in Asia to have it available in May 2014. Well, until the rest of Asia catches up that is 😀 But it's nice to be first for once, and not have to stare longingly at overseas launches, wondering when our turn will be.
The introductory skincare range is rather limited for now with just the basics available, and I had the privilege of taking a look at them during the press launch a month back, so you get a quick preview and overview ahead of its launch in stores next week (mid-May 2014 I think)
By way of introduction, I find the range small, but well rounded as it covers the basics from cleansing all the way to moisturiser. The inspiration behind the facial skincare range is that of traditional cosmetic methods, using distillation of flowers, leaves and seeds and scented with the damask rose matched with jasmine, white lily.
This is what had me drawn to the range – not because of their claims, but because I saw in there a cleansing balm and a facial water. It's no secret that I'm very drawn to cleansing balms because they work well with my normal-dry skintype so when I saw it, I literally let out a squeal of delight.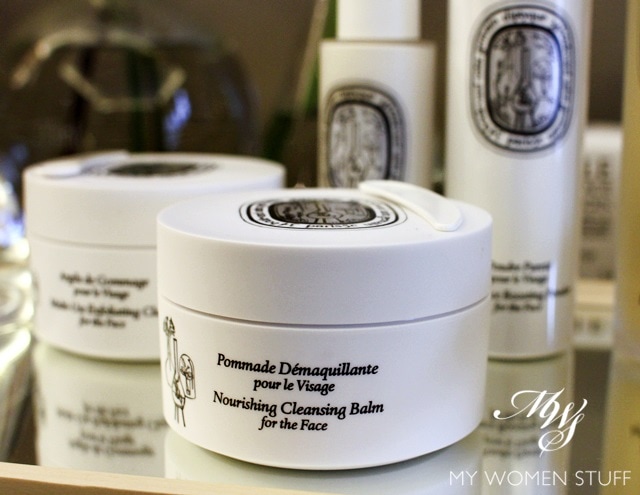 The Diptyque Nourishing Cleansing Balm (RM259/100g) is a white balm that looks and feels a little waxy and is scented with geranium and roses. The texture is light and on contact with skin, melts into an oil texture. It emulsifies upon contact with water and rinses off, but you would be advised to use a muslin cloth or face flannel to remove it. Those of us already familiar with the use of a cleansing balm will be, I think, quite thrilled by this. Those who would prefer to stick to a cleansing oil or other makeup removers might not be 🙂 I don't have this one but I do plan to pick it up to try once I've made a dent in my cleansing balm collection. It looks promising!
The other item I had my eye on in the range is the Diptyque Infused Facial Water (RM209/150ml) which is a hydrating facial water made with an infusion of nasturtium, damask rose which it is scented with, and a blend of 9 traditional plants and flowers. It smells lovely, feels fresh on the skin and you would use it all over, like a toner or if you double tone, as I do, as a hydrating toner.
I expected it to come in a spray bottle, but it doesn't. So what you do is pump out the facial water onto a cotton pad and apply all over the face. I quite like this, but as I don't have this one, I again will not be able to comment on its efficacy until I try it, which I plan to at some point (thank goodness for skincare products being mostly permanent items and not limited edition 😛 )
Another item I found interesting is the Diptyque Radiance Boosting Powder (RM219/40g) which derives its origins from Japanese skincare. Now how interesting is that? 😀 Some Japanese brands have a product for facial cleansing that comes in powder form, rather like talcum powder. I believe one of the famous ones is the Fancl Washing Powder – the name always cracks me up because it makes me think of laundry detergent 😛
But it is sort of what it is. A powder that when it comes into contact with water, turns into a gentle foam which you will then use to wash your face. This would come after the Cleansing Balm if you're using it. I was intrigued, simply because this isn't something you'd find in a Western skincare brand and I love that Diptyque picked up on it.
For treatment, there is the Diptyque Multi-Use Exfoliating Clay (RM249/100ml) which is both a mask and exfoliator. It is enriched with marble powder which helps exfoliate skin and kaolin clay which is known to purify and restore minerals to the skin. To counteract the drying effects of kaolin is the use of rice and oat powders. The texture feels smooth and you can use it as either an exfoliator, or if you leave it on as a mask, you can then add some water to it after it dries and gently exfoliate your skin before towelling off. Diptyque also recommends that you add some Infused Facial Water to the mask to invigorate the skin. I sampled this during the press launch and it did feel quite nice. Not harsh, and not too drying but it remains to be seen how it would work over a longer term.
The final item in this inaugural range of facial skincare products is the Diptyque Protective Moisturizing Lotion (RM259/50ml). This feels light and has SPF15 sun protection (which IMO isn't sufficient in our tropical weather but for those who would rather not wear sunscreen, it's better than nothing) so I'd consider this one a day moisturiser and not one for night. It is supposed to moisturise, calm and soften the skin while brightening the complexion. It feels nice, but is, I feel rather basic.
The packaging is of course, lovely with the Diptyque minimalistic approach that carries forward to the box packaging as well. While I am intrigued by the range, for the interesting combination of facial products available, I can't help feeling that it is all rather basic.
So, this isn't a range of skincare for those who have targeted concerns. It is one for those who want something simple and basic and fuss free and then, you might find it in the Diptyque L'Art du Soin facial skincare. The prices too are a little high for what is pretty basic skincare, but I'm not too surprised, seeing as it's coming out of a luxury brand. It just has to sit well with the rest of their products and for this purpose, I think the Diptyque skincare range does. It might not attract true skincare fanatics, but it might, the rest of the population 🙂
Does this new Diptyque skincare range interest you? Which of the 5 new products catch your eye the most?
For me, I'm most interested in the Cleansing Balm and the Infused Facial Water so I'll pick them up at some point in my life. I do have a couple of products I'm testing so I'll review them in time to come. Just don't hold your breath waiting ok? Life is still an avalanche of crap I'm trying to shovel out of at this time 😛
Paris B
Diptyque L'Art du Soin Skincare for Face will be available exclusively at the Diptyque store at Pavilion Kuala Lumpur from mid-May 2014. Prices of products are as set out above.