Oh hello! We're back with the latest installment in the Treatment Lotion saga 😀 You may remember a while ago, I told you about how I fell in love with the Treatment Lotion from La Mer, and how I was a little ambivalent about the ones from Estee Lauder and Clinique.
Well, say hello to the newest one that I've been using for the past…erm… few months. I forget these things especially when I use them almost daily. Yep, this managed to worm its way into my affections to stay in daily rotation 😀
This, my friends, is the Bobbi Brown Extra Treatment Lotion. I always feel a little funny talking about Bobbi Brown skincare because it does have a bit of a surprise factor, since most of us are more familiar with Bobbi Brown makeup. That said, while I can't say that I've tried nor been wowed by the rest of the Extra skincare range, I do like this Treatment Lotion.
Are we familiar with the concept of a treatment lotion yet? Alright, just quickly, this is that extra step in an oft times already complicated skincare routine that may have some of you wondering if it's worth the hassle. It helps to think of this rather like a toner or lotion that infuses your skin with hydration and helps boost whatever skincare goes on top of it.
Unlike the other brands I told you about, the key function of the Bobbi Brown Extra Treatment Lotion is that of boosting hydration and making your skin feel more hydrated, supple and looking better. They don't quite promise that you'll see clearer skin or that it repairs anything in your skin. What it does is deliver a boost of hydration and helps skin stay hydrated. No fuss.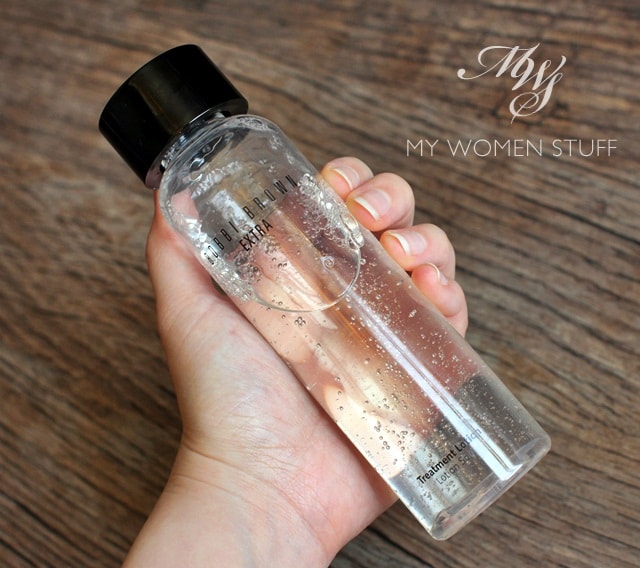 I use this as a hydrating toner due to the texture and function, so in my case I'd use it thus:-
Cleansing -> Exfoliating Toner -> BB Extra Treatment Lotion -> Serum -> Oil -> Moisturiser
If you're looking at that and going "WHAT? Who has the time for that?!" (I'll do a full skincare routine post soon, promise! It's just turning out to be quite a monster to write) Then you'd use it thus:-
Cleansing -> BB Extra Treatment Lotion -> Serum -> Moisturiser
I wouldn't use it on its own even if it does make your skin feel lovely and hydrated because it isn't a moisturiser. It's far too light, and it isn't meant to function that way. Skincare, especially for a hydrating routine, works best when sandwiched and layered so use thin layers of different products and your skin will feel and look a lot better!
As you can see from the bottle above (I shook it which is why you see bubbles) the product is a runny watery gel texture. It isn't a liquid lotion like Micro Essence and it is a lot thinner than the Clinique Even Better Essence. I find the texture similar to that of the La Mer Treatment Lotion.
When I started out, I was using about 3-4 drops of product until I realised it was actually far too much. So, these days, I use 1-2 drops depending on how my skin feels.
The bottle has a dispenser that works far better than the Even Better Essence one perhaps because the product is liquid enough to be dispensed through a hole yet not so runny as to get everywhere the way Micro Essence does.
What I do is upend the bottle so 1-2 drops fall out into the palm of my hand, spread it and then spread it all over my face. On contact with skin, it seems to take on a more liquid texture and it feels like you're applying a light liquid gel all over. It is very refreshing and comfortable and absorbs quite quickly into the skin. I don't tend to notice absorption as I layer my products while damp but it does absorb fairly quickly with no sticky or slippery feeling left on the skin.
Oh and I have to mention a scent which I think is geranium. It smells fresh and lovely so I don't mind using this twice a day, but do take note of this.
For myself I do find that this treatment lotion does do what it says i.e. boost skin hydration. My skin feels better with it on, and I like how it feels and I like using it. It's given the La Mer Treatment Lotion a good run for its money!
I'm afraid I don't have the ingredient list as I got this as a gift, but I'll update once I do, although I can't promise when that'll happen. Perhaps when I replenish but it'll take a while. I've been going at this for a few months and I'm not even halfway through!
In a nutshell

The Bobbi Brown Extra Treatment Lotion is a hydrating lotion that you'd use to help boost hydration levels in skin. The texture is a lovely light watery gel that absorbs quickly into the skin and doesn't have a sticky or oily after feel. I find that with regular use, my skin feels and looks better and more hydrated. I do use other hydrating skincare products but the addition of this one has helped to make a difference. I use it like a hydrating toner, if you use that step of skincare, and it works. It is a little pricey, but ultimately, worth it if hydration is a skincare concern.

Pros: Light water-gel texture is very comfortable on skin, Not sticky nor oily, Absorbs quickly into the skin, Makes skin feel more hydrated and look better with regular use, Smells lovely

Cons: A little pricey but lasts a long time

Who will like this: Anyone who is familiar with the concept of a hydration lotion/toner, Anyone looking to boost hydration in their skin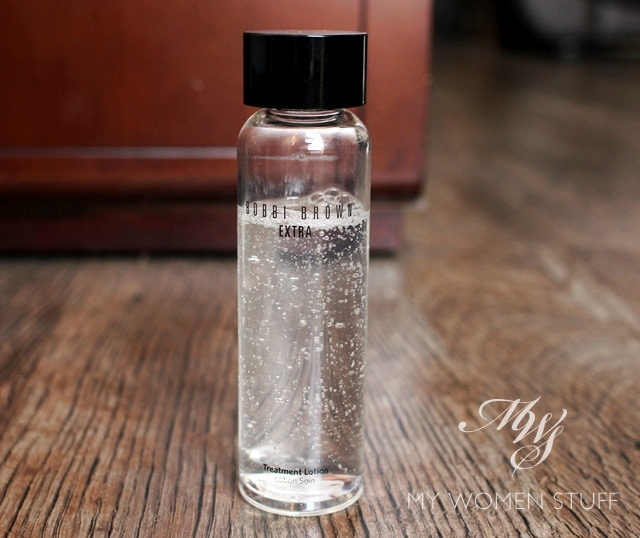 Bobbi Brown vs Estee Lauder vs La Mer vs Clinique vs SK-II?
Alright so I've told you about the other treatment lotions I've been using from a couple of other brands, so I'll quickly tell you where this fits in as far as my personal preference goes.
It's a very close thing for me, but I'll say that this is, for me, on par with the La Mer Treatment Lotion. I find they both have a similar texture, but La Mer is a little more runny and a bit more fragranced as compared to the fresher geranium scent of this BB one. I do like how this one doesn't claim to do a lot, but excels at what it does i.e. hydrate skin.
I prefer this to the Estee Lauder Micro Essence and Clinique Even Better Essence simply because I wasn't sold on the Micro Essence and the Even Better Essence didn't quite do it for me. SK-II FTE as I have often said is a wash out for me because it breaks me out like crazy but I included it here because it's the most popular treatment essence out there.
So mathematically speaking, here's how they rank for me:-
La Mer Treatment Lotion = Bobbi Brown Extra Treatment Lotion > Estee Lauder Micro Essence > Clinique Even Better Essence > SK-II Facial Treatment Essence
Have you tried this Bobbi Brown Treatment Lotion? Have you tried any of the other treatment lotions out in the market?
I must say this one surprised me a little but in a nice way. If the La Mer is out of budget, give this Bobbi Brown one a go. It's still pricey, I don't deny but it is still more affordable than La Mer. It doesn't boast many other claims other than hydration, if that matters to you, but for me, that's all that matters for now so I'm happy 🙂
Paris B
Bobbi Brown Extra Treatment Lotion Price: RM210/150ml Availability: Bobbi Brown counters and stores