Tarte Cosmetics, in case some of you didn't already know, is now available here in Malaysia at Sephora stores. I like the brand. At least, most of what I've tried. Their famed Amazonian Clay blushes are lovely even if I don't think their asking prices very lovely and I have a couple of eyeshadow palettes that I like too. They are however limited edition pieces so I didn't see merit in telling you about them.
However, one of the most popular items in the Tarte Cosmetics arsenal is their LipSurgence lip tints or lip crayons that come in various textures. Yes, lip crayons again 😀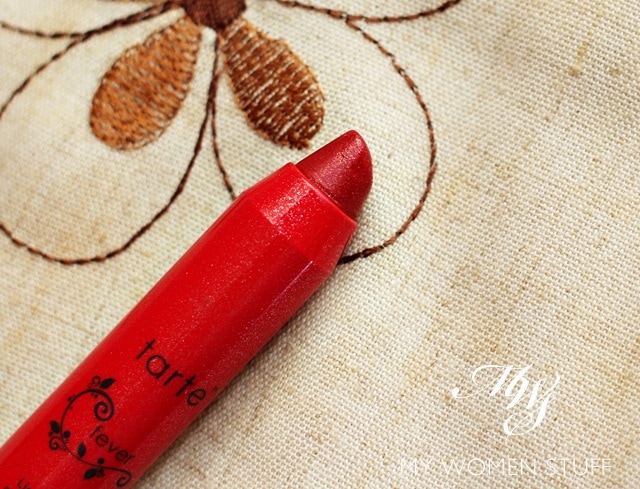 About 1.5 years ago, before the brand was available here, I had some gift sets shipped in as gifts for friends and among them was a set of the Tarte LipSurgence lip tints. I gave most of them away, but I kept one for myself – the Tarte LipSurgence Lip Luster Tint in Fever – a red. Was there any doubt why? 😛
I never really thought to write a review because, heck! We couldn't get it here back then could we? But since we now can, I thought I'd just share my thoughts on my sole experience with a Tarte lip crayon. Well, let's just say I'm not impressed enough to buy another 😛
Like all the lip crayons available these days, Tarte LipSurgence Lip Luster comes in a twist up fat crayon, with a packaging colour that reflects the colour of the product. The Lip Luster range is supposed to be a follow up to the more popular LipSurgence Lip Tints and boasts more pigmented colour and shimmering shine.
Like most of Tarte Cosmetics products these boast not only pigmented colour, but also a host of lip caring ingredients with antioxidants to combat skin aging while keeping lips moist and healthy. Tarte also prides themselves on being paraben and mineral oil free, if that's your concern.
Strangely, I find these a wee bit drying. I know, I know. Call me weird because no one else complains about this, but seriously, I always feel like my lips look and feel dry every time I wear Fever, which is why I don't wear it very often. I notice the formula catches in the lines of my lips and just makes them look wrinkly, and when you're on the wrong side of 20, wrinkly lips is a no-no 😛
It could also be because I realised that I didn't like the texture very much. No one told me back then that the LipSurgence Lip Lusters are full of glittery shimmer.
On left, I layered Fever about 4 times and on right, it's just 1 swatch.
I think you can just about see the glittery chunks in the product which is something I would have forgiven when I was in my early 20s but I now shy away from. I can handle shimmer in lip products, but I can't handle chunky glitter anymore.
To be fair, the product isn't gritty the way many glittery lip products are, and it is actually quite smooth on. But the chunky glitter does spoil it somewhat as it catches on my lip lines and the formula too settles in lines. I might perhaps prefer the non-shine Lip Tints so if you have tried those, I'd love to hear your thoughts on it. I also do not know if it's the colour that makes my lips feel dry, because red pigment is known to be a little more drying, but I've worn other red lipsticks and lip crayons without problems so it may not be that either. I personally don't think I like this formula very much that's all.
As a colour though, I love how Fever looks on me.
It's one of those colours I wear regularly and from afar, gives my lips a lovely shine. Up close you see the silver glitter so while I love the colour, I think this formula just doesn't cut the mustard as far as I'm concerned.
Oh and I believe these retail at RM90 locally which I think is just far too pricey. I'd do much better with the Clinique Chubby Stick Intense or even Revlon Just Bitten Balm which are more affordable and feel more comfortable and in the case of the Lip Luster, just looks so much better!
In a nutshell

The Tarte Cosmetics LipSurgence Lip Luster is a more pigmented version of the LipSurgence Lip Tints with added shine. I find that the shine is added by way of glitter which doesn't sit well with me. I also find the formula a little drying which seems to be personal as many people I know love the formula of Tarte lip crayons. I haven't tried others but as far as the Lip Luster goes, I'm not getting any more simply because for the asking price, I would prefer to pick up one from Clinique or even a couple from Revlon, both of which suit my lips better than this Tarte one does.

Pros: Bright pigmented colour is flattering, Twist up pencil is easy to use, No scent

Cons: Shine is too chunky, I find it a bit drying on my lips, Pricey

Who will like this: Anyone who likes glitter and shine in their lip colours, Anyone who likes lip crayons
Have you tried the Tarte LipSurgence lip crayons? Do you have a formula or colour you think is worth checking out?
You could say therefore I'm not a fan based on this one experience and I haven't gone back to try any others. As I have said, I consider RM90 pricey when I know full well I can get a product that will work very well at a lower price from other brands. That said, I'm open to suggestions if you've tried other Tarte LipSurgence formulas so suggest away! 😀
Paris B
Tarte LipSurgence Lip Luster Lip Crayons Price: RM90 Availability: Sephora Malaysia stores