The eagle-eyed amongst you may have noticed that Clarisonic is now a little more prominent and a little easier to find in recent times. Previously, it wasn't even sold in Malaysia and when it was, it was only in Sephora. But these days, you can spot Clarisonic counters in some major department stores e.g. Parkson Pavilion KL as well as Sephora stores. I was told also that you may even be able to get them at selected Biotherm or Lancome counters but I haven't seen it for myself so I can't say for sure.
But if you're thinking of getting on that bandwagon, let me introduce to you the newest addition to the Clarisonic family – the Clarisonic Aria.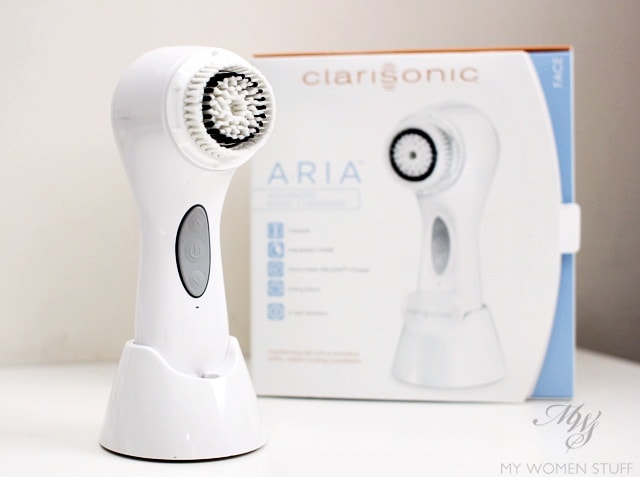 The Clarisonic Aria was launched here in Malaysia about 2 months back and I was told it'd be available in April 2014. However, I have also been told that it's been available for about a month already so I'm guessing some of you may have already bitten the bait 😉
Before I tell you about the Aria, let me just say that my previous thoughts on the Clarisonic face cleansing system still stand. I still think that it is best used not daily but at most twice a week unless you have very oily skin and I still think that you should not over do it. Which will bring me to a feature of the Aria that bugs me.
But let's talk about the good things first. The Aria is rather larger than the Mia but seems to fit in the hands better. The size and design is at once ergonomic and comfortable to hold. The set I have is in White but it comes in other colours too, I believe.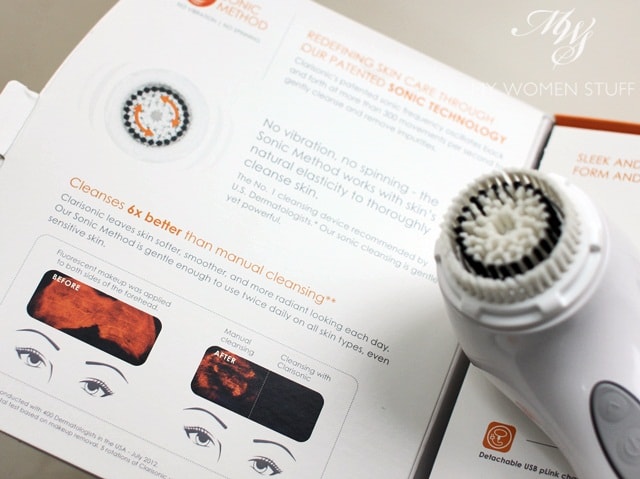 What makes the Clarisonic a little different from its competitors out there lies in the system. Most competitor systems operate on a spinning brush head but the Clarisonic's brush head moves differently. It oscillates at a sonic frequency that produces about 300 movements per second. On the skin, it feels like it's spinning, but it isn't because there is a pulsing motion as well as it cleans the skin.
So, what Clarisonic promises and what many people experience, is cleaner skin. It is supposed to be able to remove makeup with just a cleanser and cleanses skin better than just using your hands. And cleaner skin usually translates as clearer, healthier skin. I disagree, because I don't think a gadget should replace proper cleansing – makeup remover or cleansing oil/balm and facial wash but that's me. I'm a little anal about proper cleansing 🙂
In fact, Clarisonic is so confident you'll love their gadget, they are offering a 30 day money back guarantee along with a 2 year product warranty!
But how did I like the Clarisonic Aria and how different from the Mia is it to me?
Well, I like the Aria about as much as I liked the Mia, which is to say, not much. The reason is primarily because I prefer not to use a cleansing gadget on my skin. My previous experience with the Mia has taught me that these gadgets are actually quite harsh on the skin and the brush acts like a scrubber. So, if you aren't recommended to use a face scrub daily, why use a brush like this daily? So for me, a face flannel and a cleansing balm does a good enough job and keeps my skin happy. (I know purists will stop me at this juncture and tell me it doesn't exfoliate. It does. Perhaps not as vigorously, but it does. Anything that brushes against the skin that way exfoliates in every true definition of the word)
I do have one caveat and that is that Clarisonic sells a Sensitive and Delicate brush head. I find that both the Sensitive and Delicate brush heads most skin-friendly if you really want to use this gadget. The brush supplied, which is the normal brush, is really far too harsh even if I know a lot of people like it. I'm just sayin' 🙂
So if you use either the Sensitive or Delicate brush heads, then it is more gentle on the skin. The other thing I wasn't too keen on with the Aria is that it comes in 3 speeds. Fast, faster and fastest 😛
I tested the 2nd and 3rd speeds and found the brush was too harsh for me especially if you aren't careful and press it on your skin with too much pressure. I personally do not see the need for those sorts of speeds and I'd tell you to proceed with caution. In that sense, the Mia is quite sufficient, with its one speed that does the job well enough.
If you are planning to purchase the Clarisonic though, I'd recommend you buy it here or in whichever country you are living in because of the plug and voltage. I bought my Mia overseas and it came with a US plug. It charges up well enough with a universal adapter but that's a hassle.
So if you buy it here in Malaysia, you'll get the plug and voltage suitable for use here which I can tell you will mean you'll use it more, because I can't be arsed to charge up my Mia 😛 Recognising this probably, the Aria comes with a USB type charger which makes it very easy when you travel with this. I know of people who can't live without their Clarisonic and this makes it much easier to take it with you. You can just plug it into a laptop to charge, or into a wall plug that accepts USB ports. Easy peasy, lemon squeezy! 😀
All said and done, the Aria is pretty much an upgraded Clarisonic device. The selling points would be the 3 speed control and the USB charger. Otherwise, if you already use other Clarisonic gadgets, there's no need to upgrade. If you want to get on the Clarisonic bandwagon, this is one to consider, but then the Mia is more affordable, especially because I'd advise you to buy the Sensitive or Delicate brush head and swap out the one supplied.
Ultimately, all the Clarisonic devices serve the same function – to clean your face. Many people love it and can't live without. I'm one of the rare few who'd tell you to skip it but I can also tell you that it's not going to stop any of you from buying one in your lifetime, just to see what the hype is all about 😀
So go on then. Buy one, but do consider getting the Delicate or Sensitive brush heads. I swapped mine out and I prefer it. I rarely use the gadget but with the water shortage going on, I'm a bit more lax about my face cleansing than I should be and a once or twice a week run of the Clarisonic over my skin does seem to help.
Are you a fan of the Clarisonic devices? Are you thinking of getting one or has the hype got to you already?
As I have them, I use them occasionally. In fact, I'd suggest you read my previous review together with this one because my thoughts are the same. I maintain that it's important not to overdo (it caused my skin to over-exfoliate and break out really badly and dry out with daily use) and it's important not to put too much pressure on the skin (make my skin over sensitive). I maintain oily skin types will benefit most from this because it does clean your skin incredibly well but if you have drier skin, reconsider. I'd only suggest you use it once or at most, twice a week and really, do you need a RM600 gadget for that? I'd tell you to invest instead in a pile of face flannels that you can use daily. Just sayin' 😛
Paris B
Clarisonic Aria Facial Sonic Cleansing Device Price: RM690 Availability: Clarisonic counters at selected department stores and Sephora stores