I was talking to someone last week, when I was told that a couple of luxury beauty brands will be setting up freestanding shops soon. Now, most of us would have been used to seeing freestanding luxury shops for leather goods or clothes or accessories, but not many for beauty right?
In recent years, I did notice some beauty brands breaking away from being housed in multi-brand department store beauty halls. Clinique is a noticeable breakaway with some standalone counters, and Shu Uemura has long had its own shop for a while as does Kiehl's and Bobbi Brown. From the luxury brands, I have noticed that Chanel has its own beauty store in 2 major malls locally, and soon, Dior will join in with their own standalone Dior Beauty store.
So it got me thinking (Dangerous business, this thinking thing…)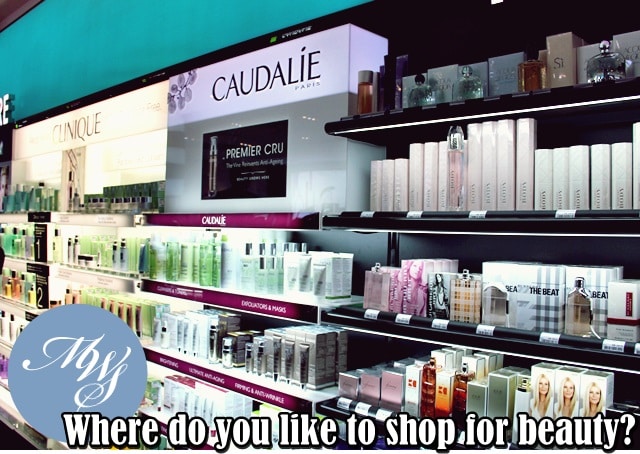 Where do you like to shop for your beauty products?
Do you prefer to shop in a department store beauty hall, with the different brand counters surrounding you for variety and choice? Do you prefer somewhere like Sephora or Sasa which is just dedicated to all things beauty (albeit pretty much like a department store beauty hall) with different brands in one place? Or do you prefer going straight to a specific brand's standalone counter or store outside of a beauty hall?
Curious minds want to know! 😀
For myself, I prefer shopping in a multi-brand environment.
My first choice will always be a department store beauty hall (specifically Isetan) because I am a loyalty card member and I can collect points for rebate vouchers. That's always a plus point – getting something back from all the money I spend in there! 😀
Shopping in a beauty hall allows me to browse different brands in one place, in a comfortable environment, and quite often, different levels of service from the different counters and brands mean that if I don't get the service I expect from a brand/counter, I quite quickly move onto one that will serve me. I've discovered new brands and products this way. Also, it's easier for me to just swatch and run, because I can always say that I'm browsing and move off to a different counter.
Multi-brand beauty stores like Sephora or Sasa are fine but I find the former a little boring and the music too loud and the whole place just has a pop feel that I can't relate to (I know, weird). The latter has a service problem so I only go in there for brands that I know I can't get anywhere else, or unless they are on sale. I do like niche stores like Ken's Apothecary but if I can find their brands in a department store, I buy in the department store. Points take precedence!
As for single brand standalone stores, I don't patronize them as much simply because most times, the brands already have a counter in a department store. So, if I were to buy something, I'd buy it in the department store so I can collect loyalty points or GWP promotions. The few times I do, it's because the brand isn't available anywhere else, e.g. NARS.
Secondly, they intimidate me. Yes they do! When I walk into a single brand store like Chanel or Benefit, I feel intimidated because I can't really browse, knowing full well all there is in there is just products from that specific brand. It's not browsing friendly, and most of the time, the SA will hover like a mother hen, clucking away at you to try this and that or giving you the evil eye for messing up their display. In a department store, I can just drift away to another counter. In a standalone store, I have to physically walk out. You could say that I feel much more comfortable in a luxury designer brand's leather goods store than in their beauty store. I just handle myself better when I'm surrounded by bags or shoes that cost thousands, instead of beauty that costs hundreds LOL
So, when I was told that most brands are setting up standalone shops because consumers now prefer to shop at a boutique as opposed to a department store/multi-brand store, I did wonder if it was the case. So, it's now over to you to help answer my question!
Do you prefer to shop for beauty products in a standalone brand boutique? Or do you prefer a multi-brand beauty hall or store?
I'd pick a department store beauty hall first, then a multi-brand store and finally the standalone beauty boutique unless the latter is the only outlet available for a particular brand. That said, I've started doing a lot of my shopping online so I'd actually love if brands started setting up online stores instead! I think that'll do better 😛
Paris B