Ah lipstick-lipbalm hybrids make a comeback this year, where we'll see a release from a luxury brand soon, but you know what? Never discount the drugstore/pharmacies because you sometimes find gems in there. I'm going to tell you about a gem today 😀 Many gems in fact!
Yes, me hearties, it's the Maybelline Lip Polish – a liquid lipstick-lipbalm-lipgloss hybrid that promises you luscious shiny pouty puckers with just 1 swipe of the uniquely shaped wand applicator. I picked up one to try during a promotion at Watson's a couple of months ago and I have to say that I was wow-ed.
These aren't just wallet-friendly, they are stunning and deserve all the bouquets and accolades rained on it!
If those of you reading from Europe or the USA think these look familiar, well they are! I checked with the brand and I was told that what is known as the Maybelline Lip Polish in some parts of Asia is also known as the Maybelline Color Elixir in other parts of the world.
However, I have read that Color Elixir has a scent, while the Lip Polish is unscented. The other difference is that ours have numbers instead of names. Not having access to the Color Elixir for comparison purposes, I can't verify if they look, feel or smell like the same things but that's what I've been told. Discrepancies and similarities aside, I think these lip colours very impressive.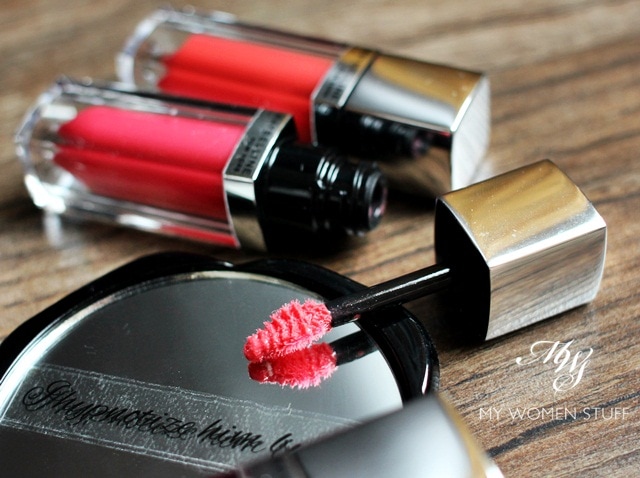 It comes packaged like a lip gloss, with a sponge tip applicator shaped like a leaf, that applies product over a wider area more quickly. I'm not usually a fan of sponge applicators but this one does the job very well. It applies colour smoothly and fairly evenly (the deeper shades take more work) with just 1 swipe and it saturates itself well with colour so you pick up a lot of colour with just one go.
Size-wise, it's compact and small. The thick plastic case has the colour of the product displayed in the embedded insert shaped like a lipstick. The packaging brings to mind that of a lipgloss but the subliminal message of the lipstick within tells you that this isn't just a lipgloss or a lipbalm. It's as good as a lipstick, and I fully concur!
Here are the swatches on my arm, with the product swatched directly from the tube with just 1 swatch. You may notice just how shiny and opaque it is 😀
The Maybelline Lip Polish comes in Glam and Pop and numbers which I've sort of worked out that Glam shades are shiny and a little more transparent while Pop offers more opaque colour with brighter shades. Fact is however, they look the same so just go with the colours you like. As for the numbers, lower numbers denote lighter shades while higher numbers, stronger shades.
A quick run down of the 4 shades I own are as follows:-
Glam 2 – I bought this one, a sweet coral pink that has these micro shimmers in the product that aren't visible on lips (at least not to me) I love this colour.
Glam 3 – A shiny orange with some micro shimmer, that looks like a coral in the tube. It isn't as scary looking when worn but is a nice bright shade that allows you to be a bit playful when you feel like it
Pop 5 – A straight pink that I'd never have picked for myself but had the privilege to try. It has no shimmer and is a sweet blue-based pink that turned out to be surprisingly flattering.
Glam 6 – A deep berry with no shimmer that is at once glamorous yet can be worn light for a deeper lip shade
The Lip Polish does apply a little more sheer than you might expect, so if you want an opaque colour this isn't the one you should be looking at. You can apply just a little for a sheer wash of glossy shine or layer it on for more intense colour. I do find that the deeper shades will stain a little so that's a good or bad thing, depending on what you prefer.
Here are the swatches on my lips so you have an idea of what they look like. I applied just 1 layer of product.
Maybelline Lip Polish (1) Glam 2 (2) Glam 3 (3) Pop 5 (4) Glam 6
It feels lovely on lips, without feeling sticky or goopy and for me, a gloss-phobe, feels surprisingly light. It doesn't dry out my lips at all so the balm properties might hold true. I like wearing Glam 2, Glam 3 and Pop 5 for casual days or even just everyday because it feels so comfortable and the colours go with almost everything.
You may notice how Glam 3 on my more pigmented lips, takes on a pinkish orange tone that is much more flattering than the straight orange you see on my arm. I believe your lip colour will play a part in changing the way these look on everyone, because they do apply more sheer than you expect. The exception is Glam 6 which is opaque in 1 swipe and very strongly pigmented.
What say I then? If these were a stock, I'd call a buy on them. They are affordable, deliver a lovely result, do not dry out lips and makes you feel great. There's nothing more you can ask from a lip colour 😀
In a nutshell

The Maybelline Lip Polish are unscented lipstick-lipgloss-lipbalm hybrids that I think are wonderful products. The sponge applicator is very effective, picking up lots of colour and is easy to deposit and spread on lips. The colour is more sheer on lips than it implies so do not expect opaque strong colour. I find that the deeper shades stain a little if you like that. I love these because they are pigmented, non-drying, have a lovely glossy shine and are so affordable. Apparently these are the same products known as Color Elixir in other parts of the world but accounts of product differ slightly. Can't verify it myself but these are excellent products all around!

Pros: Affordable, Pigmented colour, Glossy shine, Not drying, Easy to use, Wearable colours to suit most if not all skintones, No scent

Cons: None (unless you count that it's a little sheerer than it lets on)

Who will like this: Anyone who likes glossy lipstick with pigmented colour and shine, Anyone who wants an affordable pick me up
For the sake of completeness, here are all 4 lip colours worn in a full face look. Does it amaze you as it does me how just the change of a lip colour can practically change the whole look? The rest of the makeup remains the same 😀
Have you tried the Maybelline Lip Polish? Which is your favourite colour?
I think these are great for the price and performance, and I'm a lipstick snob! 😀 My favourite colour of the 4 here is actually Glam 2 which is a nice "neutral" shade for me, adding colour and shine to my look yet not looking too overwhelming. For days when I feel like glamming up, I go with Glam 6. It's like Dior Black Tie in an affordable liquid lip 😀 Some day if I'm free, I'll go searching for dupes of colours I have – but no promises! 😉
Paris B
Maybelline Lip Polish by Color Sensational comes in 10 shades locally – Price: RM32.90 (watch out for sales!) Availability: All Maybelline display counters