It's whitening season again. I say "again" because it's about this time of year that we start seeing reminders from the many different beauty brands, that there are products out there that can brighten our skin tone and make us look fairer and address problems with uneven skintone and pigmentation spots. Whether you subscribe to the theories or not, they're out there, and affordable Korean skincare brand Laneige is at the forefront of this with their newly revamped White Plus Renew skincare range.
During the introduction to this upgrade in skincare technology, we were told that you can now get skintone up to 2 times brighter in 8 weeks, using the Laneige White Plus Renew range, which addresses yellowness in skin making skin look less sallow, reducing redness, so you don't have uneven skintone and reducing melanin, lightening dark spots and pigmentation.
My primary concern with all whitening skincare (which is why I've stopped using them) is whether they'd be drying. If you have used a whitening, or the more politically correct, brightening skincare range, you may notice that it can make your skin feel drier than normal. I experience that a lot but I was assured that the new White Plus Renew range is now more hydrating as well so I shouldn't have anything to worry about.
I'll just quickly run down what's new for you, and I'm also going to show you something really cute that caught my eye 😀
First up is the Laneige White Plus Renew Original Essence (RM180) which was launched last year with the new Melacrusher™ technology that helps break up and dissipate melanin and and which we were told is a winner of many global beauty awards.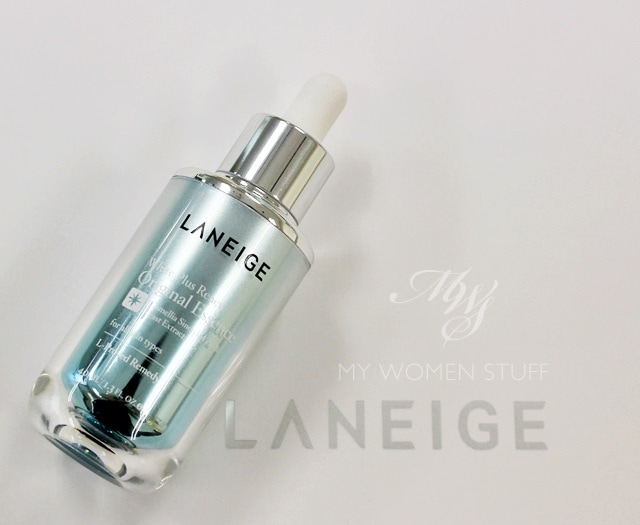 The texture feels light although it does have the signature Laneige scent, and it absorbs easily into the skin. I haven't tried this one though, so I can't tell you how effective it is, but if you have please do share your experience with it because it'll help others out there. If I try it, I'll be sure to share my thoughts in a later post 🙂
The new White Plus Renew range now too contains this Melacrusher™ technology and has been expanded to include the cleanser, skin refiner, emulsion and cream. Using the whole range can get your skintone looking up to 2 tones brighter in 8 weeks, Laneige claims.
I will pause at this point to say that I'm appreciative of the fact that the claim is made for use over a 8 week duration (2 months) yet 2 tones brighter does cause me to pause somewhat. That's a pretty strong claim! The other thing I'd also note is that with all "treatment" skincare of which I count whitening/brightening as one of them, you must use the whole range from within the same brand for best results as the ingredients will layer and work with themselves to deliver the results you seek. It's fine to mess about if you are going for hydration or sometimes, anti-aging, but don't mess around with whitening products because I can safely say that I've experienced the best results when working from within the same brand across the board when it comes to whitening products.
Now that that little lecture is over, let me show you the product I thought was the cutest thing ever!
The Laneige White Plus Renew Capsure Sleeping Pack (RM110 /box of 16 pieces). This is a one time use sleeping pack or sleeping mask that comes in individual blister packs, which makes it both really fun to use and a travel treat!
Affectionately known as the "Mochi Sleeping Pack" due to the white mochi-like ball of product suspended in the gel within the blister pack, this contains a cream type brightening ampoule floating in a transparent hydrating gel. You peel open the pack, stir the product up to mix it up to a creamy emulsion (I'm assured it does not have the texture of mochi!) and then apply it all over your face and neck before bed as you would a sleeping mask. You rinse it off the next morning when you wash your face.
I thought this was adorable! It made me think of a disposable contact lens albeit a little larger and the suspended mochi-like ampoules in the gel was intriguing! I plan to try this one so you'll know when I do how I feel about it – other than the fun factor of course! 😀
Fans of the Laneige BB Cushion (RM145/pack of 2 15g cushion) may be happy to know that it has been reformulated to contain the Melacrusher™ technology so that it offers skincare benefits even as it acts as makeup to give skin a light BB finish that visibly brightens the skintone. there is also SPF50 PA+++ which is of course, excellent for those who don't like wearing sunscreen. Better than nothing, I'd say 🙂
I have to say that I did like the BB Cushion when I tried it although I did find that it dried out a little more quickly than I liked. But as a BB product, it was light on skin, offered decent enough tint and coverage and all in all, worked very well. The new cushion is also supposed to be more hydrating on skin so that is another thing to note. Maybe I'll take a gander at this one and see how I like it.
Cushion BB creams seem to be the next big thing because I see so many Korean brands doing it now but as I don't really patronize Korean skincare or makeup (and have no idea where to start) I haven't tried many. Ok, I haven't tried any other than the Laneige one LOL! Feel free to let me know if there are other better ones out there (and where I can easily get hold of them of course!)
Do you have experience with the Laneige whitening range you'd like to report? Or do you love the BB Cushion?
I have tried the range before, when it was known as White Reveal (all these name changes really confuse me sometimes!) I thought it was alright, but a bit drying as per usual. I can't fault their prices though. They're certainly more affordable than others I've come across and it's true as a brand. So, any thoughts on these BB Cushion-y things then? 😀
Paris B
Laneige White Plus Renew skincare range is available at all Laneige counters. Prices are as set out above