When it comes to sunscreen or sunblock, I think many of you are familiar with my raves for the Shiseido Perfect UV Protector. I go through these like water and every time I toss up an "empties" post or photo, it appears somewhere in there after a couple of months. I think most people are sick of it already – don't you have other faves?! I get that wail.
Erm… if I did, then it won't be a fave right? 😛 But recently, a friend told me to give the Impress IC Brightening Sun Protector SPF50+ PA+++ a try. According to said friend, this was their fave, and knowing my predilection for sunscreen, I had to try it. So when I ran low on the Shiseido one, I sprung for this Impress version.
Impress IC is a brand under the Kanebo Cosmetics umbrella so you can find it at major Kanebo Cosmetics counters, and as I have indicated in the image above, yes this Brightening Sun Protector is quite impressive!
Like most Japanese style sunscreens, this has a lightweight liquid texture and you have to shake up the bottle to ensure all the ingredients mix up. For those who dislike the feeling of heavy, thick sunscreen textures, then these sort of light liquid might sit better with you.
While not as affordable as the other sunscreen alternative I shared with you before, this has joined the ranks of Shiseido and Hada Labo as one of my favourite sunscreens 🙂
The box is all in Japanese, but there's information in English contained within the box that tells you a little more about the product.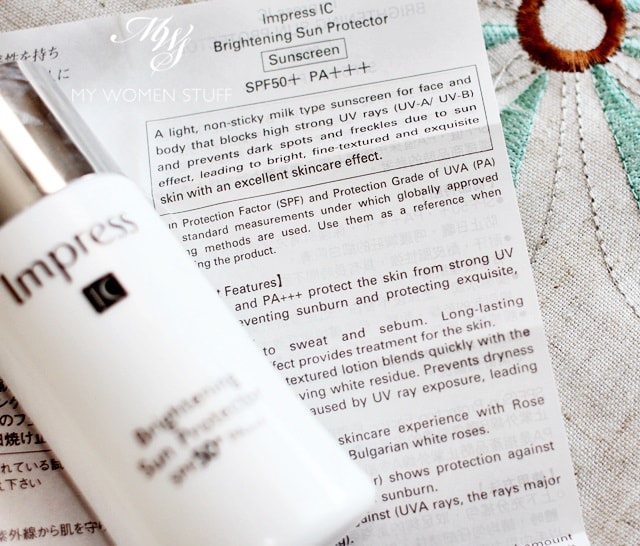 As they have indicated, the texture is very light and non-sticky and blocks both UVA and UVB rays with SPF50+ and PA+++ ratings which are really high. I have noticed that these Japanese are good at perfecting the sort of lightweight, comfortable sunscreen textures while offering very high protection, that we don't see in Western brands.
I do however have to point out that like most Japanese brands, there is alcohol in there as well as silicone but I don't notice a significant slip to the texture. Also, I don't notice this to be drying on my skin which naturally sits well with me as I have drier skin, and my gripe with many Japanese type sunscreens is their nature of being drying.
Does this make a good makeup base like the Shiseido one? Yes it does. That's part of the reason I don't bother using primers, because my sunscreens already give me the base I need for my makeup to sit on which negates the requirement for an additional layer of product on my skin.
Left: Impress IC Brightening Sun Protector Right: Shiseido Perfect UV Protector
Here are product swatches of the Impress IC and the Shiseido sunscreens. The Impress IC one has a lighter more liquid texture while the Shiseido one is a wee bit more creamy. In terms of colour, the Impress IC one squeezes out white while the Shiseido one squeezes out with a tint of pink. Once applied on skin, it's transparent and there is no visible colour cast for me for both.
Does it turn oily? Nope.
In fact, here's what I did. For almost a week, I applied the Shiseido Perfect UV Protector on half my face and this Impress IC Brightening Sun Protector on the other half, just to see how they fare next to each other. I pit everything against my holy grail sunscreen unfortunately, which means I'm rarely very fair to other brands LOL! 😀
What I noticed was…. nothing! The Impress IC performed just as well as the Shiseido Perfect UV Protector so I was very happy. However… yes there is always a however, if I was forced to choose, I am still picking the Shiseido one simply because there's something about it that I like better, but I would be also more than happy to use this Impress IC version if I can't get hold of the Shiseido.
In terms of value, the Impress IC version offers slightly better value at RM142/60ml as opposed to the Shiseido version at RM130/50ml. So how do you choose? Hmm… good question. I don't know 😛 Good luck 😛
In a nutshell

I picked up this Impress IC Brightening Sun Protector at the recommendation of a friend who has been using this for a while. It has a lightweight liquid milky texture that sits very comfortably on my skin without drying it out nor turning oily. There is no noticeable white cast and it makes a great makeup primer so you save a step. It has high SPF of 50+ and high UVA protection with a PA+++ rating. Comparing this side by side to my favourite Shiseido Perfect UV Protector sunscreen, I find them almost indistinguishable. While I'd pick the Shiseido just based on personal preference, I'm quite happy to use this too.

Pros: Lightweight texture is comfortable on skin, Does not dry out my skin, Does not irritate my skin nor break me out, Does not leave a white cast, Does not turn oily, Makes a good makeup base

Cons: Pricey

Who will like this: Anyone who likes lightweight liquid texture type sunscreens, Anyone looking for a sunscreen with high UVA and UVB protection without feeling heavy on skin
Here is the ingredient list from the box which is in Japanese. I can't read it, naturally but I included it in case someone can.
I have however extracted the English ingredient list from here: Cyclomethicone, Water, Zinc Oxide, Alcohol, Ethylhexyl Methocycinnamate, Dimethicone, Polymethylsilsesquioxane, Sorbitan Isestearate, Diphenylsiloxy phenyl trimethicone, Methyl Trimethicone, Dimethicone /Vinyl Dimethicone Crosspolymer, Trifluoropropyl Dimethiconol, Mevanolactone, Methylserine, Hydrolyzed Lupine Protein, Murraya Koenigii Extract, BHT, Fragrance
I note that there is zinc oxide in this product which is also present in the Shiseido Perfect UV Protector. However, although my skin is very sensitive to high zinc oxide levels (it clogs my pores and breaks me out) my skin handles both these products well with no breakouts nor clogged pores. It puzzles me but hey, I'm not looking a gift horse in the mouth! 😀
Have you tried this Impress IC sunscreen? Do you like using Japanese sunscreen or do you prefer creamier Western versions?
Thus far, I've had a lot of luck with Japanese sunscreens except the popular ones from Biore or Sunplay that break me out. Currently my sunscreen picks would be Shiseido Perfect UV Protector first and if not, then this Impres IC Brightening Sun Protector and not very far behind, Hada Labo Whitening UV Protector. I do still like the Hada Labo one but this just pips it to the post for me 🙂
Paris B
Impress IC Brightening Sun Protector SPF50+ PA+++ Price: RM142/60ml Availability: Kanebo Cosmetics counters in major towns or the Kanebo salons