Unlike many other beauty brands, I don't recall Estee Lauder doing many collaborative makeup collections for their flagship brand. There were a few in previous years with Michael Kors and recently the Mad Men collection which we didn't get. But at the end of 2013 news came out that Estee Lauder would be doing a collaboration with fashion designer Derek Lam, a designer with whom they'd spent a decade working. If you didn't already notice, this capsule collection has quietly sneaked into selected major Estee Lauder counters.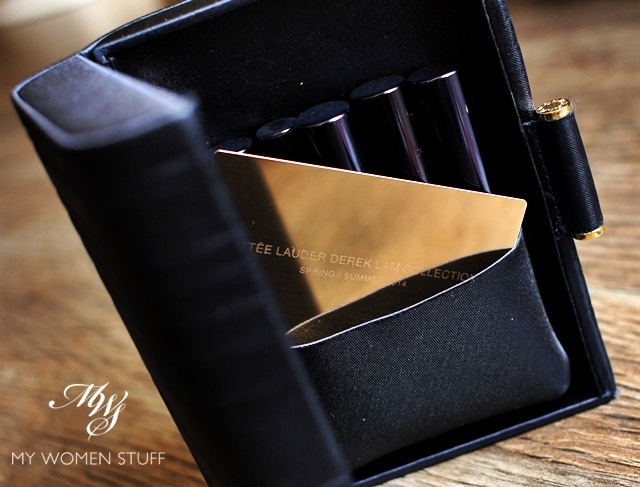 I did think you might miss it because we haven't heard a lot about the Estee Lauder Derek Lam Collection for Spring/Summer 2014 so I thought I'd tell you a little more about it 🙂
This capsule collection was created by Estee Lauder's creative director Tom Pecheaux for Derek Lam's Spring/Summer 2014 fashion show held late last year. I don't personally follow fashion myself so I have to admit I'm not too familiar with Derek Lam's style although I had come across his name before this. His style does look quite simple and fuss free which makes them look wearable. Not like those haute couture creations that look best on a runway only.
What I found fascinating in this small collection that comes housed in a deep navy blue satin miniaudiere is that they are all stick products!
The hard satin miniaudiere houses 5 products for eyes and lips that were created specifically only for this collection
The Kajal Crayon in Near Night – a deep navy blue
The LipColor in Smoked Blush – a wearable brown-pink
The Mascara in Black Black – self explanatory
The Eyeshadow in Smoked Gold – a liquid cream eyeshadow in an old gold
The Gloss in Barely Gold – a clear gloss with golden shimmer
All the items sit comfortably in a pouch in the miniaudiere, held with a hidden elastic band.
I found it interesting that cream and liquid textures were predominant in this collection. It made sense (it's easy to store and carry) and the idea behind it was because it would be at once subtle yet buildable in texture and intensity. So, if you wanted, you could wear this from day to night and I'll show you just quickly what it'd look like used in a subtle way built up for a bolder look 🙂
These are the contents of the pouch, all in portable travel sizes. Barring The Kajal Crayon which is a fat soft, kajal eye pencil that you can use both as a liner or as a shadow base, the rest of the items are liquid/cream.
L-R: The Eyeshadow in Smoked Gold, The Kajal Crayon in Near Night, The Mascara in Black Black, The LipColor in Smoked Blush and The Gloss in Barely Gold
I found that the colours were intense yet you can quite easily sheer them out if you prefer something more subtle and light. The Eyeshadow in Smoked Gold is on my skin, a barely there sheen of gold if I just apply a little product, but I can build it up if I like for a stronger golden hue.
The Kajal Crayon in Near Night looks like a deep black in the pencil so I was pleasantly surprised to see that it swatched a deep navy blue. When used as a liner, it is a little less harsh than a pure black, yet deep enough. The texture is soft and it applies very pigmented. The above swatch is just 1 swipe down my skin. However, like most kajal pencils the soft texture is also its downfall as on oily lids, it may travel or smudge. If you use an eyelid primer, it will hold better. You can also use it as a base, applying it thickly and then smudging it out for a smokey eye look. For a subtle look, just use it to tightline or draw a line close to your lashes. Once it sets, it doesn't move much for me but be warned if you have oily lids (which I don't have and thus can't tell you how it fares)
The Mascara in Black Black is black, but I wasn't too impressed with it because it didn't do much for my lashes. Since it's in there, you'd use it, but it's not something to write home (or on a blog) about.
My favourite item in the collection is The LipColor in Smoked Blush which is a beautiful neutral shade for the lips. This is a liquid lipstick that is lovely and pigmented without being sticky and tacky. It's a colour that I dare say will suit most, flattering your complexion if you choose to go for a subtle eye, yet not looking too overdone if you go for a bolder eye look. Absolutely beautiful, and the only thing I'm not crazy about is the slight vanilla scent.
I'm not a gloss girl so The Gloss in Barely Gold barely holds my interest 😛 It's a clear gloss with golden shimmer that you can layer over the lip colour if you want to add more shine and bling, but for some reason, it doesn't quite do it for me. It isn't sticky which is a boon, but it also isn't something I'd write home about.
I do find that the longevity of the eye colour depends on your lids (oily or not) and whether you use an eyelid primer. When I do, they last well. When I don't (I don't have oily lids) and in our heat, it doesn't hold up as well. A fact true in most cream/liquid based products.
I did these looks quite quickly just for an idea on how you might use the items in this collection.
On left is a subtle eye look. I applied a thin wash of The Eyeshadow over my lid and drew a line with The Kajal Crayon close to my lashes and did a bit of tightlining and applied mascara. I have hooded eyes so it doesn't quite look like much. In real life, it looks a little more accentuated.
On right, I went for a slightly bolder look. Applied The Kajal Crayon thickly on my upper lid, smudged out the edges, and applied The Eyeshadow over and blended it. For some reason when the eyeshadow meets the liner, it takes on a greenish hue that is quite interesting, transforming the colour to a smokier hue. I also lined the lower lid and drew a golden line underneath.
To get an idea of how it looks in an overall look, here's how I did it.
Left: Subtle Eye Right: Bold Eye Cheeks: Clinique Plum Pop blush
On the look on the left I applied The LipColor alone. It is a neutral but bold shade and I love the colour! It isn't matte, but very flattering. In the look on the right, I dabbed on some gloss over and you can see the glossiness and shine it adds to the lip.
Whilst I don't think this collection will sit well with many who may be wondering how to work with the different products, I do think it an interesting one for the flattering choices of colour and presentation. I also think it very easy to work with and allows for a seamless day to night makeup tranformation that's very useful 🙂
In a nutshell

The Estee Lauder Derek Lam Collection is a limited edition offering of 5 eye and lip products housed in a hard satin covered miniaudiere clutch. The products are all cream/liquid products that are surprisingly easy to use and flattering on most skintones. I managed to transition this quite easily from a day to night look by just playing around with the layering of the products. Description of colours and textures are as above and my personal favourite is The LipColor in Smoked Blush, a lovely neutral lip colour I feel is flattering on most women. The miniaudiere is quite a handy size and elegant with the signature Derek Lam barbell design on the clasp. Ultimately I think this not only a collectible collection, but one that you could easily use. I do recommend the use of an eyelid primer with the eye products if you have oily lids because I found that the Kajal Crayon can travel a little especially if you have oily lids or in our tropical heat, as it takes a while to set. Once set, it's fine and doesn't move.

Pros: Pretty miniaudiere, Colours are flattering to most skintones, Easy to use textures that can be built up for intensity if preferred, Portable sizes and handy to use

Cons: Kajal Crayon is very soft and may travel so an eyelid primer helps it stay in place for those with oily lids, Mascara didn't do very much for my short spare lashes

Who will like this: Fans of Derek Lam designs, Anyone who is eyeing a collection that is a little different from all the other beauty collections out there
If you're wondering, the miniaudiere is actually a pretty handy size.
It is covered with navy blue satin with gold hardware that sets off beautifully against each other. If you aren't using a phablet like I am, then it should quite easily fit most mobile phones.
The Samsung Galaxy Note 3 doesn't fit (naturally, it's a monster!) but I dare say it should fit the popular iPhone with room for The LipColor for touch ups if necessary. On one side is a satin band which easily holds a credit card and a little cash. It's a miniaudiere after all, and meant to be compact and hold the essentials, not the kitchen sink 😀
A little attention to detail worth mentioning is the Derek Lam name engraved on the gold hardware of the barbell clasp. Apparently this is a signature design of Derek Lam's and I thought this to be a nice little touch, and a clear nod of approval by the fashion designer for this Estee Lauder collection.
Did you notice this Estee Lauder Derek Lam collection? Are you familiar with Derek Lam's designs?
I believe the collection has been out for about a week by now but I haven't noticed a lot of buzz about it which I thought strange. The only other review I've come across is by Mag of Makeupstash. It is quite a lovely one and in comparison to other limited edition items or collections I've seen, not even as expensive as some others out there. If you haven't already, ask to take a look the next time you stroll past an Estee Lauder counter and let me know what you think 😉
Paris B
Estee Lauder Derek Lam Collection Spring/Summer 2014 Price: RM250 Availability: Selected Estee Lauder counters in the Klang Valley (try the major malls – The Gardens, Pavilion KL, KLCC etc) Limited Edition: Yes