Lush is a store that you either love to walk into, or take great pains to cross the road so you don't have to walk past it. I am in the latter camp. Whenever I see (or rather, smell) a Lush store approaching, I take a deep breath, hold it and scurry past, gasping for air 50m down the road. I remember exiting the store at Covent Garden with a throbbing head after descending into the basement to pick up some items requested by friends. The strong co-mingled scents really got to me. It's a wonder I didn't pass out.
Yet it was then that I discovered the one Lush item I enjoy using. Yes, after trying a few of their popular handmade soaps and not liking them very much, there is just one item I'd be happy to use. The Happy Hippy shower gel.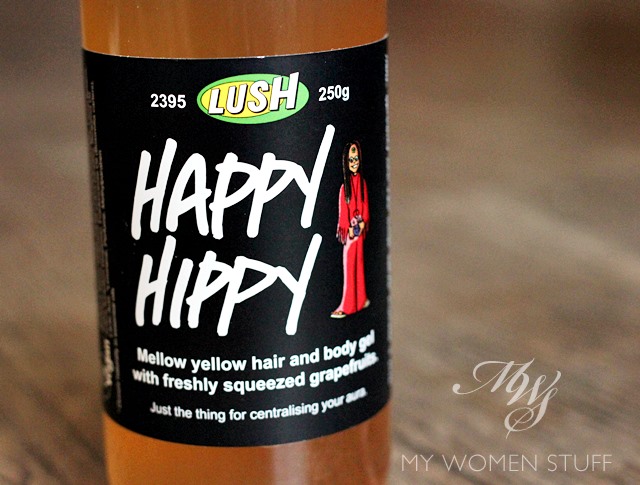 If you love citrus scents, particularly that of grapefruit, in your body washes, you too will find yourself drawn to this shower gel which has a delightful fresh, zesty scent to it. Perfect for waking you up in the mornings, or just refreshing yourself after a long hot day.
Lush prides themselves on not including preservatives in their products and making their products fresh, so I have found from experience that the colour of Happy Hippy can vary a little from a clear yellow to a cloudy darker yellow. Also, when I keep it a little longer than I should, it deepens a little more, but the zesty tang remains.
The best part, I'd say, is that it doesn't smell like dishwashing liquid, the way many citrus body washes tend to smell if they don't get the formula quite right. I definitely get the slightly bittersweet smell of grapefruit zest in there, as well as a citrus lemon base. It doesn't last, however. Doesn't bother me. It also doesn't lather up a lot, which again doesn't bother me.
I used to buy the 100ml bottles whenever I see it because I'd toss them into my travel pouches. When I travel, I've found that this is one of the best pick-me-up scents especially if you've had a long travel time and are feeling dead on your feet.
Another good thing about taking this travelling is that you can use it for your hair too, which makes it very practical if you're going somewhere far and don't want to carry too many toiletries with you.
The downside however, is that I do find it a little drying so I can't use it daily. Ditto for the hair. It will dry out your hair if you don't condition but in a pinch, it does a good enough job that I won't complain.
Out of everything available at Lush, this is the one item I'd ever voluntarily purchase from them. Everything else is just too strongly and sweetly scented for my delicate nose 😛
In a nutshell

The Lush Happy Hippy shower gel has a fresh citrus and grapefruit scent that is refreshing and uplifting to the senses any time of day. It can also be used for the hair which makes it practical when trying to travel light. The downside is that it does tend to feel a little drying on skin and hair if used too often.

Pros: Fresh and uplifting citrus scent, Can be used for hair and body, Comes in various sizes including a travel friendly 100ml bottle

Cons: Pricey, Can feel a little drying on skin and hair if used too often, Colour of product will change over time

Who will like this: Anyone who likes fresh citrus scents in their body wash
Here is the ingredient list for Happy Hippy which is supposed to be Vegan friendly.
Mine is a little old hence the deeper colour you see in my pictures. I have noticed that it gets this way when stored for a while, which I believe is due to oxidisation. When fresh in store, it usually has a light to medium yellow colour in a slightly cloudy gel.
I do find it rather pricey, but since we don't get it locally, it's a nice treat whenever I do brave myself to step into a Lush store. But I'd only ever buy the 100g bottles because I don't use it enough.
Have you tried Happy Hippy? Do you like anything from Lush or does the store give you a headache too?
Thus far, this is the only non headache inducing product I've used from Lush to date. I'm not terribly sold on their face or soap products, especially as many of their face products have to be kept in the fridge to avoid spoiling in our weather. So although I did like using Angels on Bare Skin, I never repurchased because of the hassle.
Paris B
Lush Happy Hippy Shower Gel Price: £3.50/100g, £6.95/250g, £11.50/500g Availability: Lush UK online store (ships internationally) or find your local Lush store