A few weeks ago, I had the opportunity to take a behind the scenes peek at a Bobbi Brown makeup training class with Kai Vinson, Bobbi Brown Director of Artistry and Education Asia Pacific. It is rather like an intense reality show, as their training is held over a few days where the makeup artists have to familiarise themselves with new looks, products and how to achieve a particular look and they are even graded on it!
You know, quite often as consumers, we are a little rough on the makeup artists at the counters without realising just how much training some of them have to go through. For me, it was an eye opening experience and while it won't stop me being critical (I'm sorry BB, your foundation bases are still a bit too yellow for my skintone no matter what your makeup artists tell me! 😛 ) it does help me understand that they ARE trained, but sometimes people have a bad day or just maybe didn't pay attention in class, for which they have no excuse really, coz the training is top notch! 😛
Image courtesy of Bobbi Brown Malaysia
I did have the opportunity to have Kai show us how to wear the Nude Glow Collection which you will find at counters now. It is a very light collection which I will tell you off hand won't attract many people but done right, it gives an almost barely there, ethereal look that in my words made me look like Galadriel from Lord of the Rings. Who doesn't want that Elven glow, you tell me! 😀 I'll share some tips Kai taught to make this collection wearable and the tips are applicable for other brands and products too of course 😉
I'll also show you a couple of previews of upcoming collections and you can get all excited about those, because I can tell you a couple of them excited me a lot! Onwards!
Tips on how to wear Bobbi Brown Nude Glow Collection by Kai Vinson
The Nude Glow Collection projects an ethereal look where skin is glowing and makeup looks barely there, only there to help achieve the look of bright glowing skin, after the dullness of winter and festive excesses perhaps?
Bobbi Brown Brightening Finishing Powders Left: Porcelain Pearl Right: Brightening Nude
These Brightening Finishing Powders (RM200) are powders you apply all over your skin to achieve that glow. Now, where have we seen these before? *coughGuerlainMeteoritescough* But these come in a pressed compact and in 3 shades, 2 of which are pictured above and which are permanent items. Another deeper version Bronze Glow is limited edition.
Kai used Brightening Nude on me which has a pinkish glow to the powder and serves to help brighten the skin, yet it has some pigment so it also adds colour. I tested the Porcelain Pearl one at the counter and it gives a more brightening effect. However I will warn that both these powders tend to be a little shimmery so I caution against using Brightening Nude all over as it can be too much.
Image courtesy of Bobbi Brown Malaysia
Kai's Tip on using the Bobbi Brown Brightening Finishing Powder

Use a dense brush, like the Bobbi Brown Bronzer brush, swirl over the powder, tap off excess and then apply to cheeks, starting from the cheeks and then blending outwards. This deposits the most colour and highlight on the cheeks and you can then diffuse it for the rest of the skin so you don't have too much shimmer/glow all over. Top off with a pink blush on the apples of the cheeks for soft colour. The Porcelain Pearl one can be used all over.
Bobbi Brown Eye Palette in Crystal Nude and Sheer Lip Colour in Pink Flush
The eye palette in the Nude Glow collection will disappoint many as it is not only very sheer, the colours are very light. This is especially so in Crystal Nude, the palette you see above, that has 2 Sparkle colours and 2 matte shades. These are hard colours to wear for almost anyone, myself included. There are 2 other palettes in Bronze and Nude Glow, with Bronze being the most pigmented in warm shades.
Bobbi Brown Crystal Nude Eyeshadow Palette swatches on left, Sheer Lipstick in Pink Flush on right
Kai's Tip on how to wear light coloured, sheer eyeshadow

Use an eyeshadow base or a nude/neutral cream eyeshadow, preferably a matte shade. Kai used the Long Wear Eye Base in Light all over as a base for the light colours to sit on. He did say I could also use the Long Wear Cream Eyeshadow in a colour like Malted if I liked. Then, he applied the colours from the Crystal Nude palette that you see above using a patting motion. This deposits more colour. However, as the theme is that of translucent glowing skin, the colours aren't strong, but they did serve to open up the eyes. Importantly, when wearing light coloured shadows, be sure to line your eyes with a good eyeliner (he used the Perfectly Defined Gel Eyeliner in Pitch Black which I'm dying to get my hands on when it's available in April 2014!) and apply mascara to open up the eyes.
To round off the look is a pink lipstick which in the Nude Glow collection is Pink Flush. In the image above, I'm wearing Air Kiss which is also a very nice pink and I have to say that I may be changing my mind about wearing pink lipstick after this. Kai assured me that pink lipstick is very wearable once you find the right one and although I do wear a lot of bold lip shades, I may have to find space for pink lipstick in my stash. Not barbie pink mind you, but a nice soft pink like Air Kiss maybe?
Up shot of this is that I was very pleased with how the Nude Glow collection looked on me as you will see here below.
My skin looks softly glowing, in person I looked like an Elvish princess (that glow!) and although it isn't a look I'm used to, since I go for smokier eyes and deeper lips usually, this makes me look fresh and young and vibrant and I like it! Once demonstrated, the BB makeup artists had to recreate this look so if you head down to a Bobbi Brown counter, they could help advise you on this (Simple makeup lessons are free!)
Now, onto the previews! 😀
Uber Pink "Be Pretty" and "Be Bold" Bronzers (RM140)
You will already see these in store and I'm itching to get one! Question is, do I get Be Pretty (Antigua Illuminating Bronzer) or Be Bold (Pink Peony Illuminating Bronzer)? Both are permanent colours so it's just the embossing that makes it limited edition. I guess I could wait then? Or maybe not? Gah! 😛
Bobbi Brown Art Sticks Lip Crayons
Love a good lip crayon? You will LOVE these Art Sticks coming from Bobbi Brown in March 2014 (not long now!). These happen to be one of Kai's favourite items too and you know, when a makeup artist loves a product, it must be good right? Incidentally, these aren't new. Bobbi Brown had them a few years ago but they're now made permanent so that's going to be an excellent thing.
The Art Sticks are fat wooden pencils that come with a cap so you do have to sharpen them but on the bright side, each pencil comes wiht a sharpener so you don't actually have to buy one *coughBooNarsBoocough* and they come in a 8 lip smacking colours. I played with them in a most besotted manner and I can tell you I love them. They are matte but have a nice slip to them and I plan to pick up quite a few when they launch so I'm saving pennies!
Bobbi Brown Nectar and Nude collection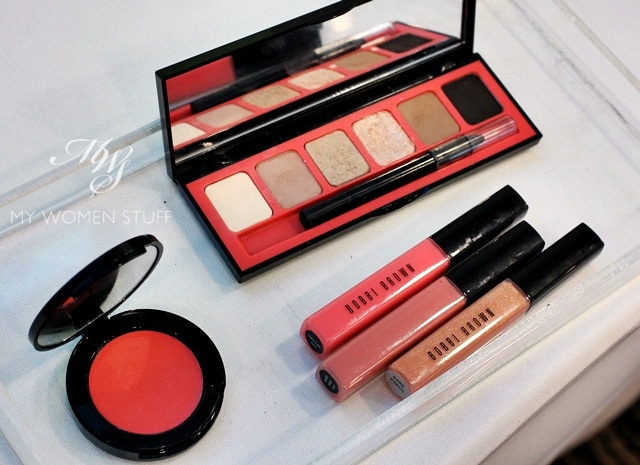 Coming soon also is the Nectar and Nude collection which is a collection of brighter shades for cheeks and lips – just look at that lovely coral blush! The eye palette is quite quintessentially Bobbi Brown so I wasn't very excited but I'll share with you Kai's tip on making this palette work for evening looks.
Kai's tip on wearing the Nectar & Nude Eye Palette for the evening

First, apply a base of LongWearing Stick Eyeshadow in a deeper shade all over the lid. This helps to deepen the colours which you will then layer over this base. Then, use the deeper shades to contour the eye area and blend with the lighter shades. Use the sparkle colours to add a touch of shine to the eye area. The effect is stunning and one which I can tell you, I never expected to see from this otherwise safe, neutral eye palette.
Bobbi Brown CC Cream SPF35 PA+++
Oh yes they did! Bobbi Brown has come up with a CC Cream which will launch later this month (Feb 2014). I do actually like the BB BB Creams (Kai does too and what was that I said again about makeup artists liking something? 😉 ) but CC Creams make me feel like the whole alphabet thing is spiraling out of control.
I was told however that the CC Cream will be more of a makeup primer and colour corrector. So, if you have good skin, you could wear it alone as it is very sheer, but if you don't then you probably want to try something else. The texture is quite light, but a bit silicone-y and they come in tints to "colour correct" skintone. So no, this isn't an all in one product (despite the fact you may be told it is) but a primer and a colour correcting primer at that. Personally, I'm not sold on this.
Bobbi Brown x L'Wren Scott Amnesia Rose palette and collection
Bobbi Brown is doing a collaboration with fashion designer L'Wren Scott and the Amnesia Rose palette caught my eye for the simple reason – look at those bright colours! They aren't very typical of a Bobbi Brown palette are they? The purples are fitting for the Pantone Radiant Orchid colour theme this year and while this isn't a palette I'd go for personally, I saw how Kai made this look very modern, bold and chic for an evening look and I can tell you that if you like colours, and purple, you will want to keep an eye out for this limited edition palette for eyes, lips and cheeks.
Hope you've enjoyed the tips and previews! 😀
Have you taken a look at the Nude Glow or Uber Pink collection? Which upcoming preview item has your eye?
For me it's the Art Sticks. I want every colour! Ok, asking a bit much, but they'll be quite affordable and felt quite nice so they are very promising. Also, Be Pretty or Be Bold? Hmm… decisions, decisions….. You? 😀
Paris B