Last week, I received a flyer in the mail with the image for Chanel's Spring 2014 makeup look. I put it up on Instagram and declared it too pink for my tastes. I stand by it. Ok, so the coral lipstick does grab me a little but overall, I'm not crazy about the collection at all and I'm passing. In fact, I'm personally passing on most Spring collections this year. Pinks, ribbons, pastels don't do it for me. Wake me up when Fall collections come in ok?
I might still showcase one or two but will pick out the more interesting items. Yet for some strange reason, I was quite taken by the look done for Chanel.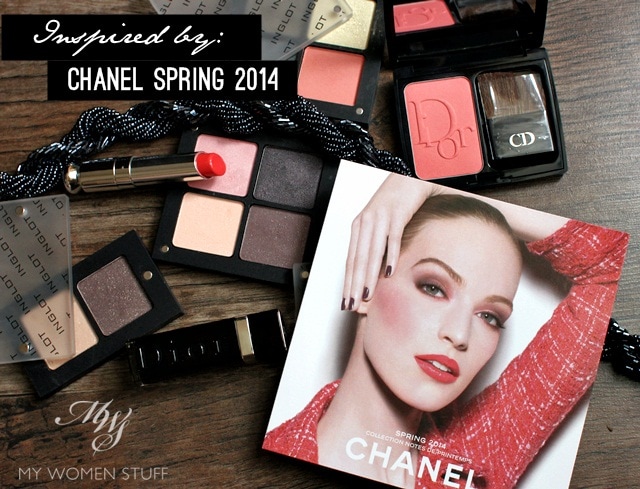 So I went and rummaged around my collection to see what I could do. You could say that I was quite inspired by it 🙂 So here is a quick "Inspired by" look that I did using some items I own. In the process I found myself rediscovering Inglot shadows and how lovely they are. I'm not planning to get more, but I'll definitely get more use out of the ones I already own.
I hope no one is really looking for a "dupe" because I can't come up with any. This was what I was inspired to do, testing myself with a pink/coral eyeshadow and a coral lip as Chanel did.
I used these products:-
Eyes: Inglot Eyeshadows reviewed here – Coral (361 matte) and Pink (431 Pearl) in inner corner, blend of brown (465 Double Shine) and some dark purple (434 Pearl) on outer lid that turned out more purple than expected. Lined with Guerlain Kohl pencil and RMK mascara.
Cheeks: Dior Vibrant Color Blush in 676 Coral Cruise
Lips: Dior Addict Extreme Lipstick in Riviera
For some reason my browns came out purplish which surprised me. I didn't even realise how purple they were till layered over the pink and coral. Next time I try this, I'll have to use a deeper brown shade.
It turned out that I was quite happy with how it looked and to my surprise, I did manage to sort of pull off wearing pink or coral toned eyeshadow! So while this isn't an example of how to wear the Chanel Spring 2014 look, it helped drag me out of my comfort zone and taught me that I never know if anything will work, till I try. And that's the lesson of the day, folks! 🙂
Rediscovering Inglot eyeshadows wasn't a bad thing either 😀 All in all, I declare this experiment a success.
Did you get anything from Chanel's Spring 2014 collection? Did any other brand's Spring collection catch your eye?
Not this year for me. I'm sleeping through Spring and will see what Summer has on offer but I have a feeling it might be Autumn before I actually wake from my slumber. My wallet heaves a sigh of relief 😀 But I want to know what YOU got – quick, share! Maybe you'll awaken some lemmings 😀
Paris B