Last month, I was given an unexpected privilege by Olay to join a few other Asian bloggers in Sydney, Australia. I didn't quite share any travel tales from there because I actually didn't have many! It was a very busy 2 days there working and despite it being Summer, Sydney was hit by a cold spell! Just for the 2 days I was there – what were the odds eh? 😛
But few sights seen or not, I thought I'd share them anyway. I didn't spend any extra time coz I headed down to Melbourne the day after the activities ended, so this is the little I saw of Sydney 🙂
I took a walk down Pyrmont Bridge from the Darling Hotel where I stayed, and on my last day there, it was a hot and sunny day! So that was quite perfect for me to hang around the Harbour.
I'll have some pictures for you so I'll cut the chatter and just show you what I saw ok? 🙂
What's a Harbour with sea gulls eh? From here, you can take a ferry across the harbour to Harbour Bridge and the Opera House, but I didn't have the time so I left it for another time. I'm sure I'll be back to Sydney again and when I'm next there, I'd be sure to take some time to properly explore the city and see what it has to offer.
Sydney Tower Eye and SkyWalk
We were taken for a once in a lifetime experience to the Sydney Tower for the Skywalk though which was great fun! I was hoping for a chance to climb the Harbour Bridge, but it would take far too long so the next best option was the Skywalk.
The Sydney Tower is Sydney's tallest free-standing structure and overlooks the whole of the city. Right at the top is an observation tower, restaurant and if you're a daredevil, take the Skywalk which is an open air walk around the top of the tower, including 2 glass-bottom stops! Hair-raising 40 minutes, I tell you!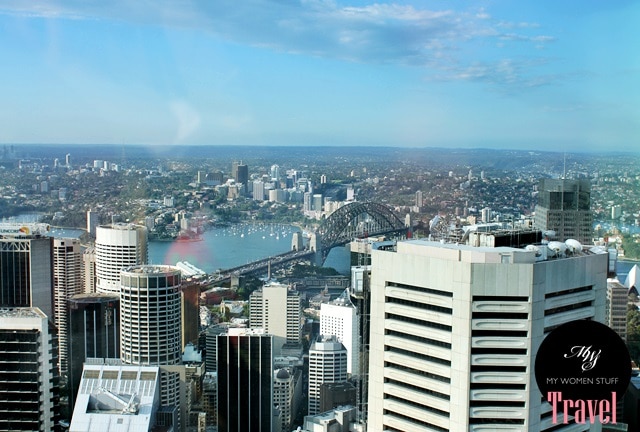 You do have to pay to take the high speed lift to the observation area and when you get there, you have a 360º view of the city. Here was my view of the Harbour Bridge although you can't see the iconic Opera House.
I couldn't document the Skywalk because we are not allowed to carry anything out there. You are given a short briefing, and then you have to put on these blue jumpsuits over your clothes. Be sure to wear flats or you won't be allowed to go on the walk!
After suiting up, we were given these heavy belts and hooked up to a railing before you step out into the open air. Initially, it's fine but if you are afraid of heights then this isn't the thrill you're seeking because there is barely anything between you and the ground, or in the case of 2 areas, a thick glass plate is all that holds you up! Scary, I tell you, especially when they tell you to jump on it, and it vibrates. Man, could have pee-d in my pants 😛 I wish I had the photos but I don't so you'll just have to take my word that I did the walk and lived to tell the tale 😀 Recommended for adrenalin junkies, but not if you are afraid of heights. You can read more about the Sydney Tower here www.sydneytowereye.com.au
We then had dinner at 360 Bar and Dining which is at the tower itself, and a revolving restaurant. I would recommend it for the experience so if dining there isn't your thing (The food was ok, not excellent) then just go for drinks just before sunset and enjoy the glorious vistas of the sunset from the windows.
This was taken just as the sun was going down and throwing it's golden rays through the clouds. It was beautiful and all you want to do is snap pictures all evening until the lights come out over the city 😀
360 Bar and Dining has a set menu with a choice of 2 or 3 course meals for a set price, which I thought was a good way for people who may want to have dinner there. I had a 2 course meal of pan seared scallops and a roast pork belly which was very good. It wasn't excellent, but good enough. The chips were excellent though! HAHA Then again, I have a soft spot for chips 😛
Worth going? Yes, for the views and the experience of viewing the city and the sunset from 360º.
Bondi Beach ~ Icebergs Dining Room and Bar
The popular Bondi Beach was the other place we visited but I didn't have the chance to head down to the actual beach. I wasn't quite keen to since it was freezing that afternoon!
The waves were large, strong and angry as they crashed against the rocks… and yet I saw people out in the open sea surfing! No, folks. This is not your idyllic tropical beach with coconut trees swaying in the distance and a soothing breaking of surf on the beach as you sit with a mai tai in your hand.
This was seriously freezing, huge rolling white tipped waves that got larger and larger the closer they got to shore. The sky was grey and it was just freezing out there! Australians… or maybe surfers in general, they are a hardy bunch!
On an outcrop overlooking the rocks and sea is Icebergs Dining Room and Bar (website) which is a smallish restaurant done in eye pleasing white, punctuated with colourful cushions. The restaurant overlooks the rocks against which you can hear the pounding of the surf. My pictures were taken from the inside where I was relatively protected from the chilly winds. The restaurant is very popular and I believe that reservations are required for you to be assured of a table.
Because the lighting was so bloody good that day (man! Every photographer's dream even if I'm not one!) you are getting a boatload of photos from Icebergs 😛
Since I was by the sea, I naturally had a fish. It was pretty good although the superstar of the lunch was the Gamberetti, lightly dusted local shrimp served with lemon and aioli.
I promise you, I wish I did not have to share because I'd have quite easily and happily gobbled up every little shrimp! They were sweet, succulent and absolutely delicious! If you go there, be sure to have it – and don't share! 😛
This was parma ham with caramelized onions and buffalo mozarella which was very very interesting. Not for the lactose intolerant, so I took a little bit only to taste. Wish I wasn't lactose intolerant though 😛
And I'm very happy about my catch of the day for some reason LOL! 😀
That my friends, was the fun bits. The rest of the time was work and snuggling up in the hotel room while we waited our turn for various assignments. And here are the lovely ladies who I got to know while I was there. They're friendly and oh so young! Oh my … LOL
Clockwise from left: Deana (PR), Martha (Philippines), Beatrice (Singapore), Rachel (Singapore), Kryz (Philippines), Moi and Valerie (Singapore) ~ Photo credits to Beatrice's camera and Valerie's wonderful height that allowed us all to fit in the frame
So that was my little trip to Sydney and I am grateful to Olay for the opportunity and to represent Malaysia there! 😀
If I were to go again, where else should I visit? I know I missed out on a ton of places!
I know for sure I'll go and hang out at the Sydney Fish Market. I love the fresh seafood produce that they cook on the spot for you. I'm salivating at the thought!
Paris B