Revlon Super Lustrous lipsticks and I go back a long way. I discovered it at about the same time that I'd discovered makeup (late in life, to be honest) and I used to own so many! My favourite was Berry Rich and I remember how Cherries in the Snow was highly raved. Gosh, takes me back!
What I liked about Super Lustrous lipsticks was how creamy and moisturising they were, yet how pigmented. Definitely one of the best drugstore lipsticks ever made and I'm happy that they haven't messed about with it too much. But what Revlon did recently was introduce a Super Lustrous Shine formula.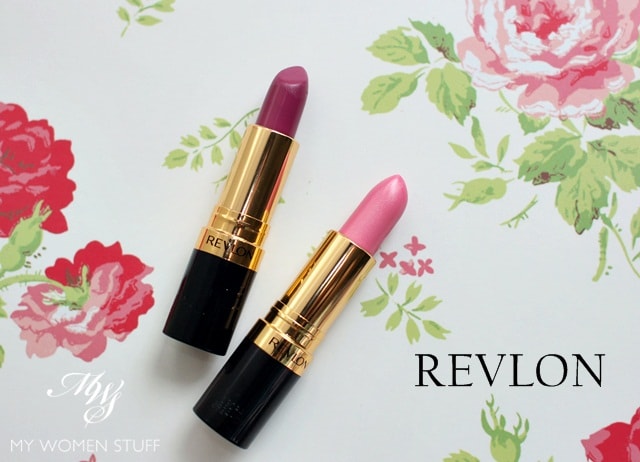 I'd spotted it in the pharmacy one day while browsing, and after swatching the colours, picked up 835 Berry Couture, which is the sort of colour I like wearing on lips. I was later sent 801 Pink Cloud which made me wrinkle my nose at it, but I did swatch it for purposes of comparison and comment.
The new Super Lustrous Shine lipsticks will either be love or hate for you. If you didn't notice that this is the "Shine" formula then you will be most disappointed at how the colours turn out because they are sheerer than the regular pigmented Super Lustrous lipsticks. The formula is lightweight, they are lovely and moisturising and the colours tend to be a little sheer. But, if you like lipsticks that are sheer and have that lipstick-lipbalm hybrid texture, boy are you in for a treat! 😀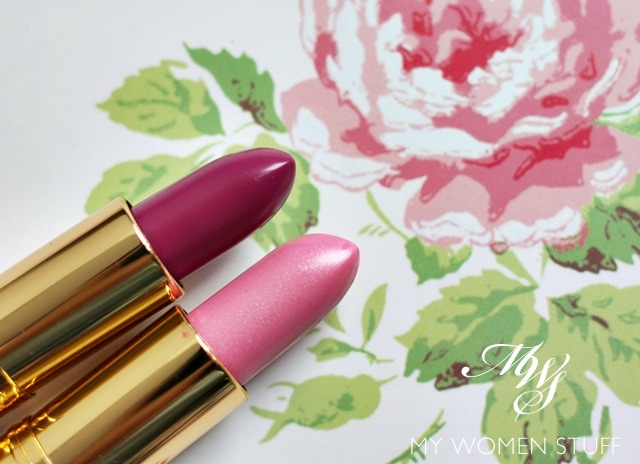 Revlon Super Lustrous Shine Lipsticks Left: Berry Couture Right: Pink Cloud
The colour of Berry Couture is actually a little more mauve in real life, looking almost purple. I couldn't get the colour to adjust correctly, sorry. Pink Cloud is quite true to colour, a light pale pink with a fine shimmer.
To be fair, in tube, the Super Lustrous Shine lipsticks don't look particularly shiny nor sheer. They look just like the regular Super Lustrous lipsticks which is why you should be careful if these aren't the ones you're looking for. Flip them over and be sure you are getting the right one.
They come in the regular black plastic Revlon cases with a clear window in the top so you always know which colour you want. Not pretty, but quite genius if you ask me 🙂
They are quite sheer, so I've swatched them twice down my arm for you.
Left: Pink Cloud Right: Berry Couture
As you can probably tell, even after 2 layers of colour, it is still fairly sheer but you may also notice the shine they have, which is actually very lovely. There is no shimmer in Berry Couture but it gives off a glossy shine that I really like. The swatches are quite true to colour.
Pink Cloud is as you can see, a pale shimmery pink; a colour that I can never say suits anyone. Yet, I suppose there'll be a market for it but I look sick in it as you will see below, and the odds are, so will many. Perhaps it will look better on someone with less pigmented lips? I don't know. I stay far away from colours like this. In fact, unless we're talking bright pinks, I don't really do straight pink lipstick at all!
Here are both colours swatched straight on lips. I applied 2 layers of each colour.
Left: Pink Cloud Right: Berry Couture
At first glance, I think you can tell which colour suits me better. The one that gives me healthy glowing lips and not the one that looks fake and frosty and sick of course! LOL See what I mean about the horrible colour that is Pink Cloud? Yes, I did call it a horrible colour and I'm sorry if you like it but ergh! 😛
The lipsticks both apply like butter, sliding effortlessly across your lips. They are not drying at all and feel so comfortable. Due to the formula, longevity is of course much lower than a creamy pigmented lip colour, but this is really nice for those days when you want a light wash of colour and an effortless, almost carefree feel. I love the formula in Berry Couture (but not Pink Cloud – there I go again, dissing it!) and I've been wearing it a lot lately because it just goes with everything!
Here are some full face shots so you have an idea of how they look.
Here's Pink Cloud – the almost metallic shine on the lips doesn't do it for me and it makes me look a bit pale. The saving grace was the smokey eyes that balanced off the look better but I don't like this colour at all.
Berry Couture looks far better, I'm sure you'd agree! 😀
I love how the colour instantly brightens up the complexion, makes me look healthy and happy and just better over all. You may also notice that the colour isn't too strong, nor does it look too heavy. Definitely up there as one of my favourite lipsticks although I'd tell you to pick the brighter/deeper colours and just give the light shades a miss.
In a nutshell

The Revlon Super Lustrous Shine lipsticks are a new range of lipsticks that offer a lighter texture, sheerer colour and more shine on the lips. I like the lightweight texture that feels lovely and the fact that there is no scent at all to the lipstick. Winning on all points! I could grumble about the colour but that's something personal so you're going to have to find your own colour that you like. All said and done, these are fabulously super lipsticks and the price can't be beat. Go get a couple 😉

Pros: Affordable, Not drying, Balmy and easy to apply, Lightweight, Brighter colours are nice to wear as the sheer colour balances out the bright colours

Cons: None except Pink Cloud was a little too frosty when applied which cheapens the look

Who will like this: Anyone who likes sheer textured and sheer coloured lipsticks, Anyone who likes a balmy textured lipstick
Some of you may wonder how Super Lustrous Shine compares to the Lip Butter? Well, the texture is almost silky when compared to the Lip Butters and they don't melt and break that easily. It's firmer and more of a proper lipstick than the Lip Butters which I classify as more of a balm texture. The colours aren't as much fun, but it is less tacky in feel and a little more "grown up". They're different so feel free to own more of each LOL! 😛
Have you tried the new Revlon Super Lustrous Shine lipsticks? Which is your favourite shade?
They've been out a while so I'm sure many of you have already tried it. I'm thinking of trying Plum Velour which is the deepest shade, or maybe a bright shade like Lover's Coral or Rich Girl Red. Gotta admit the names are just too enticing!
Paris B
Revlon Super Lustrous Shine lipstick comes in 8 shades locally – Pink Cloud, Kissable Pink, Fuchsia Shock, Lover's Coral, Rich Girl Red, Berry Couture, Honey Bare and Plum Velour Price: RM32 but I got mine at about RM28 during a sale so look out for the sales Availability: Revlon counters in most major pharmacies – make sure it says Shine at the bottom