Merry Christmas everyone!
I hope that everyone who is celebrating this festive season is having a wonderful time with your family and friends and for those who aren't celebrating, I hope you've enjoyed all the wonderful shopping deals and treats that abound, and the holiday of course! 😀
I got my blog a present last year with a makeover but I think it looks good enough to stick through this year so I've stopped tinkering with it… for now 🙂 This year, I had a hankering for fruit cake – I love fruit cake! I know some people don't, but I am a fiend for fruit cake and I was very thrilled to receive a yummilicious home made fruit cake from a dear dear friend who knew I was looking for it (maybe because I'm fruity like one LOL!)! Another surprise gift was a fun beauty and fashion accessory – the Laura Mercier Luxe Travel Brush Set!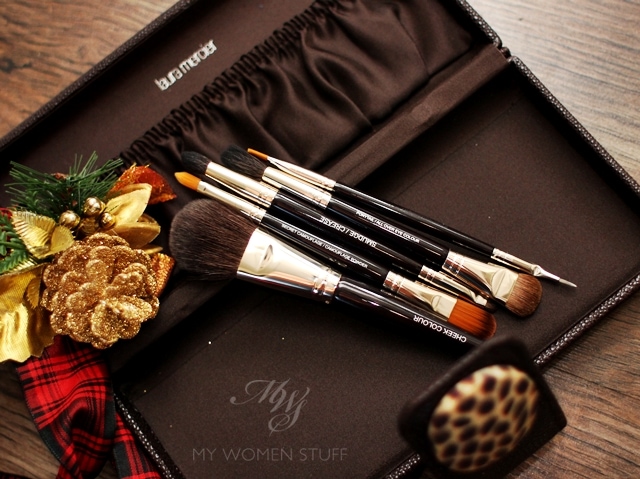 For someone who loves messing about with makeup brushes and bags, this was the perfect gift. I thought to share how it looks because I know there are many beauty and fashion buffs out there as well who might appreciate something like this! You can check with the Laura Mercier counters if they still have it.
The set comes with a zip mesh pouch to hold the brushes, and which can be attached to the base of the clutch with a magnet. The hard outer clutch has a faux stingray cover and a leopard print clasp.
You get 9 brushes in this kit – 4 double ended brushes and one cheek brush. All the brushes are full sized but on a travel sized body.
A nice handy size and you can see the mesh pouch at the back of this picture. It holds the brushes and you can also fit some makeup palettes in there for when you travel. As for the clutch, it is actually very serviceable. Remove the mesh pouch and it fits the basics – your phone, some cash and some cards and keys and it's actually pretty elegant too.
As you can see, it's quite large and I forsee many happy travels with it because by taking this set along, I now have a fashion accessory and a makeup kit in one! Saves me the hassle of packing an additional clutch for casual dos or even evening dos. Fun! 😀
Did you get any beauty or fashion gifts this year? Who else loves fruit cake like I do?
I don't celebrate Christmas in a religious way but it's always a nice time to get together with friends as I plan to do. I hope the holiday and the festive season has been good to you. Eat, drink and be merry and here's wishing everyone a very Merry Christmas once again 😀
xoxo
Paris B