If there's one item I'm faithful to, it's to my face wash. I know, strange. But I've yet to find a worthy substitute to what I'd probably term my HG (holy grail) face wash, which is unfortunately by Vichy. Unfortunately, because I can't get it locally anymore. While I do still keep bottles of it on standby, I thought I'd try something new after finishing my last bottle.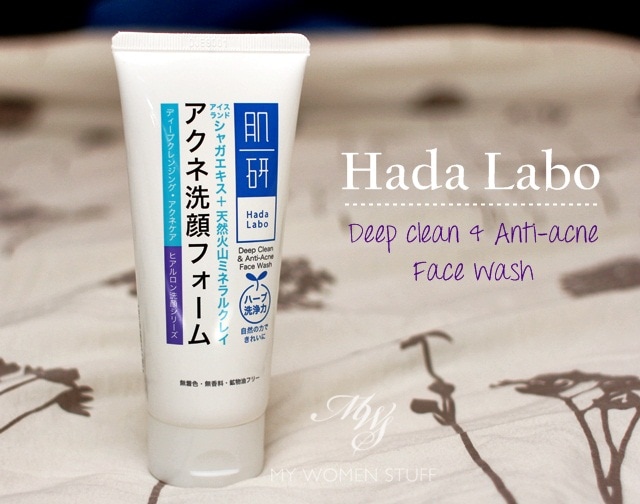 I decided to give the new Hada Labo Deep Clean & Anti-Acne Face Wash aka Deep Clean & Blemish Control Face Wash a go. If you've been trawling the pharmacies lately, you will have noticed that Hada Labo has introduced 3 new face washes. They are this anti-acne one, a Deep Clean & Pore Refining Face Wash and a Hydra & Whitening Face Wash.
I picked this, because I thought it was the closest in function to the Vichy Normaderm Purifying Cleansing Gel. I'm not so fussed about the acne bit because sporadic breakouts do happen, but it's not a primary concern of mine anymore. However, I do like having salicylic acid in my face wash because it keeps my skin clear and clean and also spot free. Well, considering that I've been using this one nightly for a couple of months now, I suppose it's working, right? 😛
Well, it is, but not without a few gripes.
There isn't much I can tell you about a face wash you know. This new Hada Labo face wash series contains mineral clay from volcanic ash or bentonite clay and their key ingredient of hyaluronic acid to ensure your skin isn't dried out from all that clay.
I was interested to see that the anti-acne ingredient wasn't salicylic acid, but Wild Pansy Extract which is supposed to contain natural salicylic acid that helps control blemishes. Interestingly, doing a little bit of research turned up the interesting fact that pansy extract has anti-inflammatory actions, to alleviate skin irritations and increased sebum production. Not quite the functions performed by salicylic acid, I might say, but an interesting bit of trivia I learned.
Bentonite clay is a common ingredient in clay masks or deep cleansing face products, as they naturally draw impurities from the skin. However, the drawback to this benefit is that it can be very drying especially if you already have dry skin. I suppose this is where the hyaluronic acid bit comes in.
Texture-wise, this has got to be one of the most creamy face washes I've ever used. I mean it! One little dollop lathers up into a very thick creamy foam which feels like a thick cushion on your skin. It is actually quite nice and comforting to massage it in, but that means it has SLS for those of you paying attention.
When I rinse it off my skin, I love the incredibly smooth and clean feeling. So clean, it squeaks. Literally.
I attribute it to the bentonite clay that gives my skin that smooth clean feeling, but I do also feel that it does make my skin feel dry. It isn't uncomfortable or tight, but I feel it. That said, I do have combination-dry skin so it might explain why I may feel this dryness more than someone who has oily skin but it is something to note.
I always ensure that I follow up my cleansing with a facial mist, toner or moisturising serum or even all 3 at once. As far as I'm concerned, this has been the only drawback. I cannot vouch for its anti-acne properties. I did not break out from using this, and during this time, I have not been plagued by spots or acne either, but I'd take it with a pinch of salt.
I do have a concern that using this twice a day may actually cause skin to dry out more than it should so I'd caution against that for anyone. Skin that is too dry can break out too. I personally only use this once a day in the evening as the last step of my double (or is it triple?) cleanse routine. In the mornings, I use a light cleanser which is still the Antipodes Juliet Gel Cleanser. Love that stuff!
I can't say I love this, but I think it's ok and I'll be finishing up this tube. But I'll ultimately go back to my Vichy, or move on and try something else 🙂
In a nutshell

The new Hada Labo Deep Clean & Anti-Acne Face Wash contains bentonite clay to deep cleanse and wild pansy extract as an anti-inflammatory ingredient for acne and spots. Whilst I can't vouch for the latter, I can attest to the fact that this face wash does cleanse my skin very thoroughly and upon rinsing, leaves my skin feeling very smooth and clean. Almost squeaky clean. You only need very little product for it to lather up into a very thick plush foam. I do feel that it's a little drying so following up with proper skincare is a must. I'd also caution against using this twice a day for this reason of dryness. If you have dry skin, it's best to avoid this one.

Pros: Affordable, Only very little product is needed, Skin feels very clean after washing

Cons: Feels a little drying especially if you have drier skin, Not advisable to use this twice a day

Who will like this: Anyone who enjoys using a face wash with thick creamy foam, Anyone who has oily skin
Here is the ingredient list if you're interested to know what's in there.
It is interesting to note that the wild pansy extract (Viola Tricolor Extract) is far down the list of ingredients which means it is all but useless, to be honest. If I were looking for a face wash to combat acne problems, I'd just go for one that has salicylic acid in the ingredient list, and look for it towards the top of the list.
Have you tried this new Hada Labo face wash or any of the new Hada Labo face washes? Are you faithful to your face washes?
I never used to be faithful but ever since I found the Vichy Normaderm one I just can't seem to let it go. I'm not too impressed by this one and I'm not sure if I'll try any of the other 2 but if you have, please let me know what you think of them? I do like the Hada Labo Gokujyun Face Wash though but I found the very popular Tamagohada AHA/BHA Face Wash too drying.
Paris B
Hada Labo Deep Clean & Anti-Acne Face Wash Price: RM20.90 Availability: Major pharmacies especially Guardian Pharmacy