A week ago, I was invited by a friend to go sip some Cointreau (pronounced 'kwan-trou') and find out a little more about it. It was a purely social event but I had so much fun, I thought heck, let's just blog it anyway. Partly because it's fun to not have obligations to blog about something, but want to do so for the fun of it. Partly so I'd remember a recipe or two of the cocktails mixed that day that passed pretty much in a blur after a while LOL!
The interesting bit was getting to meet also, the brand representative, who is a 6th generation Monsieur Cointreau. For some reason that amuses me. How many of us can walk up to a brand and say "My great-great-great-great-great-grandad created that!"
Cointreau is a clear liqueur distilled from a mixture of bitter and sweet orange peels and turns cloudy when mixed with water or when the temperature drops so, it'll turn cloudy when water or ice is introduced. It's really fascinating, if things like this fascinate you. It sure did me, because I was familiar with the square squat bottle but not familiar with the drink myself. There're a couple of recipes I picked up below, if you'd like to whip something up for the festive season 😛
Calling itself an orange liqueur, you might expect this to taste of oranges but it doesn't. There is a hint of smell of orange peel when you smell it but it hits your tastebuds with a slightly sweet tang of alcohol with a faint taste of orange. This does after all contain 40% alcohol so it's not something you swig merrily in large quantities, mind.
A measure, poured neat over a glass of ice with a twist of lime is a nice way to enjoy this but you will find it most often mixed in cocktails. During the event, we were told that the original cocktail recipes for Margarita, Sidecar and Cosmopolitan all contained Cointreau. I'm not a big cocktail drinker so I wouldn't know better!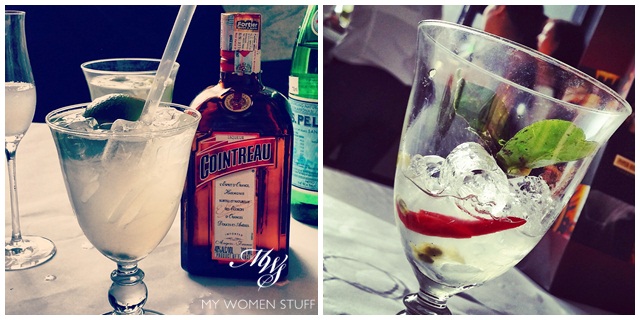 I learned to mix 2 cocktails on the day, which were very interesting so here they are for whoever would like to give these a go. Naturally, if you don't drink alcohol then this is all quite irrelevant but if you do, then go on, get inventive! Or you could invent your own non-alcoholic versions 😉
Cointreau Fizz

50ml Cointreau
1/2 fresh lime
Soda water
Ice

Pour Cointreau into glass.
Fill with ice.
Squeeze the 1/2 lime into the glass
Top off with water, stir and serve

Tomyam Cointreau

I've no idea what this is called so I made up the name because the ingredients are so similar to what I use when making tomyam soup! The chilli adds a very interesting spicy and piquant aftertaste to the drink that is unusual but interesting.

50ml Cointreau
1/2 fresh lime
1 fresh lime leaf torn (limau purut)
1 cili padi or fresh chilli
1/2 passionfruit (optional)

Pour Cointreau into glass
Fill with ice
Squeeze the 1/2 lime into the glass
Add the lime leaf and sliced chilli
Top with water and add the passionfruit if you have any on hand
Stir and serve
The fun part actually, is that I learned you can add anything. Top off with orange juice if you prefer, or any fruit juice. Someone asked if we might add durian. Erm… I suppose you could, but just don't bring that concoction near me ok? 😛
It's nice if you add berries, cucumber, even basil or mint leaves. The herbs make the taste refreshing and even fun. The inclusion of chilli was very interesting for me because it was so local that I could relate. I might even add some lemongrass next time and really make it taste like an alcoholic tomyam. I can just imagine Mr. Cointreau rolling his eyes at me 😛
Yep, that's him right there. Descendant of the Cointreau family. And that's his John Hancock overlapping that of his ancestor.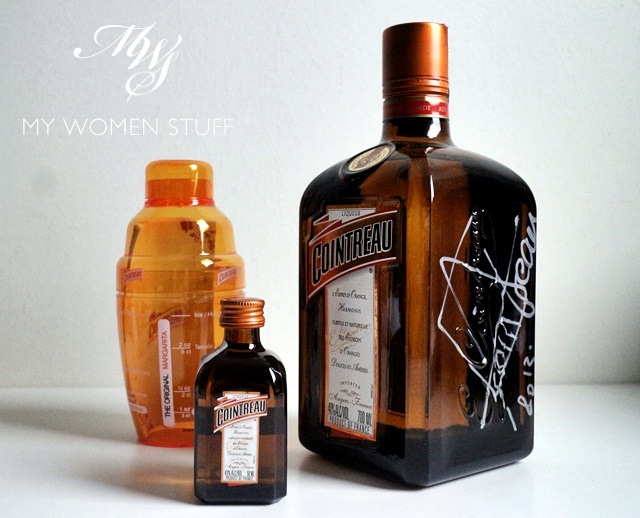 Any fans of Cointreau in the house and do you have a favourite Cointreau cocktail recipe to share?
It was an interesting introduction for me to a drink I may not otherwise partake in or know what to do with. Now, my friend tells me I should store that bottle of Cointreau away as a keepsake but you know, I really want to test my cocktail making skills so we'll see. Tomyam Cointreau anyone? 😛
Paris B
Scrumptious Weekend: One day of the week where I indulge in my other love – Food! It will feature my cooking experiments or eating and travel adventures. Yes, I will travel for good food and I'm always experimenting in the kitchen.