There are some posts you want to write and you try and start, over and over but it never gets published. This has been one such post/review in making. It's taken me 2 years. 2 freaking years to tell you about a blush! Man, I better get lots of good karma after this! 😀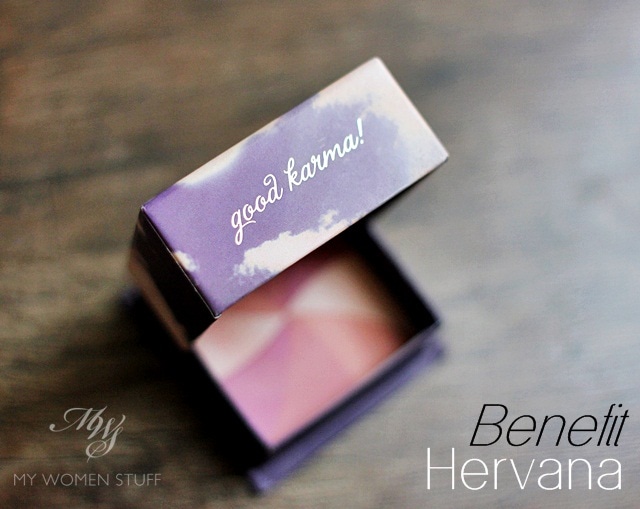 I bought the Benefit Hervana Box of Powder Blush over 2 years ago and although it took me a while to warm up to it, I actually really like it. I picked this as one of the 5 light pink blushes you can consider if you're in the market for one because it does give the skin a very pretty flush of pink.
And really, who can pass up a chance for some good karma eh? 😀
This was the Benefit Cosmetics blush that first came with the new flip top packaging. All Benefit blushes now carry a flip top packaging. They used to be lift off covers. If you remember those, raise your hand! 😀
I remember then being quite pissed with it because if you're careless or in a hurry, the sides can dig into the box and deface your blush. However, the thing is, in the 2 years I've owned this, it's never happened! So really, you have to quite careless about it and I guess I never have been.
Like all Benefit blushes, there is a plastic insert that holds a brush. The Hervana brush is a little different from other brushes because it is an angled brush with white natural hair bristles and it's not bad. The natural hair picks up the colour much better and although it is a little rough on skin, it does a good enough job in a pinch.
I may be ambivalent about most Benefit Cosmetics products, but their Box o' Powders have a special place in my heart because they were one of the earlier blushes I owned, and they are really quite good. I have almost all of them except the latest Rockateur, Hoola and Dallas because they're all too dark for me, but the other colours get a lot of wear and that's saying a lot, considering how many blushes I actually own haha! 😀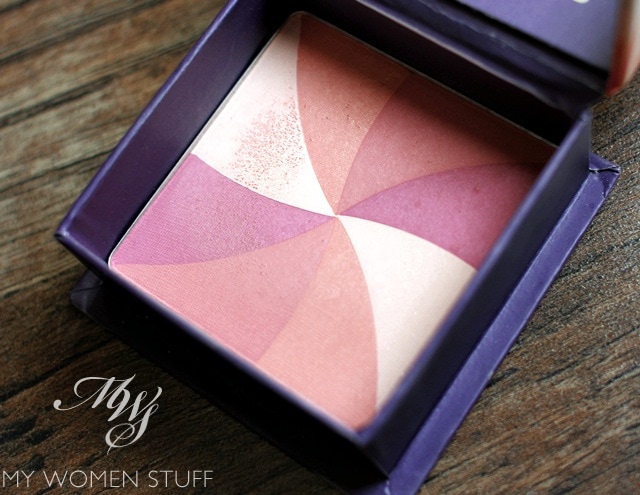 Hervana is also one of the more interesting Benefit blushes that come with different colours in one compact, the other being Sugarbomb. Unlike Sugarbomb which is very light and very shimmery, the cool and deeper lilac tones blend very well with the warmer peach tones to give skin a lovely neutral pink colour without looking like you've been glitterbombed. It isn't quite matte either, but it isn't noticeably shimmery and it makes a great everyday blush.
As it's so hard to get a good swatch of a colour this light, here's the comparison swatches from this post.
Hervana is No. 4 so you can just imagine my frustration trying to get another swatch as clear as this one was. It's hard! If you want it deeper, layer it on and it layers quite prettily.
I do find the texture of the brush a little harder than say Bella Bamba or Coralista but it also means the margin of error is less if you're afraid of looking like a clown. There's almost no fear of that happening with Hervana. You will almost always end up with an angelic glow on skin 😉
Here's how it looks when I wear it. I like to use a slightly denser blush brush with this one because of the harder texture. It gives me more colour. If I use a softer blush, the colour is a little more diffused so a lot depends on the look you're going for.
It applies on my skin as a soft very natural pink glow. Very fuss free and very nice. I'm not sure how well this will show up on deeper skintones because it's so light. You might have to layer it on a little more but if you don't mind the hassle then it's a very pretty colour to consider. As a tip, I usually buy my Benefit makeup online from their website or StrawberryNET.com. The local counter prices are generally far too marked up for my tastes although it appears the prices for the blushes have dropped, but you know, old habits die hard and you never know when it will go up again 😉
In a nutshell

Benefit Hervana is one of my favourite blushes which is saying a lot when you consider just how many I have! The packaging is portable, the cardboard is hardy and hasn't even looked battered despite my taking it on my travels occasionally, the included brush is handy to use and the colour is a very neutral, complexion perky pink. On light skintones, I think this one very lovely but on deeper skintones, you will have to build up colour and not everyone will like that. Absolutely worth taking a look.

Pros: Nice natural pink that will suit most skintones, Not powdery, Compact packaging, Included brush works

Cons: None unless the price is an issue for you

Who will like this: Anyone who likes a fuss-free warm-neutral pink blush, Anyone who wants a portable blush with an included brush that works
You know, when a blush tells you that you'll have "good karma" it almost makes it too hard to pass up 😉 And I'm glad I finally got this out – it's been my 5th photo taking attempt!
Are you a fan of Hervana? Do you like the Benefit Box o Powders blushes?
If anyone's keen, I'll do you an overview of the Benefit blushes I have 🙂 So far, I've not been disappointed by any of the colours except I know of course, to stay away from the deeper ones. Do you like them too?
Paris B
Benefit Hervana Box o Powder blush Price: RM110, US$28 Availability: Benefit Cosmetics counters or their website or on StrawberryNET.com